At Skiworld we have over 40 years of experience organising group ski holidays for parties between 5 and 300 skiers. We know the right accommodation is important on a group ski trip and we're sure one of our ski chalets sleeping between 6 and 21 people will fit the bill. We also have a huge selection of self-catered apartments and hotels, so you're sure to find somewhere to suit you and your group.
Call our Ski Specialists on 0330 102 8004 if you need some help organising your group ski holiday...
---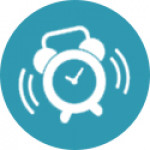 Last Minute Ski Holidays - Chalets at Knock-Down Prices!
Check out our heavily discounted last minute ski chalets - all in snow-sure resorts - with departure dates in the next few weeks. Prices include flights, transfers, hosted catering, wine with dinner and more besides...
Book Now
---
Getting the Best Value from Your Group Ski Holiday
Book early to capitalise on early-bird offers on both accommodation and ski extras such as lift passes and ski hire.
Savings of around £50pp are applied to Whole Chalet bookings. You'll have a mountain home-from-home just for you and your group, and if you book a chalet with some extra beds (e.g. triple rooms), you can fill these too which reduces the per person price.
Book a Ski All-In Deal with your Chalet, Apartment or Hotel holiday, which packages up your lift passes and ski hire with your booking in return for a saving on the price if you bought separately. If you add these when you book early, there's no extra money down and the price is locked-in with your deposit.
Consider self-driving to reduce travel costs. It's worth crunching the numbers if there are mainly adults in your group. Plus you'll have a car to visit other nearby resorts which might be included on your lift pass
Subscribe to our Offers Alert and be a part of the privileged group to receive all our best offers and tips, as well as early access to our newest deals and sales before they go public.
Top Ski Chalets for Large Groups
Our catered ski chalets are perfect for groups and feature six days of hosted catering. Enjoy time with your friends or family in a private mountain home-from-home. Below you'll find some great chalets for large groups. Some of these are bookable room-by-room so if you want the whole property you'll need to book early!
Chalets With Extra Rooms or Beds (When Booked as a Whole)
We have a number of catered chalets in our collection that have 'extra' rooms or beds that we don't include as part of the published capacity. Usually these extra spaces are best suited to children, but either way they represent excellent money-savers if you book a whole chalet and divide the total cost between a larger group. Details about the extra rooms or beds in each chalet can be found by clicking the link for each property.
An hypothertical saving might be Chalet Tavaillons in Tignes which is priced based on 16, but can sleep up to 20 people. If the total price for a week was £24,000, the per person price for 16 people would be £1,500. If your group of 20 people occupied the chalet, the per person price would drop by £300 to just £1,200pp - a considerable saving!
For more options, why not browse our chalet searches for different sized groups?
6-10 people | 11-16 people | 17+ people
---
Combination Group Chalets
If you can't find a single chalet for your group, consider a Chalet Combo! We have several groups of similar chalets either in the same building or adjoining. Some have communal main entrances, some separate; some have communal wellness facilities, some have their own... In essence there are enough variations that you're sure to find the ideal combination:
| Neighbour Chalets (capacity) | Resort | Collective Capacity |
| --- | --- | --- |
| Cascade (11), Charvet (12), Santons (14)& Vallon (12) | Val d'Isere | 49 |
| Pere Josef 1 (12) & Pere Josef 2 (12) | Alpe d'Huez | 24 |
| Campanula (14), Crocus Blanc (7), Hepatica (11), Benoite (8), Iris Bleu (8), Silene (10) & Hellebore (8) | La Plagne | 66 |
| Leman (10), Gaube (10), Annecy (10), Bourget (10)& Salagou (10) | Alpe d'Huez | 50 |
| Samuel (8), Benjamin (11) & Jacques (10) | Courchevel | 29 |
| Natalette I (10), Natalette II (8), Nico (6) & Pierre (6) | Meribel | 30 |
| Laetitia (14) & Aline (10) | Meribel | 24 |
| Galzig (6), Kapall (6) & Valluga (6) | St. Anton | 18 |
| Hera (6), Teresa (7), Sarah (8), Catherine (8), Katalin (8) & Phoebe (8) | Tignes | 45 |
| Elodie (11) & Andre (7) | Meribel | 18 |
| Simone (6) & Germaine (7) | Meribel | 13 |
Please give us a call on 0330 102 8004 if you need some help organising a combo-chalet holiday for your group...
---
Why Book a Whole Chalet?
Just like a great bottle of wine or your birthday celebrations… a ski holiday is an experience best shared. Enjoy a quintessential alpine home for JUST you and your group by booking a private ski chalet and take advantage of some key benefits:
* please check the facilities available in your chalet before you book as not all chalets have log fires, sauna/steam room or hot tub
Make it Your Own
Not every group is the same. Our Make It Your Own service - available with our catered ski chalets is all about allowing you to tailor-make your chalet holiday.
Would you like a few extras such as aperitifs and nibbles, an enhanced breakfast and more? Then take a look at our great value Chalet Plus option. If you'd like to enjoy some superior wine, then our Silver, Gold or Platinum wine collections are for you. Why not save money on our special cases?
Top Self-Catered Accommodation for Groups
Independent Chalets
If you prefer more freedom with your catering arrangements but still want a chalet, we have a range of chalets available to book on an independent self-catered basis.
A chalet all to yourselves with added privacy that you can't get from a ski apartment or hotel. These mainly self-catered chalets also have great locations that make them unique from any large 'block' properties. What's more, with flexible catering options available in selected chalets, you can tailor-make your dining options. Ultimately it's all about simplicity – you book, arrive, get the keys and the chalet is all yours for the week! Learn more about Independent Chalets...
Apartments
If a self-catered apartment is more your style, we've earmarked a selection below which are all located in top snow-sure ski resorts and also have a large range of apartment sizes sleeping up to 14 people.
We have a huge range of aparments across all the best ski resorts in France and Austria available to book online. If you'd like to browse more, just head to our Ski Apartments page via the main menu.
Top Ski Resorts for Groups
Although any ski resort would be a great adventure for you and your powder-posse, some offer better amenities for things like apres ski events, exploring other resorts, dining out and retail therapy...
1. TIGNES, FRANCE
The high-altitude resort of Tignes might not be the classic chocolate-box resort to look at, but it has something for everyone in a group - great for all levels of skier, some of the best non-skiing activities and a huge range of accommodation. It's hard to top as a group ski holiday destination. The convenience of mostly ski-in/ski-out accommodation means there's a great choice for all budgets and if you're after a snow-sure resort, being at 2,100m will provide that peace-of-mind. Tignes possesses huge pistes from green to black and some truly enthralling off-piste zones to get the adrenalin pumping.
2. ST. ANTON, AUSTRIA
Quite possibly where dancing on table in ski boots was born! Visiting this resort, you're never far from a party and the atmosphere is ideal for groups. A huge ski area comprising multiple mountain villages will keep you adventuring all week and a choice of ski chalets makes St Anton a top option for a group ski trip. One thing's for sure – you should definitely visit this legendary ski resort before too long.
3. VAL THORENS, FRANCE
Known as much for après ski as the pistes, Val Thorens gets top marks for entertaining groups of skiers. One of the homes of La Folie Douce and its in-resort rival '360 Bar', the party gets started on the piste well before the lifts stop turning. VT has loads of apres options in close proximity in the village too. Lodging options are all close to the piste and with a variety of bedding configurations so you can make savings by squeezing more mates in a room. More spare Euros for après!
4. ARABBA, ITALY
Arabba is a traditional Italian ski resort where groups can experience a typical Italian atmosphere, ski on some of the best runs in the Dolomites and enjoy delicious local cuisine. The access to the Sellaronda is easy-peasy and accessing the nearby Marmolada glacier is simple too. Skiing in Italy is as decadent as it is fun, and a real treat for any budding foodies. 'Ski-Gastronomy' is endemic to the region and you'll find some of the finest mountain restaurants right here.
Ski Resort Finder
Try our latest tool; the Ski Resort Finder to whittle down your preferences and find the ideal resort match for your group ski holiday.
Organising a Group Ski Holiday
With so many options booking a group ski trip for you and your friends or family can sometimes seem daunting. But rest assured our dedicated ski gurus will call upon their expert knowledge and years of experience to highlight the best options for your ski holiday.
Things to Think About
The range of skiing abilities in your group
Non-skiing activities, such as spas, ice skating, husky sled rides etc.
Location – nearest lift, close to piste, bar, ski school, ski bus
Chalet to yourself or shared accommodation?
Childcare – Do you have young children in your group? Do they need childcare or can they ski with everyone else?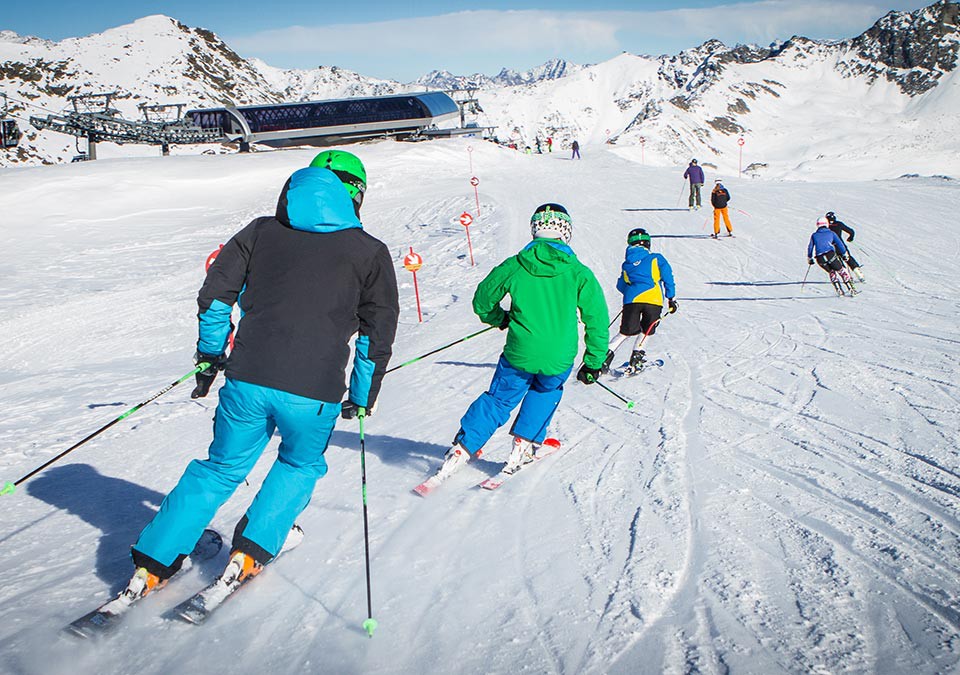 ---
Loyalty Discounts
We also offer loyalty discounts, so the more ski holidays your group takes with Skiworld, the more you and your group could save!
Group Ski Holidays FAQs
Frequently asked group ski holiday questions, answered by our team of Ski Specialists.
Can members of the group pay separately?
Yes. The balance can be paid off in multiple transactions at any point before the payment deadline (10 weeks before departure).
What chalet options do you have for large groups?
We can offer a wide range of chalets for larger group sizes, sleeping up to 21 people. Availability on the website is always live. Alternatively, feel free to call and chat to one of our ski specialists on 0330 102 8004.
Do you get deals on ski hire and lift passes for groups?
Yes. We offer our Ski All-In discount across all dates and property types giving everyone in the group big £££ savings.
Does the group leader get a free lift pass?
The group leader doesn't get a free pass. However we offer our Ski All-In discount across all dates and property types saving everyone in the group money.
What happens if the number of people in the group changes?
We always try to be as flexible as possible. So if you would like to adjust any part of your holiday just give one of our ski specialists a call on 0330 102 8004 and we can talk through the options.
---
Ski Accommodation for Groups