Description
Read More
Probably amongst the best quality apartments in Les Deux Alpes, Residence Cortina is fitted out as you'd expect with high quality fixtures and décor to match, including fully equipped kitchenettes, separate lounge areas and South facing balconies to enjoy the masterful views. A wonderful wellness facility available exclusively for guests features hot tubs, a sauna and steam room. Residence Cortina proves that luxury self-catering ski holidays do exist.
Meal delivery service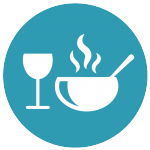 Save money and enjoy freedom and flexibility with our meal delivery service. Lots of delicious 'Cook' menus available with fresh and frozen options, all dietary needs catered for and wine delivery should you need it! Order for as many or few days of your stay as you need.