Description
Read More
High quality newly built comfortable, spacious apartments, with contemporary alpine décor.
All apartments come with fully equipped kitchenette with ceramic hobs, microwave, oven, fridge, dishwasher, coffee machine, kettle and toaster.
Free access to excellent wellness facilities included, with a heated indoor pool, whirlpool, saunas, steam rooms and fitness room.
Top 3 Reason to Stay Here
A luxury residence centrally located in La Rosiere with amazing 180 degree views over the Tarentaise valley.
Only 5 minutes walk to the ski lifts.
Offering a relaxing lounge area and a fantastic spa with fitness suite, saunas, steam rooms, jacuzzis and separate adult and child swimming pools
Meal delivery service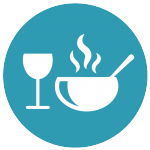 Save money and enjoy freedom and flexibility with our meal delivery service. Lots of delicious 'Cook' menus available with fresh and frozen options, all dietary needs catered for and wine delivery should you need it! Order for as many or few days of your stay as you need.