Description
Read More
Every guest can enjoy the benefit of the views and the fresh air as there are wooden balconies and terraces surrounding the apartments. As well as supreme access to the slopes, the residence also has a children's play area in the reception-lounge making this property ideal for families with youngsters. The apartments themselves have a double sofa bed in addition to the separate bedrooms, and a fully equipped kitchenette in the main living area featuring a hob, microwave and dishwasher.
Meal delivery service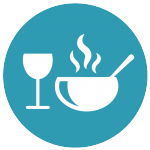 Save money and enjoy freedom and flexibility with our meal delivery service. Lots of delicious 'Cook' menus available with fresh and frozen options, all dietary needs catered for and wine delivery should you need it! Order for as many or few days of your stay as you need.