Description
Read More
Offering a high standard of contemporary accommodation, Les Chalets Edelweiss apartments are well styled and spacious with a homely feel. Great facilities are available in the residence including complimentary use of the indoor heated swimming pool and a fitness room. An in-house sauna and steam room are available to book in resort.
Meal delivery service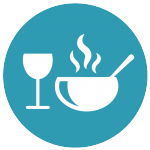 Save money and enjoy freedom and flexibility with our meal delivery service. Lots of delicious 'Cook' menus available with fresh and frozen options, all dietary needs catered for and wine delivery should you need it! Order for as many or few days of your stay as you need.