Description
Read More
With its spacious, contemporary and comfortable apartments, most of which have been recently renovated, La Foret suits all types of self-catered ski groups. There are shops, services and activities just outside the front door and the communal reception has an open fireplace lounge, table football, pool table and a dedicated children's play area.
Meal delivery service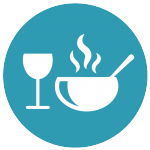 Save money and enjoy freedom and flexibility with our meal delivery service. Lots of delicious 'Cook' menus available with fresh and frozen options, all dietary needs catered for and wine delivery should you need it! Order for as many or few days of your stay as you need.