Skiworld & Snow-Camp's Partnership
Here at Skiworld, where skiing and snowboarding fuels our fire and drives everything we do, we understand the passion and satisfaction that the mountains can offer in more ways than one. Youth charity Snow-Camp shares our passion and takes it one step further by sharing it with disadvantaged inner-city UK teenagers since 2003.

Snow-Camp gives another meaning to our ethos 'Made in the Mountains' giving young people the opportunity to change attitudes, break down boundaries and increase aspirations; creating new potential and self-esteem for everyone who it helps, all through life skill training and being in the mountains.

What Is the Snow-Camp Charity?
Snow-Camp's mission takes an innovative approach of using snowsports to engage with youths-at-risk, bringing young people together from different parts of the UK. By providing life-skills training, vocational opportunities and the opportunity to learn snowsports, the charity creates an environment where young people can thrive; increasing their motivation and aspirations while building relationships and pathways to qualifications and employment.
Over the course of the year, Snow-Camp runs four separate programmes for young-people. Starting with First Tracks, they are guided through their first forays of skiing and snowboarding before moving onto the Graduate Programme where they work towards an ASDAN Level 1 qualification in Sports and Fitness. The Excel Programme is next, where over 10 weeks, young people train to become qualified ski and snowboard instructors. Finally, a handful join Snow-Camp's award-winning Apprenticeship Programme.
---
Includes first-hand accounts of the Snow-Camp programmes by the young people embarking on them. In November 2019 we'll be excited to announce two bursary students funded by the generous donations to Snow-Camp by Skiworld and our guests during the 2018/19 ski season...
---
Snow-Camp on the BBC
Snow-Camp featured on the BBC's Ski Sunday programme on January 26th 2020. The feature tells the story of youth volunteer Uche, who was stabbed last year. Snow-Camp Patron, Jenny Jones interviewed Uche and he discusses how this traumatic experience affected his confidence and mental health. It's an inspiring and emotional feature, well worth a watch.
What Are We Looking to Achieve?
In 2020 our aim is to support Snow-Camp even further and help their expansion throughout the UK by raising £50,000.
Snow-Camp's national expansion strategy aims to introduce their snowsports-based programmes to even more cities throughout the UK. The £50,000 target will enable Snow-Camp to successfully expand the programme to The Midlands where they will provide young people in the surrounding areas with a chance to hit the slopes for the first time on their First Tracks Programme using local artificial slopes.
How You Can Help
We will be hosting events and fundraising activities throughout the year to reach our goal but it's never too early to donate to this great cause! Visit our donation page now and help Snow-Camp reach its goal.
The overall Skiworld total for 2018/19 was £15,000.

How We Help Already
Skiworld has been a supporter of Snow-Camp for many years and we are a strong advocate of their work. Previously involved in fundraising activities from auctions to charity cycles; we also support the Snow-Camps Apprenticeships Programme, with a number of apprentices working placements in our London offices over the past few years.
Apprentices so far:
Chloe
Chloe was our first apprentice and after a hugely successful placement with us, we choose to take her on as a full time employee. She later moved onto an impressive graduate scheme in the leisure industry where she has gone from strength to strength.
Karl
Undoubtedly one of the most popular people in the office with a great character. Upon completion of an incredibly memorable placement (including accompanying the Key Accounts Team to Val d'Isere on the VIP ski trip), Karl decided to return to further education to finish his studies. He has promised that he will return and work a season for us in resort.
Aimee
Despite having just started with us, Aimee has settled quickly and already feels like part of the furniture. We are looking forward to see where her path takes her. You can read about Aimee's trip to Tignes with Snow-Camp by clicking the link.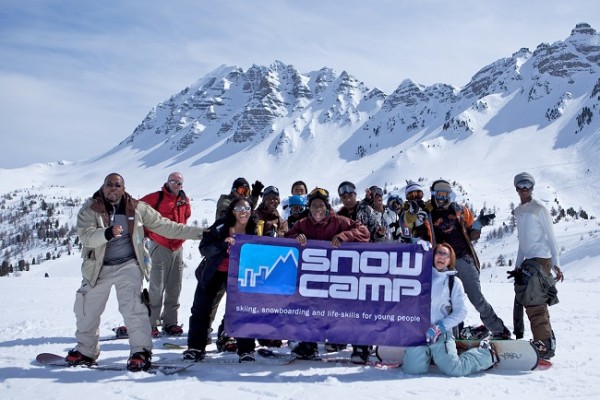 Stories to Shout About
Skiworld End of Season Challenge, 8th & 15th April 2019
Together, the entire Skiworld seasonaire team took on the challenge to ski and snowboard 16,000km (roughly the distance between one of Skiworld's North American resorts, Whistler and the French/Swiss/Austrian Alps, and back) in support of Snow-Camp. The Austrian/Swiss Alps teams took on the challenge on the 8th April and the French Alps on the 15th April 2019. The fundraising target was £16,000 which worked out around £50 per seasonaire.
Read the End of Season Challenge 2019 report to see how our resort teams got on...

Snow-Camp's 15-year Anniversary Ball, 4th October 2018
For Snow-Camp's 15-year anniversary ball on Thursday 4th October 2018, Skiworld provided an all-inclusive 7-night ski holiday to St. Anton or Lech for 2 people, including return flights, transfers, full area lift passes and ski carriage. Snow-Camp raised a massive £50,000 on the night across all the auctioned items, including the Skiworld holiday.
Dan Charlish, founder and director of Snow-Camp said, "Once again Skiworld stepped up with some fantastic support on the night by donating an amazing holiday as an auction item, which helped raise significant funds at the event. We have had a positive partnership with Skiworld for many years now, and the support continues to grow each year - we are so grateful for their commitment to us as a charity and the many ways they try to support Snow-Camp's work with young people."
2017 AJ Bell London Triathlon - £937.56
On 22nd July 2017, Sales and Marketing Director Diane joined friends of Skiworld Salim Ahmed and Julie Roberts in completing this Olympic distance triathlon in aid of Snow-camp. They each took on one of the three disciplines, raising a fantastic £820.45 between them. Skiworld Marketing Manager Luke also tackled the triathlon, raising a further £117.11 for Snow-camp with his swimming, cycling and running efforts.
Auction Evening June 2017 - £2,350
Due to some very generous bids from many of those who gathered for the City Drinks Auction Evening 2017, another great total was raised for Snow-Camp, with the following amazing prizes drawing some fantastic offers:
£1,000 – winning bid for an amazing specially selected Sports Package
£1,200 - winning bid for a top prize of a Skiworld Holiday
£150 – winning bid for a Golf Day with Skiworld's own golf pro, Key Accounts Team Leader Seb
Muay Thai Event - £65 - Ilja Titov
On Sunday 4th December 2016 our Finance Executive, recently fought in a Muay Thai event in London and won! He generously decided to donate his winnings to Snowcamp. Ilja has represented England at the European Championships as well as the World Cup and cites his father (who also represented his country) as his inspiration.

Half Marathon - £1,090 - Sarah Searson
On Sunday 9th October 2016 our Managing Director, Sarah Searson, completed a half marathon for the Snow-Camp Midlands cause. Through a mighty effort she managed a time of 1hr 51min - beating her target time of 2hrs! In the process she also managed to raise an incredible £1,090.00 kick starting the campaign to get Snow-Camp set up in The Midlands.