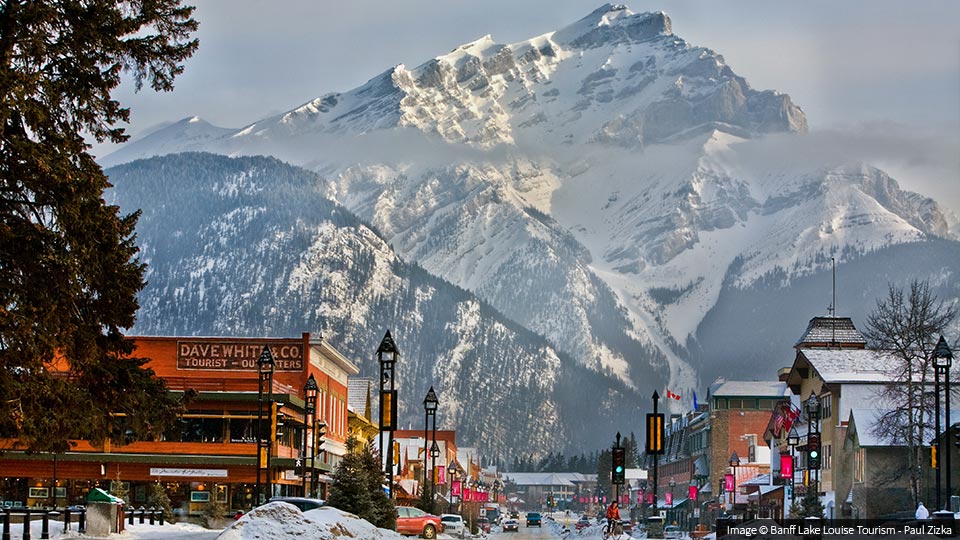 Situated in the Heart of the Banff National Park, the township of Banff is one of Canada's most renowned towns. Known for its dining, amazing scenery, vibing nightlife and of course its skiing! Here is a quick guide to help you plan your ski trip to Banff.
Where to ski in Banff
Lake Louise
Often touted as Canada's second largest ski resort, Lake Louise offers 4,200 acres of accessible terrain. This huge resort caters to all ski and snowboarding ability levels. Whether you want to spend your days cruising on the front side (we particularly recommend wee waxy run). Or if you fancy a challenge why not set your sights on hiker's paradise and give the famed back bowls of Lake Louise a try! Big fan of tree runs? Ptarmigan Trees is the way to go. Or on a snowy day why not have a play in the rock garden. Every season Lake Louise plays host to the first stop of the world cup downhill so if carving is your thing this mega-resort has the perfect terrain.
Not only does Lake Louise offer world-renowned skiing. Centred in the heart of the Banff National Park, Lake Louise can easily boast having the best views. The Mountain itself overlooks the Lake that lends its name to resort as well as enviable views of the 20th century Fairmont Château. Also in spring, it is not uncommon to see ice fall from the glaciers that cap the surrounding peaks into the Lake (this seems ominous).
Lake Louise offers a variety of dining options both on the mountain and at the base. If you want a premium options Whithorn Bistro offers fantastic views of the Lake and has great dining to boot. The Lodge at the base of the front side also features a range of restaurants from the more premium right on through to well-priced canteen. If a packed lunch is more your style, there is also a food hall where you are more than welcome to eat.
Sunshine Village
Often seen as a friendly rival to Lake Louise Sunshine village is the other large resort in the Banff area.
Just a 20-minute drive from the town centre Sunshine village is often the local's favourite. This is for good reason! Although aptly named for the amount of sunshine the alpine resort receives, it boasts more snow on average than Lake Louise and has a wealth of options for all skiing abilities. Perhaps the most famous attraction is Delirium Dive, although this mountain face is within resort bounds this area if forbidden unless you are riding with an avalanche pack.
Still wanting a challenge? Goats Eye mountain also has a lot of great terrain and challenging terrain to offer. If your legs aren't too tired by the end of the day we would recommend the famous ski out, a fun trail that leads back to the main base for the Sunshine Gondola. However, for those who are rightfully tired by the end you can ride the gondola down and soak up the views.
Mt Norquay
Although this is easily the smallest of the 3 resorts, Mt Norquay packs a punch. Situated just a 5-minute drive from the town centre the resort offers fantastic views of downtown Banff and Mount Rundle. This resort is easily the quietest of the resorts so if you want to beat the already minimal crowds Mt. Norquay is the one for you. Be warned, just because this resort is small does not make it an easy one. The runs in Mt. Norquay are steep!
Non-Ski Activities
Unlike many of the European Ski Resorts, Banff is a town foremost and is one of Canada's most popular tourist attractions independent of the wealth of skiing available. There is far more to do in Banff than just skiing. For those who want a day off or simply want a holiday in one of the world's most beautiful National Parks, you will be spoilt for choice on what you can do! Below are just a few of our favourite off slope activities:
Horse Sleigh Rides
Dog Sledding
Guided tours of the local walks
A wealth of natural volcanic springs to soak in
Skidoo rides
The Brewster Glacial Adventure
The Ice Sculpting competitions on Lake Louise
Nature watching (Moose Elk and Bison are not uncommon to see walking in and around the town)
See more things to do in Banff.
The Nightlife
Whilst apres may be a European thing, Banff has a great nightlife and a wealth of clubs, bars and pubs for you to choose from. Here are a few of our favourite places:
Bars
Mels- This fun bar situated off the main strip of Banff Avenue well renowned for its welcoming atmosphere. This is helped along by its free popcorn stand, where you can help yourself all night.
Banff Brewing company- This pub brews its own ale in house and uses locally sourced hops from the surrounding areas. If you want a unique taste of the Rockies this a visit is a must!
Devils Gap- This grungy (and reasonably priced) rock bar has plenty of foosball and table football stations for patrons to use as they relax. Be warned, if you ring the bell situated at the bar you will be expected to buy a round for everyone. If you hang out long enough you may pick up a free shot or two.
Clubs
Dancing Sasquatch – Named after the famous alpine yeti, this club is one of Banffs most popular clubs. Featuring a variety of DJ's the Dancing Sasquatch is the place to dance the night away. The bar offers $9 'time machines', whilst these are very fun, from our experience you may wake up the next morning with a hazy memory!
Aurora – Banff's largest nightclub and naturally one of its more popular ones. If partying on a Sunday night is your thing Aurora is a place to go, this is the local's favourite haunt for "industry night" so expect cheaper drinks and a more relaxed vibe.
Please remember it is very, very, cold in the Rockies always wear a coat.
Dining
Banff is one of Canada's premier tourist destinations as a result if dining is important to you, you won't be disappointed! With such a spread of fantastic restaurants, you will be spoilt for choice, we would recommend having a wander up and down the main avenue and having a look for yourself. But we do have some suggestions:
Saltlik- This premium steak house is a must for meat lovers. Alberta is famed for its ranches and high-quality steak, paired with its tasteful décor and signature wine list Saltlik will not disappoint.
Wildflour Bakery- For breakfast Wildflour is your best bet! Every morning the shelves are stacked with fresh pastry, we recommend the famous Banana Bread.
The PUMP and TAP- If you crave a taste of home Banff's first British pub is the place to dine. Not only do you get the taste of home but this sports bar also shows football (the British type), rugby, hockey, baseball and much more.
Where to Stay
Location – If a central Location is important to you we would recommend the Ptarmigan Inn. Located in the heart of the town with a bus stop taking you to any of the resorts stopping just outside the door. This is the place to stay if you want to be in the heart of things. The Hotel also has its own in-house Italian restaurant so you do not have to go far for good food.
Comfort – The Fairmont Chateau situated in the sleepy hamlet of Lake Louise the Château s surround by towering peaks and overlooks the world famous lake. This is a 5-star establishment and offers the highest degree of comfort, whilst having some of the world's best views. If comfort is your thing, this is the place for you.
The best of both- If you want the comfort of Fairmont Château and the perfect location of the Ptarmigan. You do not have to have to compromise, the Fairmont Banff Springs hotel offers the best of both! Known as Canada's "Castle in the Rockies" the luxury hotel is situated on the outskirts of the town this stunning hotel offers prime location and luxury, as well as having access to its own natural hot springs.
You may also be interested in:
Avalanche safety: what to consider before skiing off-piste
How to Choose the Best Skis for You