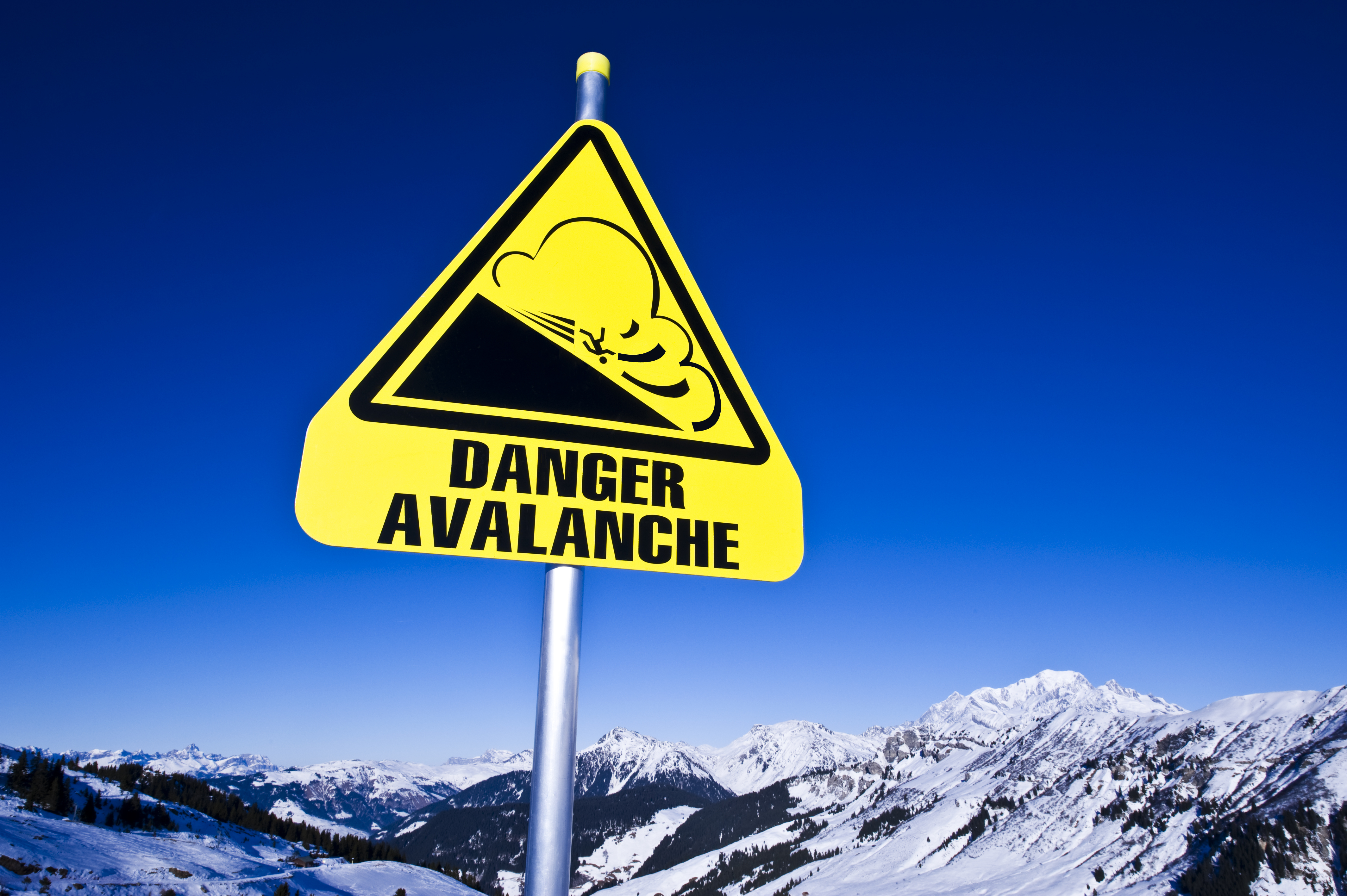 We often see epic photos of skiers and snowboarders forging fresh tracks in deep untouched powder, surrounded by beautiful scenery. Consequently, most snow-sports enthusiasts will, at some point, feel inspired to venture off the piste in search of fresh snow and more challenging terrain. Skiing off-piste is so much fun but can be dangerous, we would recommend always going with a qualified guide, as well as knowing a few key things about avoiding an avalanche before you go. We've also included some great resort suggestions for trying off-piste skiing.
What are you getting into?
A key thing to assess before heading off the side of the piste is what level of avalanche control the area has. Ski Patrollers and resort avalanche professionals will monitor and control the resort, but this area will end somewhere. Outside of this controlled area, it's completely up to you to manage the risk factors. Inside this area, it is still highly advisable to take the precautions outlined below when skiing off-piste.
Key action: Know which areas in the resort are monitored for avalanches. Check the piste map or ask ski patrol / the information office.
Why avalanches happen and what to look out for
Not all avalanches are equal. There are several different types, but the most common and dangerous to skiers and snowboarders are called 'Slab Avalanches'. These are the distinct looking avalanches with the cracked chunks of snow you probably think of first.
The snow we ski on is made up of layers, added with each new snowfall throughout the season. Slab avalanches happen when a weak layer beneath the surface in the snowpack gives way, causing the snow resting on top of it to slide. Inconsistency in weather and precipitation such as sharp changes in temperature, rain, high wind periods and heavy snow are all things that can cause unstable layers in the snowpack.
An avalanche bulletin like the one below will be available for most resorts. Check this daily in the run-up to your planned off piste expedition. You can usually find it online, from resort ski patrol or even the local tourist office. The example below details the current risk at different altitudes on the mountain, and indicates the likelihood of avalanches occurring. It also tells you dangerous facing slopes and what to look out for. Bulletins won't always follow the same style and may use different grading systems depending on the country so it's important to familiarise yourself with the system in your area.
Key action: Monitor the weather in the weeks and days before your holiday. Check the local avalanche bulletin each day.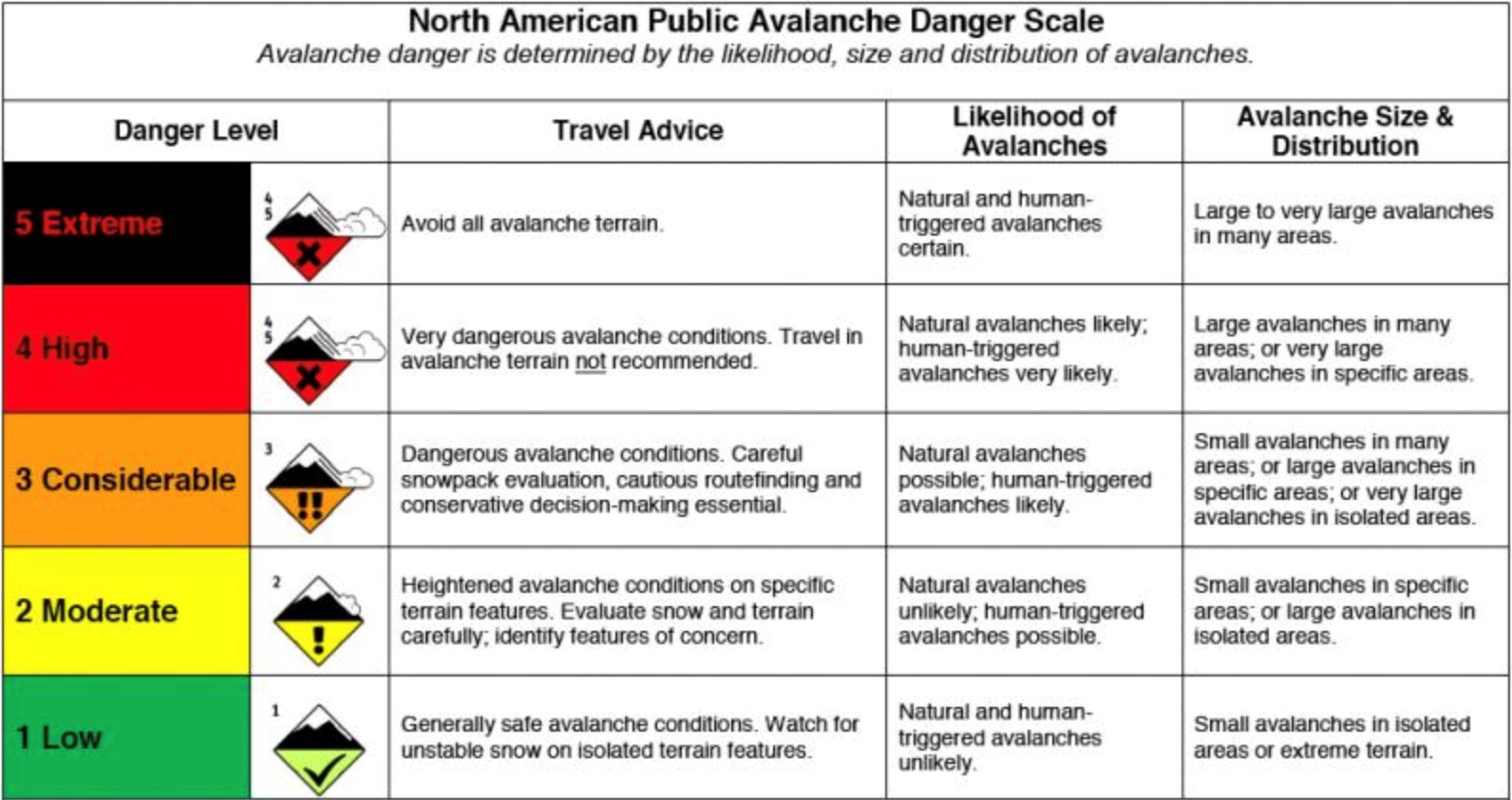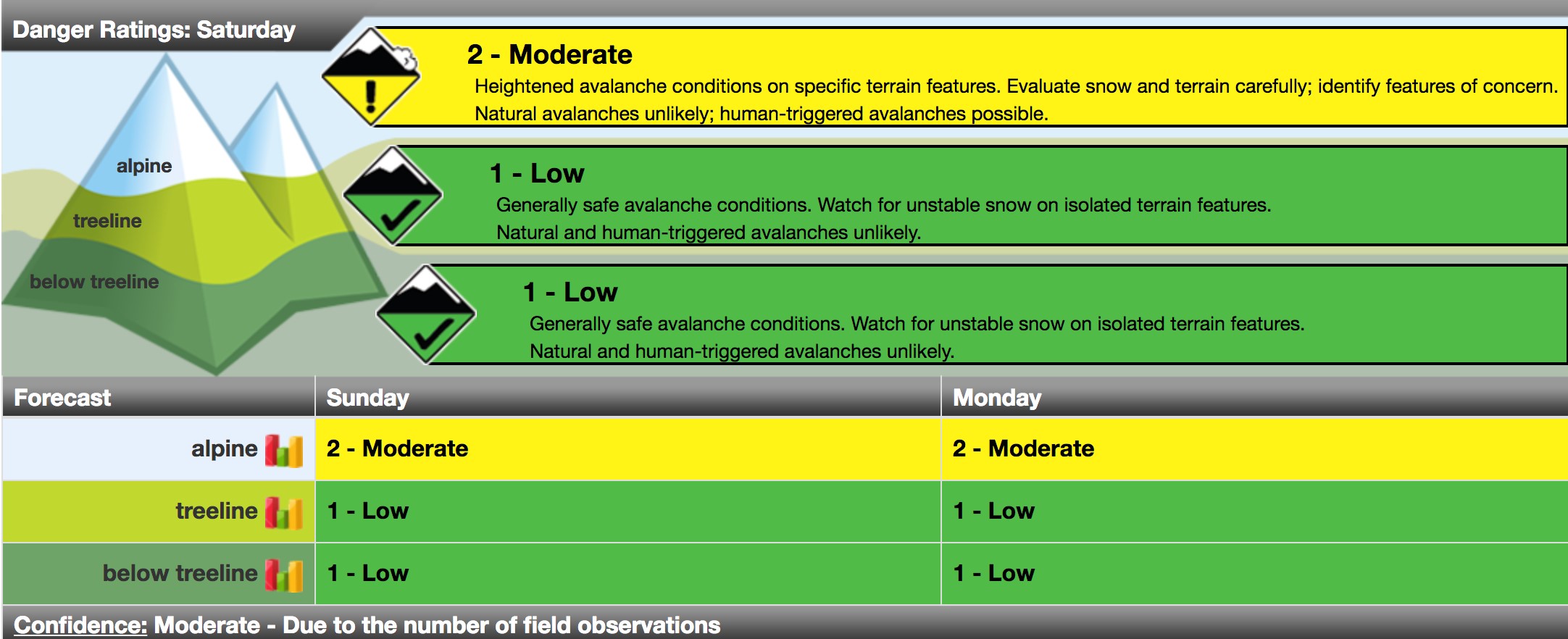 Preparation and selecting where to go
90% of avalanches that involve skiers or snowboards are triggered by the victim or someone in their group. This is positive for two reasons; firstly, it means human error is the biggest cause, so with good knowledge and preparation you can increase your level of control and minimise the risks. Secondly, it means that you aren't trying to predict when an avalanche will occur randomly.
The resort avalanche bulletin should be the guiding force when planning your route. It will specifically tell you what dangers to look for and what aspect slopes they will occur on. The accepted rule is that consequential avalanches don't happen on slopes less than 30 degrees, so sticking to low angle slopes is a great idea when starting to ski off-piste. Just remember you can still trigger an avalanche above you if the slope ramps up and becomes steeper. Avoiding areas where avalanches have happened before is also a good idea. Look for old avalanche debris and random clearings in trees or trees that have been stripped of their branches on one side only as this can indicate the path of a previous slide.
You must also look to avoid terrain traps. These are natural features that would make the consequences of an avalanche more severe for the victim if they were carried into them by the avalanche. Terrain traps include things such as cliffs, crevasses or gullies.
Key action: Plan your route based on the avalanche report and any visible avalanche evidence. Start on low consequence, low angle slopes and explore more varied terrain if the risk is low.
Skiing in avalanche terrain
Skiing in avalanche terrain should be methodical, steady and planned. You need to be conscious of where you stop and where you ski at all times. Avoid stopping in exposed areas that would put you in the avalanche path if the slope released. Instead look for places on top of a ridge or below a large rock where a slide would run around you. Sudden harsh convexities in the slope should also be avoided, due to the snow being especially weak in these areas.
Always ski one at a time between your safe spots keeping your tracks as close to one another's as possible. Moving one at a time puts less weight on the slope and means there should only be one victim if the worst does happen, leaving more people above to help with the rescue. Finally, as you ski try to keep an eye out for escape routes and closer safe spots you could try and get to if you feel the slope give way.
Key action: Plan your route down from safe spot to safe spot before starting. Ski one at a time. Ski close to tracks left by the person in front.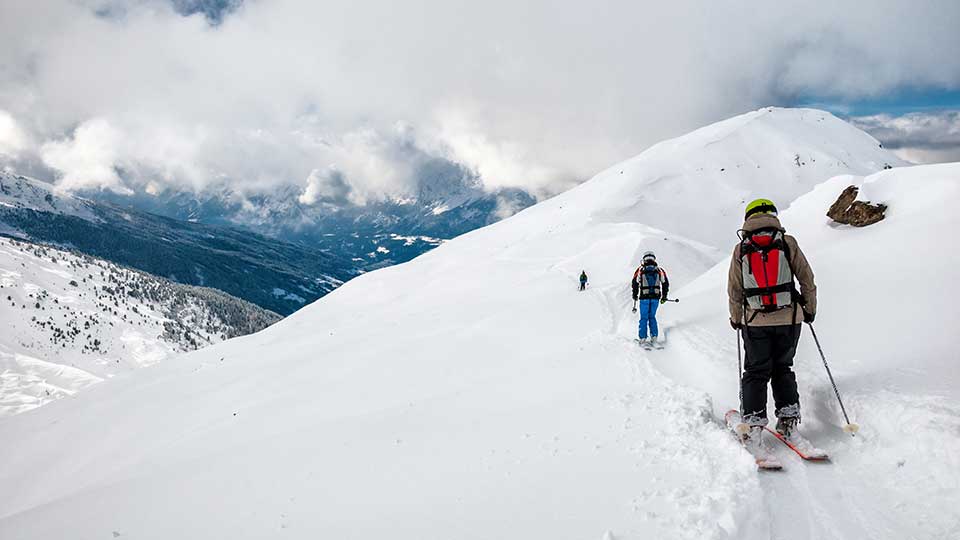 Training and equipment
There are 3 pieces of equipment you must know how to use and have with you at all times when skiing in avalanche terrain. These are:
– Transceiver – Worn close to your body usually in a harness provided with the transceiver itself. Never in your backpack or jacket.
– Shovel – Kept easily accessible in your backpack when skiing.
– Probe – Again kept in a backpack, ready to be accessed fast in the event of an avalanche.
It's important that using this equipment become second nature. Buried avalanche victims have above 90% chance of survival if they are dug out within 15 minutes. After this, the odds drop, rapidly. Multiple burials mean your time limit gets even tighter, so the more proficient you are in knowing your equipment and mounting a rescue the better.
It can be difficult to find avalanche training resources in the UK, primarily due to our annoying lack of snow. However, Henry's Avalanche Talks is a fantastic and inexpensive resource to get the minimum training that anyone skiing off-piste in avalanche terrain should know.

Your group
A group of between three and five people is advisable when skiing in avalanche terrain. Having a larger group than this makes discussing and deciding things as a team difficult. It also makes sticking to the 'skiing in avalanche terrain rules' much harder. Never ski alone in avalanche terrain. No amount of practice, training or having correct equipment will help you if something happens when you're by yourself.
Key action: Try and ski in a group of 3 to 5 people. Never ski in avalanche terrain alone.
Communication is king
It's essential to discuss plans with your group before venturing into areas with avalanche risk. Make sure group members are confident about skiing the planned route and have the same tolerance for risk as others. Also make sure everyone is experienced and confident about skiing in the deeper, less predictable snow conditions you'll find off the piste. The last place you want someone pushed past their skill limit and injured is in avalanche terrain. This could cause the rest of the group to spend longer in a dangerous area unnecessarily.
Key action: Discuss all plans with your group beforehand. Make sure everyone is confident and capable enough to tackle the route.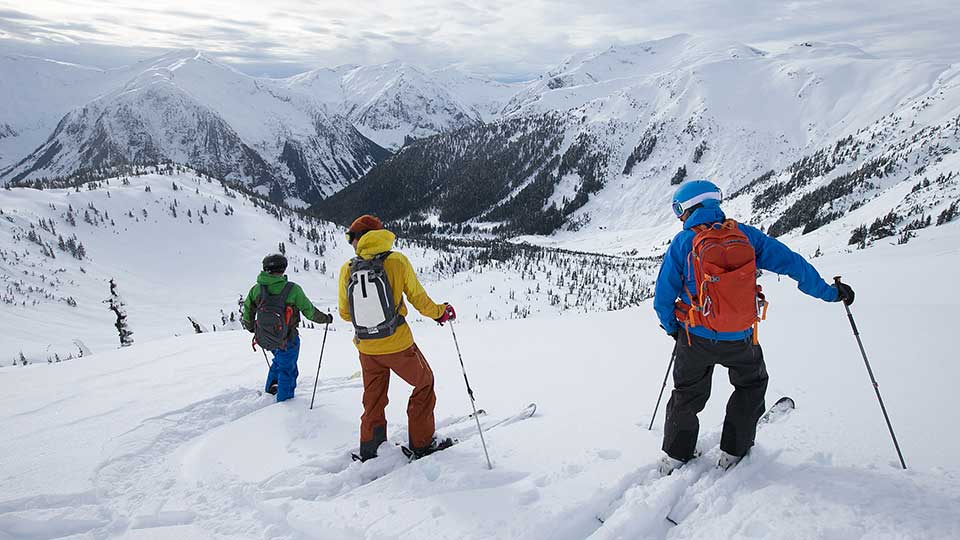 Use your head not your heart
As mentioned earlier, most avalanches are caused by human error. This includes letting emotion cloud your judgement. It can be hard deciding against putting the first set of wiggles in pristine, fresh powder but it's a decision that could save you and your friends from danger. Likewise, never be afraid to voice concerns and tell others if you are not comfortable with the decisions being made. You never know, others may have missed something you haven't.
Key Action: No matter how excited, be prepared to walk away and leave it for a better time. Never feel embarrassed and always voice any concerns you have to your group.
Resort recommendations to try skiing off-piste
Consider the following resorts for great places to try off-piste skiing and snowboarding.
Tignes is a great place to try your hand at off-piste and learn the art of powder skiing. The resort has reclassified many of its lift-accessed black runs to 'naturides' which are ungroomed but still avalanche controlled. This means you can work on your technique and confidence in a much safer environment.
Avoriaz has some great off-piste terrain, very easily accessible for those not wanting to venture too far. The Canyon du Pschott snowzone, accessible from the top of the Express du Fournet chairlift, is a huge area with natural jumps, half-pipes and cliff drops. Even with new snow, there are usually always fresh lines to be had thanks to the area's size. Taking the Express Choucas chairlift to the other side of the bowl offers similar but less challenging terrain.
With high altitude North facing slopes, Les Arcs is able to keep its off-piste powder in good condition for longer periods of time. Les Arcs' 'Natur' runs below the Aguille Rouge such as Génépi, Crêtes and Robert Blanc are great with fresh snow but do turn to moguls quickly with high traffic. Try the North face of the Aiguille Rouge for steep powder runs, or a short hike from the top of the Grand Col lift brings you to some easier routes along the Turia Glacier.
Pin for later