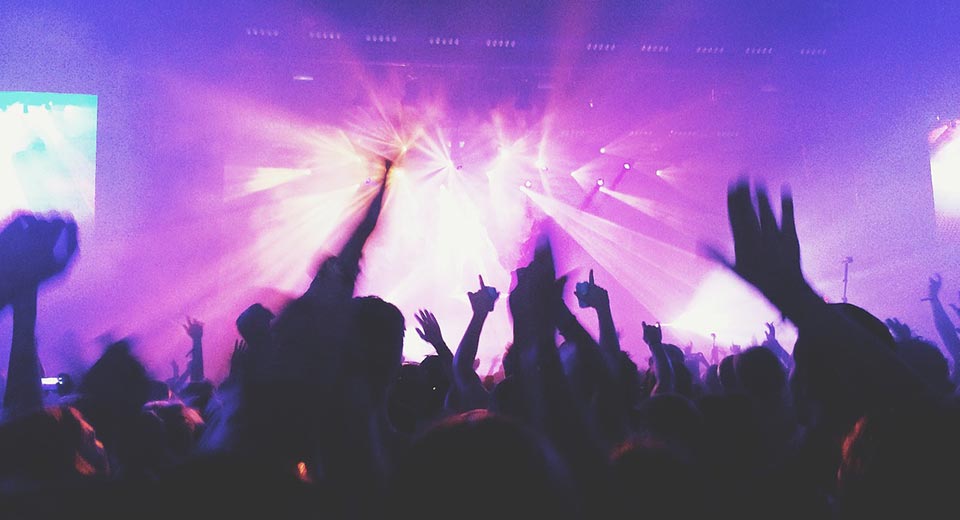 There isn't anything worse than getting back from hols and finding out about all the great activities you didn't know were on offer. If you think skiing and après are the only experiences on the itinerary of a winter holiday, you're in for a shock.
In reality, after reading this you'll have more variety on the agenda than you can shake a ski pole at. Also, any non-skiers out there? Getting this printed and laminated is as important for you as booking your plane tickets. The days of sitting in the chalet, staring longing at the slopes until the skier's return are over.
So, if you're suitably captivated, let's begin. The 12 most exciting and memorable experiences on the list for the 19/20 season.
1. Sarenne Sunset Ski, Alpe D'Huez
What better place to start than at the end, the end of the day that is. The mountains produce some of the most spectacular sunsets around, team this with skiing and you're onto a winner.
Alpe D'Huez gives the unmissable opportunity of skiing by moonlight down the Sarenne, the longest piste in Europe. Being a black run, this isn't one for the faint-hearted, but experienced skiers and snowboarders are both welcome.
Coming in at €55 per person, with discounts for groups of 3 or more, this shouldn't break the bank. Don't worry about getting peckish either, drinks and nibbles are both provided to make the sunset viewing even more memorable (or maybe less…).
Learn more about Alpe D'Huez.
2. Snowboxx Alpine Music Festival, Avoriaz
Any music connoisseurs amongst you will have noticed the rise of the winter festivals. Avoriaz is once again hosting one of the most popular of these. Snowboxx festival has had a formidable line up over the past few years, including the likes of Chase and Status and Craig David.
Accompanying the music will be an abundance of spring skiing, with the end of March giving the unbeatable mix of snow and sun.https://www.snowboxx.com/. If this holy grail of a combination isn't enough then don't worry, there is much more on the menu. The bottomless brunches and luxurious spas will make even the most metropolitan travellers feel at home.
Learn more about Avoriaz.
3. Snowshoeing, Chamonix (free maps & guides)
If you're after something a bit closer to nature, then maybe a simpler option is the one for you. Experience the tranquillity of the mountains by sliding your feet into a pair of snowshoes and heading out into the endless white terrain of Chamonix.
Soon the monotonous commands of the ski school snakes will be long out of earshot. The only sound for miles around will be that of your shoes against the snow, along with maybe the occasional inquisitive marmot.
Half-day, full-day and evening sessions are available. Of course, there is also the option to team the adventure with a traditional alpine meal and plenty of Genepi. Hiring the comically large footwear should only set you back around €10, with guidebooks on hand to point you in the right direction.
Read more about Snowshoeing in Chamonix or learn more about Chamonix.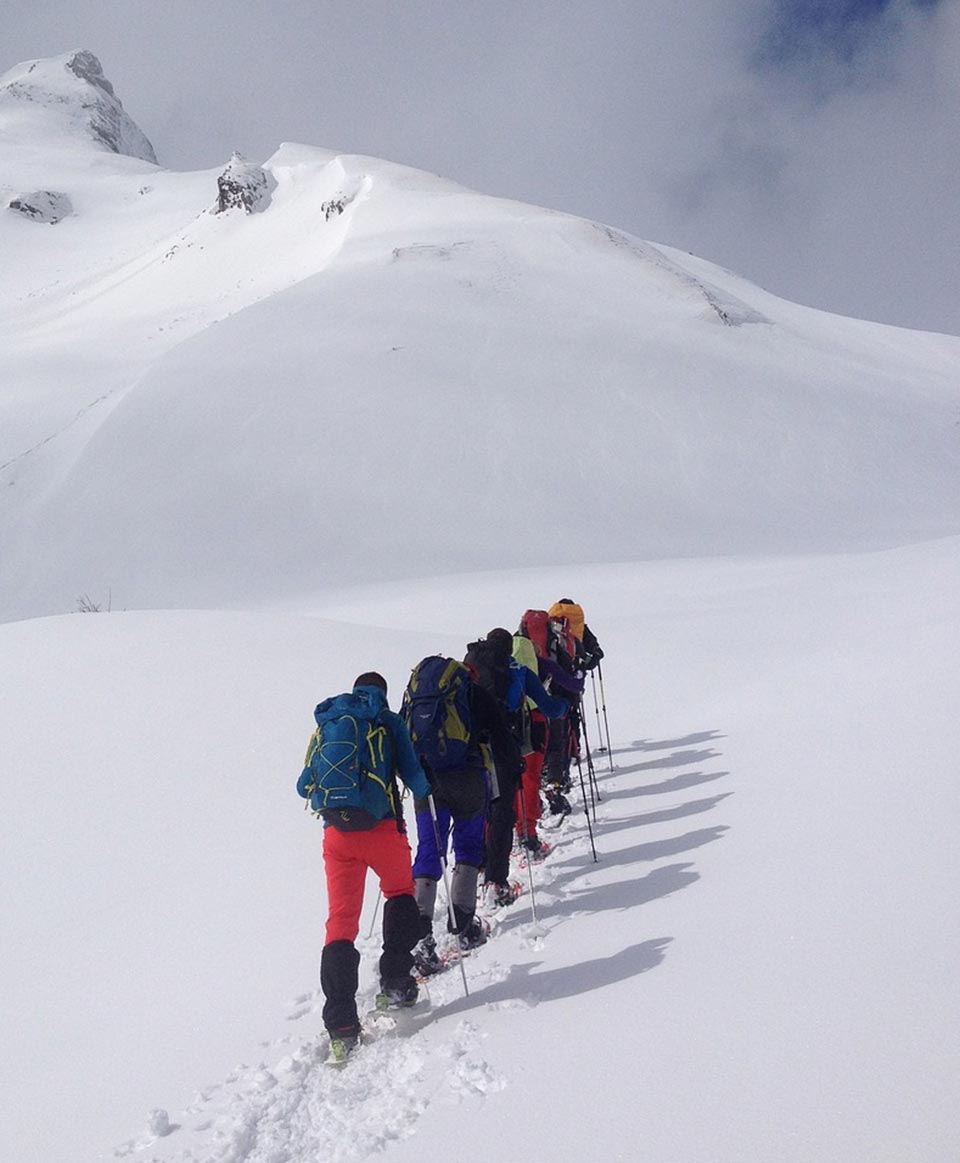 4. Hidden Valley, Val d'Isere
Enter the "Vallée Perdue" just above (and skiers left of) the bottom of the Tommeuses chair, or ski left from the top of the chair, dropping down further round the bowl and then ski into the valley from there. It's a narrow gulley with a variety of natural rock features which may or may not be full of snow and require crawling through or climbing down.
The valley pops you out just above La Daille near the end of the Triffolet red run, having tickled your sense of adventure and given you a great skiing memory!
Learn more about Val d'Isere.
5. Full Moon Party, Nendaz
Who said full moon parties were only available on the beaches of Koh Phangan? Definitely not those familiar with Nendaz nightlife.
Once a month, around the time of the full moon (believe it or not), a stage will emerge for four unique soirees. Food and music take equal centre stage, with the Tracouet restaurant and the Entrecôte Café de Paris playing host to the evening's frivolities.
Non-skiers won't miss out on the fun either, just take the gondola down and the cable car back up. You may well be glad to be on foot when you're nursing the food coma and slightly wavy vision.
Read more about Nendaz Full Moon parties or learn more about Nendaz.
6. The Run of Fame, St Anton/Lech
Whether you're new to skiing in Austria, or you've been gracing its slopes since before the turn of the century, the run of fame will have something for you. Distancing 85 kilometres with an 18,000-metre range in altitude, this marathon ski will test anyone brave enough to clip in.
You will fly through St Anton, Zurs, Lech, Warth and end up back in St Anton. The official Ski Alberg app will track your progress to each of the three checkpoints. If rumours are correct there will be a gift waiting in the hall of fame for whoever completes the challenge in two days.
Read more about The Run of Fame or learn more about St Anton and Lech.
7. A Gastronomic Ski Safari, Italy
Stay in one of a number of unique and picturesque ski villages in the Italian Dolomites and enjoy probably the finest variety of mountain gastronomy on the planet. 'Mountain Gastronomy' in the South Tyrol is like nothing you've experienced on a ski holiday.
What happens if you combine the magnificence of the UNESCO World Heritage Dolomite mountains (including the famous Sella Ronda ski circuit) with more Michelin stars than any other Italian province and an unbelievably long list of award-winning South Tyrollean wines? You'll experience an Italian ski holiday delivering an assault on your senses from which you may never recover. That's what.
8. Snowcat skiing in Colorado
Home of deep and soft powder snow and over 300 days of sunshine a year, there's a reason why Colorado is home to some of the best ski experiences in the world. The vast Rocky Mountains are home to a plethora of private snowcat operations, where you can stay in a private lodge and ski untracked powder (with a guide) all week long.
But what if you want to do it in a resort? Look no further than The Little Nell hotel's Snowcat Powder Tours, including a 5-star lunch. Or how about free, yes FREE Snowcat Tours at Copper Mountain (just a few miles from Breckenridge or Vail).
9. Europe's Longest Toboggan run, Val Thorens
A staple in any respectable ski resort, tobogganing is a winner for every age group. If you're going to do it, you might as well do it right, by going as big as possible. Val Thorens is the home of the longest toboggan run in Europe.
Indulge in this perfect pre/ post apres excitement for just €16.50 in the day and €24.50 in the evening. Toboggan hire is included so you don't worry if you can't fit yours in the hand luggage. You'll be sliding non-stop for a dizzying 45 minutes and the evening session even includes the classic combination of Vin Chaud and cheese.
Learn more about Val Thorens.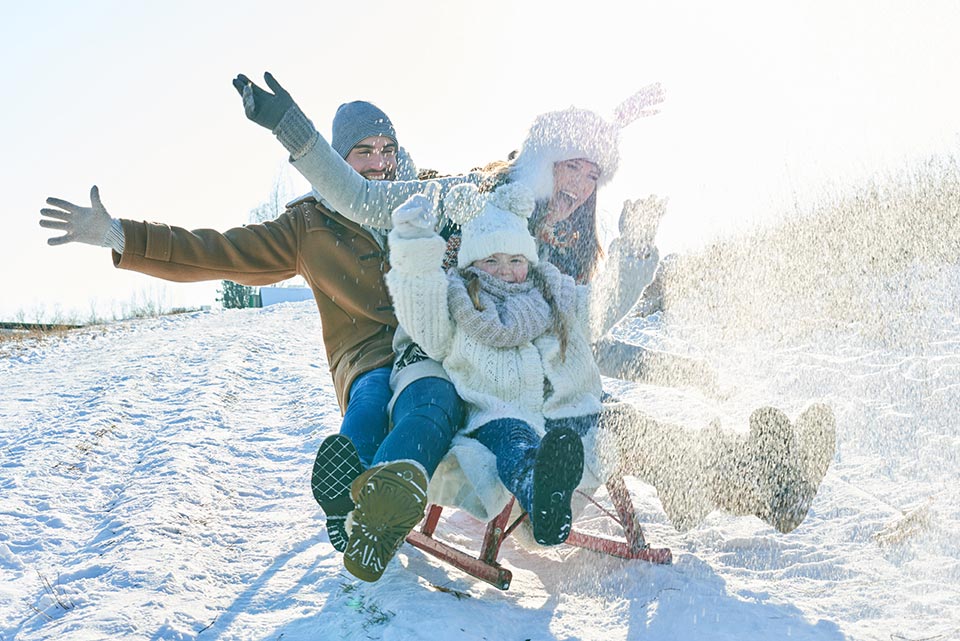 10. Ice Rally Driving, Val d'Isere
After watching the more ill-equipped cars driving up the mountain roads, you could be forgiven for thinking you are already a part of this next venture.
This is, of course, the ice driving in Val d'Isere, giving the opportunity to get the rally experience in a more controlled environment. There are various sessions on offer, ranging from a €30 initiation to 'Ice-driving experiences' from €399 and upwards.
Ice karting is also served up for the more competitive groups, and electric motorbikes can be even be tested in this thrill-seekers playground.
11. Ice Scuba Diving, Tignes & Val Thorens
From ice driving to ice diving, another activity best done under professional supervision. If Bear Grylls isn't around, the next best option may well be one of the teams in Val Thorens or Tignes.
Both these resorts allow an intrepid explorer to test their nerve and delve into the icy depths. Tignes has a conveniently placed lake in, you guessed it, Tignes Le Lac. This means you could be in and out whilst the kids get their ski hire fitted.
The diving in Val Thorens is a bit more costly and a whole day affair, requiring a trek up to 2035m. After an hour snowshoeing, you'll find a secluded mountain hut and an imposing lake. In both resorts, you'll spend around 20 minutes submerged in the respective frozen waters.
Read More: Ice diving in Tignes, Ice diving in Val Thorens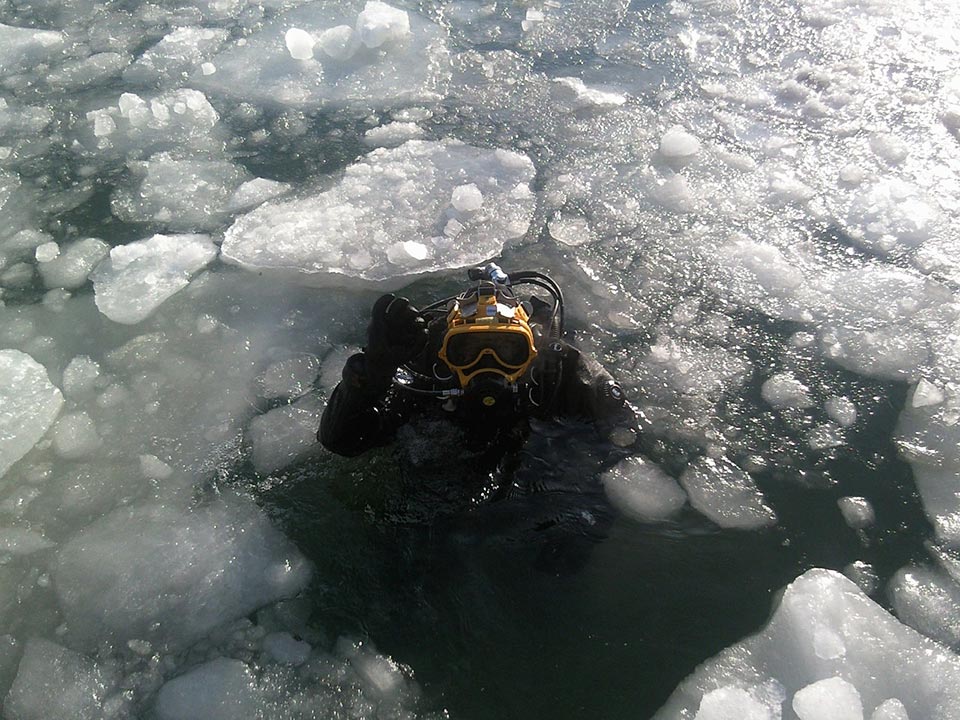 12. Olympic Bobsleigh, La Plagne
When someone says 'Olympic bobsleighing', there is really only one thing that comes to mind. The question is, who wouldn't want to recreate the scenes from Cool Runnings?
La Plagne gives us the chance to do exactly that. There are 3 choices of bobsleigh 'sensation' on offer, each more adrenaline-fuelled (and pricier) than the last. Starting with the family-friendly self-driving 'bob raft', then the solo 'speed luge' and finally the professionally driven 'bob racing' experience.
So get the Lycra's on, take a deep breath and 'feel the…..
Read More: Bobsleighing in La Plagne
Other articles you may like:
Top Snowsport Festivals
5 Tricks You Should Try On Your Next Ski Holiday
Non-Ski Activities