The Cheapest: Multi-Residences 1650, Les Deux Alpes
Cheap is definitely cheerful in this case! Not only does the Multi Residence 1650 win the 'Least likely to break the bank' award, but the location is slope-side ski-in/ski-out in the Belle Etoile area, just 200 metres from the centre of the humming après in Les Deux Alpes. The apartments have everything you need for a self-catered stay, with the larger units also featuring a full-size oven so you can cook up a storm (or just warm a dozen croissants at once!). The bathrooms are well-appointed for comfort each apartment has a balcony so you can drink in the mountain views. A Multi Residence with a multitude of benefits!
Ski apartments from as little as £750pp (based on 6 sharing)
The Best Value: Le Jardins de Val et Verdet, Val d'Isere
You don't often think of great value when thinking Val d'Isere. One of the most famous ski resorts in the world is well known for having a premium price tag to match the premium skiing and après ski scene. Stay at Le Jardins de Val et Verdet apartments though and you'll find it hard to wipe the smug grin off your family's face as you whizz around the massive 660km Tignes-Val d'Isere ski area, knowing you paid a fraction of the price others did for the same snow!
The apartments are just 500m from the centre of Val d'Isere and there's a bus stop 100m away so you can access all the lifts from La Daille to Le Fornet. The apartments feature living areas, kitchenettes and bathrooms and balconies and are furnished with all the necessary amenities. They're simply a great base to explore this amazing resort with ease and at the best value for money.
Amazing value self-catered ski holidays from £791pp (based on 4 sharing)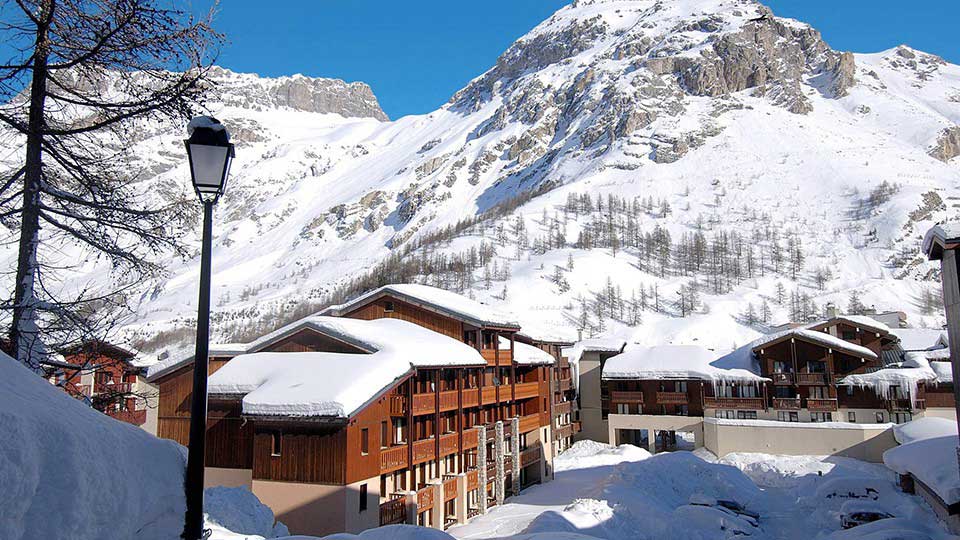 Special Recommendation: Les Chalets Edelweiss, La Plagne 1800
Well known for being among the cheaper ski resorts in France, La Plagne is also one of the best in terms of skiing. The ski area is extensive with swathes of cruisy intermediate green and blue slopes and plenty of off-piste for expert skiers – more than enough to keep anyone occupied for a week. Get a full area lift pass to include Les Arcs and you have 425km of marked pistes at your ski-tips!
Les Chalets Edelweiss is our 'diamond in the rough' so to speak. La Plagne is well known for middle-of-the-road accommodations, but this ski-in/ski-out residence is a big cut above, and being in La Plagne still very affordable at half term. Sleeping 2 to 8 people the units are stylish, spacious and homely with in-house facilities including an indoor heated swimming pool, fitness room sauna, steam room and ski lockers. There's even a communal lounge with open fireplace and a pool table.
The best self-catering ski apartments for half term from £815pp (based on 8 sharing)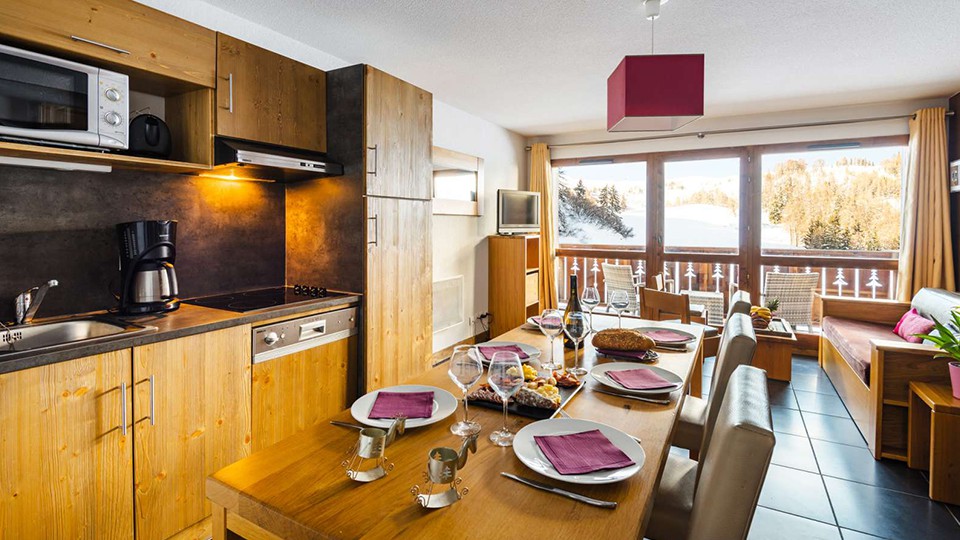 From now until Half Term prices will probably be going up for half term ski holidays, especially flights. There are a limited number of flight seats available and as they sell, airlines like EasyJet will often increase their prices to meet demand. Boo!
So there really is no better example than now, of a time to live by the law of B.E.T.A.D… Book early to avoid disappointment!
Top 6 Reasons to Book Early
You get the best pick of the available apartments, whether your requirement is size, choice of view or facilities. When you book, it's worth requesting a mountain view and a balcony for example. If you book late, you'll be less likely to get these perks.
If you're travelling in a large group (8+ people), the largest apartments get snapped up first as there's usually less of them. Sit on your hands, and you'll miss out. Simple as that.
Spread out your holiday payments into smaller chunks the further in advance you book. Balances are usually due 10 weeks before departure. In advance of that the deposit for apartment holidays is usually only £150pp to confirm your flights, transfers and the accommodation, as well as lift passes and ski hire if you need them!
Make the most of booking in advance to get organised for your ski holiday. Do you need to renew your passport? Shop for the best insurance deal? Maybe figure out which one of your shortlist of 8 new ski jackets to buy… That could take weeks 😉
If you want to travel from a regional airport in the UK, flights can be less frequent to the main Alps airport hubs where our transfers go from. Therefore, it's definitely better to book in advance if you want to fly from say Manchester, Birmingham or Bristol.
With a general election looming in the UK, securing your booking for half term now will lock-in the exchange rates for everything you commit to buy. For example, if the Pound falls against the Euro after the election, the cost of your holiday (including any extra like lift passes if you book them) won't change at all.
Delectable Dinners, Delivered!
Save money and enjoy freedom and flexibility on your self-catered ski holiday with our meal delivery service. Lots of delicious dishes and menus available with fresh and frozen options, all dietary needs catered for and even wine should you want it! Order for as many or few days of your stay as you need. Get your meals delivered by Huski from just €14 per person…
Prices correct when published, subject to change.
You may also like:
Top Tips for Family Ski Holidays and Travelling with Children
The Top 5 Resorts for Family Ski Holidays