whistler blackcomb ski resort
Two Mountains - Double the Fun!
Whistler is one of the most sought-after and exciting resorts in the world. The scenery is spectacular and the two mountains, Whistler and Blackcomb, combine to form the largest ski area in North America. Whistler has been purpose-built with all facilities and amenities clustered around the base of the resort. The architecture is an attractive West Coast style with cobbled pathways and well-designed buildings throughout this pedestrianised resort.
ski holidays in
whistler
1.
8,171 acres of ski terrain across the two mountains of Whistler Blackcomb - the largest skiable area in North America.
3 glaciers, 200+ marked trails and a whopping 16 alpine bowls, covered in 12 metres of snow annually.
2. European-style pedestrianised village with access to over 60 bars and restaurants featuring food from all over the world.
3. Family entertainment day and night including a tubing park and ice rink, plus family-friendly restaurants

Whistler is an ideal holiday destination in its own right, but its facilities make it one of the best places for skiing holidays in the world. Whistler boasts one of the most advanced high-speed ski lift systems, offering great ski slope accessibility. Just a 20 minute ride from Whistler finds you on top of the ski area. There is an excellent ski school for beginners, intermediates and experts alike. There is fantastic snowboarding at Whistler, with a large number of dedicated snowboarding areas and parks. Whistler is also a great destination for heli-skiing! With such superb ski and snow activity facilities, no wonder Whistler was a co-host of the 2010 Olympic and Paralympic Winter Games.
What to Expect in Whistler
Skiing and Snowboarding in Whistler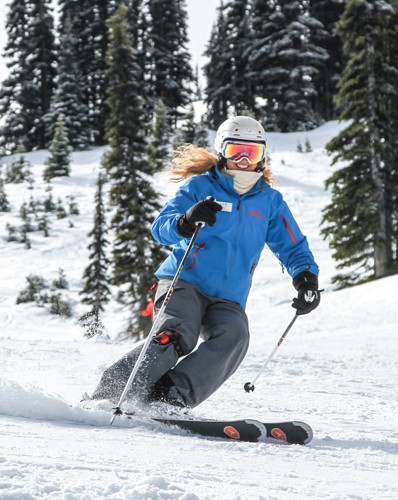 Skiers and boarders benefit from a superbly integrated network of high-speed lifts - including the record breaking Peak2Peak Gondola, which whisks you to any selection of over 200 marked trails, 3 glaciers and 16 alpine bowls. There are also a large number of dedicated snowboard areas. Beginners will revell in the excellent ski school, intermediates will be able to ski and board a vast array of runs - many tree-lined and in great scenery. Advanced skiers and boarders should head for the bowls and make the most of the longest vertical drop in North America back to the village. 'Fresh Tracks' is a great option; a hearty breakfast buffet on the mountain, followed by early access to the slopes.
Ski hosting is not permitted in Whistler, however as is the case in many North American resorts guests can use the local Mountain Guide services instead.
If you're heading to Whistler and looking for either your first dip into the heli-skiing arena or simply just to take hold of the experience of this incredible mountain range give our dedicated sales team a call and they will be more than happy to talk you through your options.
Ski Accomodation in Whistler
As you would expect from such an outstanding ski resort, accommodation in Whistler offers something for everyone. From picturesque mountain retreats to hotels and condominiums close to the centre of Whistler and the ski slopes, there is accommodation to meet every need.
ski hotels in whistler
An array of different styles, locations, themes and facilities to suit different budgets give Whistler hotels an edge over other resorts. Choose from the lap of luxury at the Four Seasons or Fairmont, optimum Village centre location at the Pan Pacific or fantastic value at the Listel.
ski apartments in whistler
If you prefer to self cater, Whistler doesn't disappoint. Again, with options from luxury to budget you can be sure there's something for you. The Coast Blackcomb Suites impresses with its big slopeside apartments and added bonus of hotel amenities such as reception and buffet breakfast. The Summit Boutique is certain to impress, and for families the Tantalus offers great value and multiple room options.
Apres Ski in Whistler
Intrawest has invested heavily into the careful expansion of Whistler over the last few years,transforming it into one of the liveliest resorts in North America, with over 100 bars, nightclubs and about 80 restaurants catering for all tastes and ages. There are more than 200 shops within Whistler ranging from souvenir shops to North American retail chain favourites, open till late. An easy 10 minute drive from the village is the sports centre. Non-skiers can also enjoy an exciting choice of snow activities including dog-sledding, horse-drawn sleigh rides, snow mobiling, zip trekking and of course the fabulous spas where you can relax outside in the various hot tubs and take in the view of the mountains. The cultural city of Vancouver is an exciting day out and easily manageable being only a couple of hours drive down the Sea To Sky Highway.