go skiing alone but not on your own
Everyone loves a ski holiday and sometimes skiing on your own can be whole new experience. At Skiworld, we pride ourselves on being an open, friendly and most of all fun-loving company that is 100% Made in the Mountains - the difference with us is that every single one of us is obsessed with all things snow! And we find that this gives us something in common with all our staff and all of our guests so even if you are travelling on your own, you will never feel left out when the conversation turns to ski!
Get Involved on your Solo Ski Holiday
Staying in a catered ski chalet or one of our new generation of ski lodges can be a great way to ski as a single traveller; the dinner party atmosphere and like-minded conversation means that you can get as involved as you want to on your solo ski holiday. We often hear tales of chalet guests who have got on so well together having never met each other before that they re-book chalets together for years to come!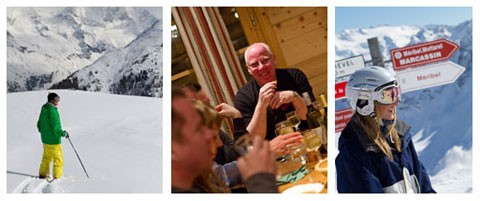 And the convivial atmosphere is not just in the accommodation, Skiworld also offer free social skiing in ability level groups in some resorts so there is always someone to ski with. Our reps will show you around the mountain, including all the best pistes and you are sure to make friends along the way.
Getting good value on a solo ski holiday
It is true that finding single accommodation in a ski resort is not always the easiest, but us friendly folks at Skiworld also have some tricks to help make this easier as well. We are one of the few operators who still offer single shares in selected chalets, so there are no single supplements to pay when a single room is not available. Or, if you prefer a little more space, our Empty Bed supplements are reasonably priced, especially on Late Availability holidays. Give our friendly sales team a call on 0330 102 8004 to find out more.
We also offer a number of special interest holidays over the course of the season, perfect for meeting like-minded fellow skiers and trying out a new experience at the same time. Join our mailing list for more details!
Good for Singles
To help you plan your single ski holiday more easily, we have put together the following list of properties that are good for singles. Or feel free to give our Sales Team a call and have a chat about what you are looking for - they are always happy to talk ski!