Everything You Need to Know About Easter Ski Deals 2021
When is Easter 2021?
Good Friday – 2nd April 2021
Easter Sunday – 4th April 2021
School holidays in most regions in the UK are around Thursday 1st – Sunday 18th April 2021.
See our Easter ski deals
Why Ski at Easter?
The lifts are open later – Daylight hours are longer too, so you could have a relaxed lunch and ski for that little bit more in the afternoon. The Easter fortnight is popular in some resorts, but slopes are often empty compared with peak winter dates such as February half-term.
Prices are lower – Easter is not a busy time so prices tend to be lower, especially when compared with the February half-term and Christmas / New Year. Late March is usually as cheap as mid-January and in April some resorts also drop their lift pass prices for the Easter ski holiday weeks. You may also pick up some bargains in ski shop end-of-season-sales.
It's sunnier and warmer – This means you have longer days to ski and can wear less layers of ski clothing. It's also a great time to learn to ski – especially for families with young children who don't like the cold. It's much more enjoyable having a ski or board lesson when you're not shivering! Inevitably there's some standing around during ski school and a harsh winter's day when the thermometer drops way below zero can be challenging.
Al fresco lunches – Wear your sunnies and t-shirts at lunchtime, slap on the factor 50 suncream and take in the mountain vistas on a restaurant's sunny terrace. If you're on a tight budget, picnic lunches become an enjoyably lengthy affair rather than a quick-bite and a chance to scope out one of those perfect 'instagrammable' spots!
Bluebird days – Generally there are more clear blue-sky days in spring, but there are also lots of snowy days and nights. Occasionally there are some of the heaviest snowfalls of the season in April! There's nothing as exciting as waking up to a clear blue sky in the morning after a night of heavy snow… Can you say "Powder Day!" ?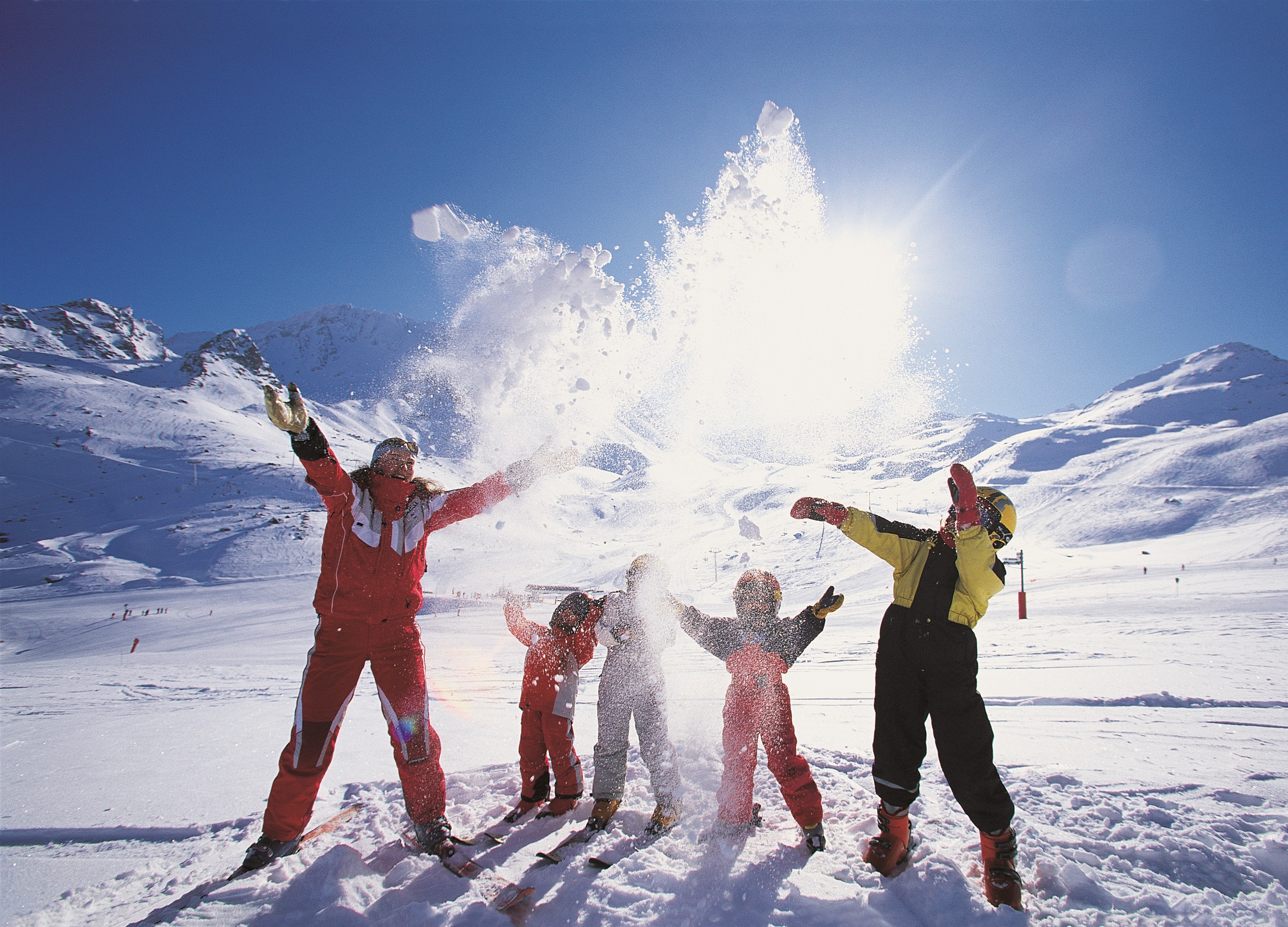 Ski Conditions
When is the best Easter to go skiing?! This Easter! See the resorts we have selected below, where snow will have kept best thanks to excellent snow records and plenty of high-altitude ski runs.
Best Destinations for Easter Ski Holidays
Simply put, these resorts are your best bets for a fantastic week's skiing at Easter:
Val Thorens – Europe's highest resort town at 2300 metres is one of the most snowsure from the start of the season right through to May. Val Thorens is always a winner for snow, but if the late season snow is good lower down too, you have the whole 600+km of the 3 Vallees ski area on your doorstep.
Tignes and Val d'Isere – Where better to soak up some sun than on the terrace of one of the many bars and restaurants which are on your doorstep in the Tignes-Val d'Isere ski area. The height of these resorts guarantees access to good skiing, and the resort atmosphere in the spring always provides a good time on and off the slopes.
 Best Easter Ski Deals
See all other Easter Ski Deals here, with loads of great reductions.
Top 5 differences between self-catered chalets and apartments
5 Reasons to Stay in a Self-Catered Chalet
Non-Ski Activities