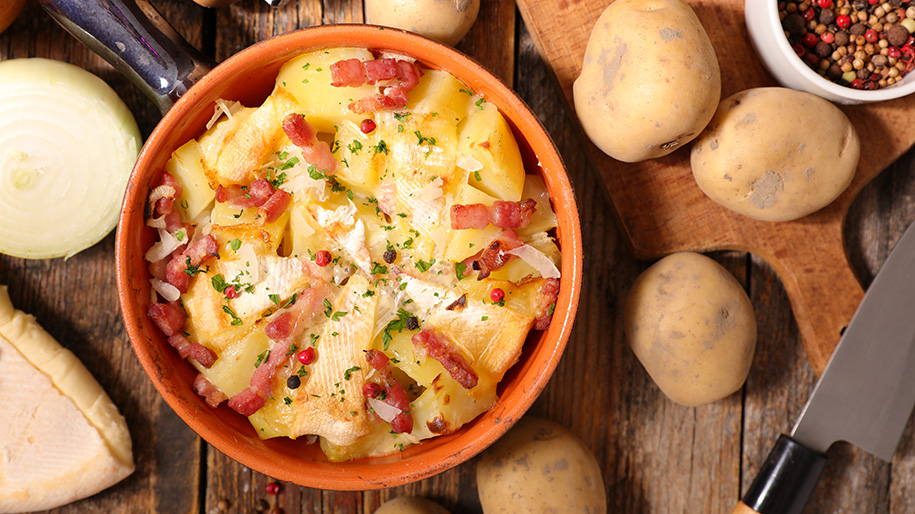 Food lovers are in luck as you'll find many of our top ski resorts are now fully equipped to not only satisfy your love of skiing but also your desire for fantastic food. We've put together a list of some of the best ski resorts to visit where you can ski your day away, then top yourself up at great restaurants, and even dine on gourmet cuisine. So without further ado check out these suggestions collected from those that know. This, of course, being our excellent team of ski experts who've spent seasons at these resorts and have ultimately eaten their way around. Here are top ski resorts to visit for great dining and gourmet cuisine
1. Val d'Isère
Val D'isère is known as a luxurious ski destination, and as well as plenty of high-end accommodation you'll find plenty of great places to eat too. Such as the 2 star Michelin L'Atelier d'Edmond restaurant which has an amazing menu and fantastic food. Including options such as crawfish with candied lemon, céleri and wild sorrel in sorbet, and pike pie, musky chervil. Yum!
Not quite down for a Michelin star restaurant then there are plenty of other great options too. Such as La Fruitiere for French cuisine, as well as Peau de'vache which offer unbelievable gourmet burgers and a top drink choice. It also has a great vibe and is filled with sheep/cow skin rugs and half-melted candles. Gourmandine serves as a great spot to try local cuisines and finally you could also consider checking out La Casa Scara in the centre of the old village and a place we consider a hidden gem.
2. Tignes
Another top resort to visit this winter for great dining and gourmet is Tignes. For fantastic high-end food check out La Queue De Cochon which we consider the best restaurant and serves options including foie grass terrine, vegetarian soufflé and grilled halibut. Other high-end restaurants in Tignes include Couloir and Pepe 2000, or even consider La Ferme in Lavachet.
Looking for a more low key and cheaper option then consider Tignes Cuisine, or for some tasty burgers then try the Aspen Coffee Shop! This place is always busy and always provides an amazing burger, no matter what the time of day!
3. St Anton
Fancy a taste of Austrian cuisine as well as fantastic slopes and beautiful landscapes? Then consider St Anton resort for your next ski holiday. Here you'll find various restaurants to satisfy your palate including Hospiz Alm in St Christoph which has a wonderful sun terrace and gourmet balcony. We consider the food at this restaurant incredible and some of the dinner options include schnitzel "Viennese style", Tyrolean duck and filet of pike. Another top restaurant to try with a delicious cuisine is Bergrestaurant Muttjöchle. This restaurant is located in the Sonnenkopf ski area (accessible with the Ski Arlberg lift pass), and provides some of the best views in the Alps as well as incredible food for lunch.
4. Val Thorens
Val Thorens in the 3 Valleys is one of the largest ski areas in the world. As well as plenty of skiing and snowboarding opportunities Val Thorens is also a great place for food. For a posh night out visit Le Rendez-vous serving dishes including chicken breast baked with ham and reblochon cheese, pierrade and escalope savoyarde. Other options include L'Oxalys restaurant, which has previously won a Young Chef of the Year award. And finally, for some delicious local cuisine go to L'Auberge for French dishes and is also very family friendly.
5. Corvara & Colfosco
These twinned resorts offer something in abundance that Italy is famous for – delicious cuisine. There's a real buzz in both villages although Corvara being larger is more lively on the whole. Dining is a pastime, not merely a mealtime in this valley and with a superb range of restaurants and an array of fine wines to sample guests are spoiled for choice. Just don't forget to get going with an Aperol Spritz for après! Some great après spots to discover include Après Ski L'Murin / Hotel La Perla,  Negerhütte – Capanna Nera and Utia Edelweiss.
6. Courchevel
Courchevel provides top dining options to satisfy all tastes, including several Michelin star restaurants. Such as Le Chabichou restaurant which has had 2 Michelin stars since 1984. For a traditional option check out La Table de Mon Grand-Père, which has dishes including snails, fondue, beef tartar and scallops. Le Caveau is another great restaurant with French cuisine, a great wine list and options such as foie gras, hot stone grill and raclette.
7. La Plagne
La Plagne has it's fair share of high-quality restaurants, providing you with ample options during your ski holiday. A few top ones to consider include L'Arlequin in Aime 2000, which is run by an attentive couple and serving dishes such as rossini beef, creamy risotto with morille mushrooms and beef tartare. Also, consider Le Refuge Restaurant which is in Plagne Centre and is the oldest restaurant in the resort and serves typical French dishes.
8. Les Deux Alpes
End your day in Les Deux Alpes by heading to La Porte d'a Côté for delicious regional cuisine. You'll have the option of dining on frogs' legs, Bourguignonne fondue (meat), traditional Savoyard fondue, and various other tasty options. Other top places to eat include Ellis restaurant which is great for French food, as well as Alister serving Montagnard options as well as French gourmet cuisine. Hotel & Spa Chalet Mounier has a Michelin star restaurant for those who want something extra special.
9. La Rosière
La Rosière is a perfect resort for those that love the gourmet cuisine. You'll find restaurants that have a wonderful warm cosy feel and provide a really special experience. For amazing food visit Le Genépi which is a traditional mountain restaurant serving alpine classics and savoie specialities. This restaurant also has a set menu starting in the low €30's, as well as lunch menu's starting in the low €20's. If you'd like to try somewhere that has lots of traditional dishes then visit Le Flocon, which is also family friendly.
L'Accroche Couer has a beautiful wooden chalet interior with lounge seating and a fire. Enjoy an aperitif in the relaxing setting, then the staff will show you to your table when you are ready to order. A great family-run restaurant, with fantastic food. Higher prices but well worth it.
10. Alpe d'Huez
When staying in Alpe d'Huez and for a posh dinner out visit La Cremaillere. If you fancy some local French cuisine check out La Fondue en Folie, Le Passe Montagne or Bato Ivre. And for those travelling with kids consider Le Tremplin restaurant which is close to most of the chalets in Berger's area. Lounge 21 has a more contemporary atmosphere with a great selection of classic French dishes as well as being a steak house. The heated plate with a choice of meats to cook, fondue and salad, bread and potato sides is our favourite dish. It's located in the old town area.
> What Are the Features of a Luxury Ski Holiday?
> Our Best Ski-In/Ski-Out Chalets
Please note: the restaurants mentioned are subject to change. Please check their official site for opening times and it's often recommended to reserve tables in advance.
Pin for later