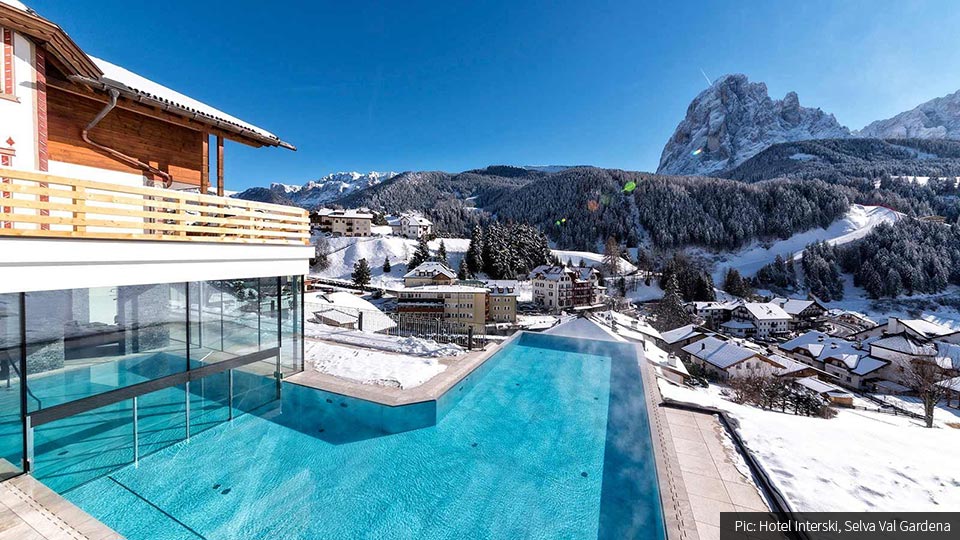 There are many great benefits to booking a hotel for your next ski holiday which you may not have considered before. This blog explains 6 of the top reasons why you should choose a ski hotel over a chalet or apartment.
Hotels have great locations
Hotels tend to dominate the best locations in ski resorts, whether that's at the base of the lifts or in the beating heart of the resort centre. Whichever is most important to you, chances are there'll be a choice of hotel location on offer in the ski resort you want to go to. What's more, ski hire shops are often conveniently located right next door and sometimes offer special discounts to neighbouring hotel guests.
Swimming pools, saunas and wellness facilities
Most of us love a refreshing, invigorating dip in the pool or a nice hot sauna at the end of a hard day of skiing. Where hot tubs, steam rooms, saunas, spas and swimming pools can be hard to come by in catered chalets and apartments, they are much more frequent in ski hotels. Add an extra touch of relaxation to your ski holiday and keep an eye out for 'Spa' or 'Wellness facilities' when you're researching your next trip.
Multiple dining options
If you prefer to choose when (and indeed where) you eat on your ski holiday, a hotel stay will give you that freedom. Avoid the set meal times of a catered holiday, and take the chance to sample the local restaurants and bistros of your resort. Most hotels also have their own restaurant if you feel like a quiet night in too, so you get the best of both worlds.
Whilst it isn't the case in every hotel, most ski hotels include breakfast in the rate and this usually comprises a vast buffet of hot and cold options. It's a huge added value as you can really stock up on the calories to see you through the day.
Extra amenities and concierge services
There are lots of extra amenities in ski resort hotels that you may not even notice… until you need one! Laundry services, 24-hour reception, room service for late-night snacks for example. All really handy in the hour of need. Because there's so much to do in ski resorts, many hotels also offer a complimentary concierge service to their guests. This makes it simple for you to book restaurants or any après ski activities, sometimes with a discount simply for being a guest at your hotel. The hotel may get a kick-back or commission but it doesn't cost you a cent, you just get a great service.
Keeping your stuff safe and secure
One of the pitfalls of catered chalets and apartments is that sometimes the rooms aren't lockable and there's a lack of security for valuables. Whilst these little things amplify the home from home ambience, if security is important to you then a hotel will be a safer bet. In-room safes are commonplace and if not there'll be safety deposit boxes at reception. Room security is paramount in hotels too, with the vast majority using an electronic key card system to provide the most secure door locking method – whether you're in or out of your room.
Games rooms and child care facilities
With chalets and apartments, a larger the building doesn't necessarily mean more provisions for guests (it just means more guests!). Whereas the big hotels in ski resorts will have many more features for guests, especially those with children. Game and playrooms, TV lounges and kid's clubs or crèches can help take some pressure off parents, leaving a bit more free time to relax and unwind on your ski holiday.
See what ski hotels we have on offer
You may also be interested in:
17 Top Tips on How to Find Cheap Ski Holidays
Self-Drive Ski Holidays: What Are the Benefits?