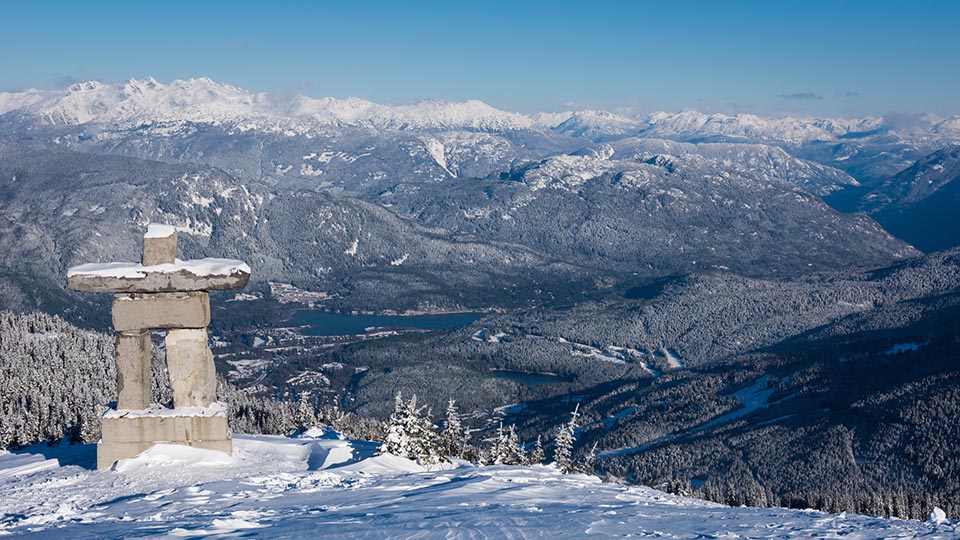 We're currently offering a £100pp saving on 10+ night Whistler holidays and, with Early Booking Offers still running, there's never been a better time to book your trip to Whistler.
Considered by many as the world's number one ski resort, we could sing Whistler's praises all day long given the opportunity. For time efficiency's sake, we've pooled together our top reasons to ski Whistler this winter instead. Read on to find out more…
Big Ski Area
Set across two mountains, and with 8,171 acres of terrain to explore, Whistler is the largest ski resort in North America. Comprised of two mountains – Whistler and Blackcomb – travel between the two in the record-breaking PEAK 2 PEAK gondola, and make your way around 200+ marked trails, 16 alpine bowls and 3 glaciers. Now that's a lot of skiing.
Great Snow Records
In Whistler, it starts snowing in November and then right through the winter season, often into May. The average annual snowfall sits at 11.7m (Val d'Isère got 8.89m last season, and that was unusually high) so there's no need to fear running out of the white stuff. And what's more, the quality of the snow across British Columbia is pretty awesome – think dry, fluffy powder, perfect for cruising through.
Lots of Winter Activities
Ultimately you go to Whistler for the awesome skiing and riding, however hypothetically there's enough going on off the piste to keep you occupied for a fortnight. Here are some of our favourite activities:
Coca-Cola ®/™ Tube Park – Explore the mountains from a different perspective while keeping adrenaline levels high in the Base 2 Zone on Blackcomb mountain. No skill required, just a sense of adventure. It's suitable for all the family and is open until 6pm each day, so you can fit it in after your ski day.
Fire & Ice Show – Every Sunday night, from mid-December through to March, this legendary show takes place, completely free of charge. Watch expert skiers and boarders spin and flip through hoops of fire, mixed together with a healthy dose of dancing and electronic music. It's all highly entertaining stuff. This winter marks the show's 20th anniversary.
Snowmobiling – Make like 007 and book yourself in for a Whistler snowmobiling tour. There are a few different tours to choose from to suit your group but all involve pristine backcountry terrain, spectacular views and a whole lot of fun.
Fresh Tracks – This is, in our opinion, one of the best activity combinations in existence. Be first up the Whistler Village gondola where you'll enjoy the breakfast of champions, and then swoop down the slopes before they're open to the general public. Perfectly groomed pistes and fresh, untouched powder await…
Snowshoeing – Another brilliant way to get up close and personal to nature in Whistler, this time at a pace which allows you to really appreciate the beauty of your surroundings. Snowshoeing holds a place in the history of the First Nations people and settlers, with many using snow shoes to help get around during long Canadian winters.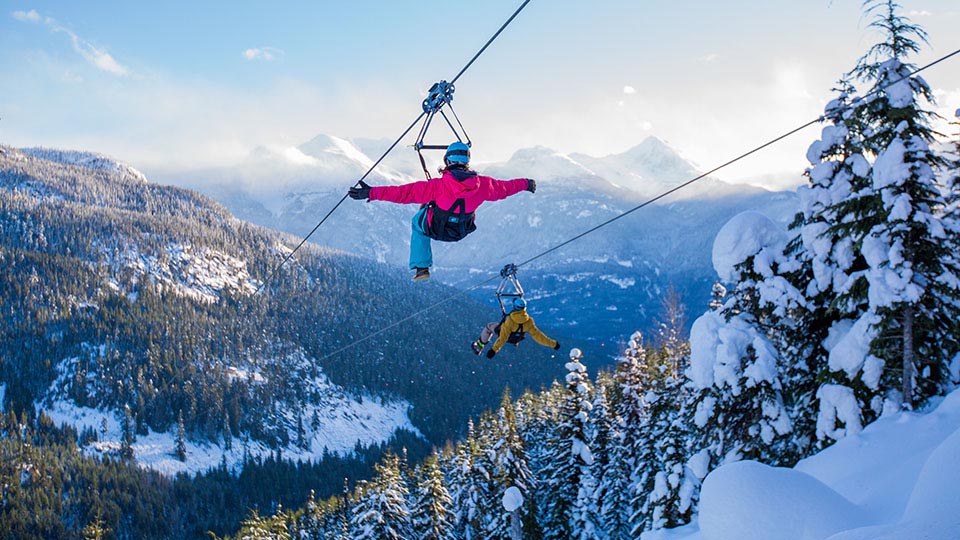 The Lift System
Yes, we do love geeking out over Whistler's network of lifts, but even if you're not interested in the mechanics of it all, modern infrastructure in the mountains benefits everyone. The ski area boasts nearly exclusively modern chairlifts and gondolas, giving skiers and snowboarders fast access to the trails, with the highlight being the PEAK 2 PEAK gondola, offering awesome views and cross-mountain travel. Whistler have invested $52-million USD into a new Blackcomb gondola for winter 18/19 and will be upgrading two lifts, which means even more efficient mountain fun this upcoming season.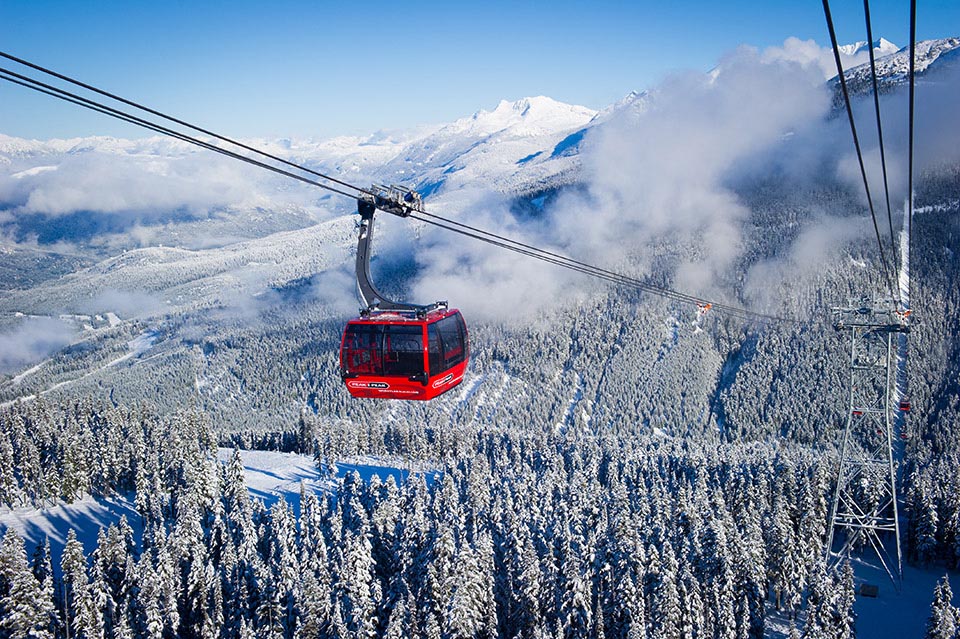 Pedestrian Resort
Nestled between Whistler and Blackcomb mountains, Whistler Village is pedestrian-only so you're free to explore the Euro-style streets without the worry of traffic. The village is large with over 100 restaurants, plenty of bars and 200 shops to suit everyone's needs – it's a draw in itself for many snow lovers.
Excellent Ski School
Whistler and Blackcomb Snow School is considered to be one of the best ski and snowboard schools in North America and, if you or any of your group are after tuition, it's definitely a plus in taking a ski trip to Whistler. The Snow School employ instructors from all over the world so that you can be matched according to your language, ability and style. Adult classes have a maximum capacity of 4 people and children's classes take 6 maximum, so you'll get a really good amount of time with your instructor. Private lessons and mountain camps are also available to book too.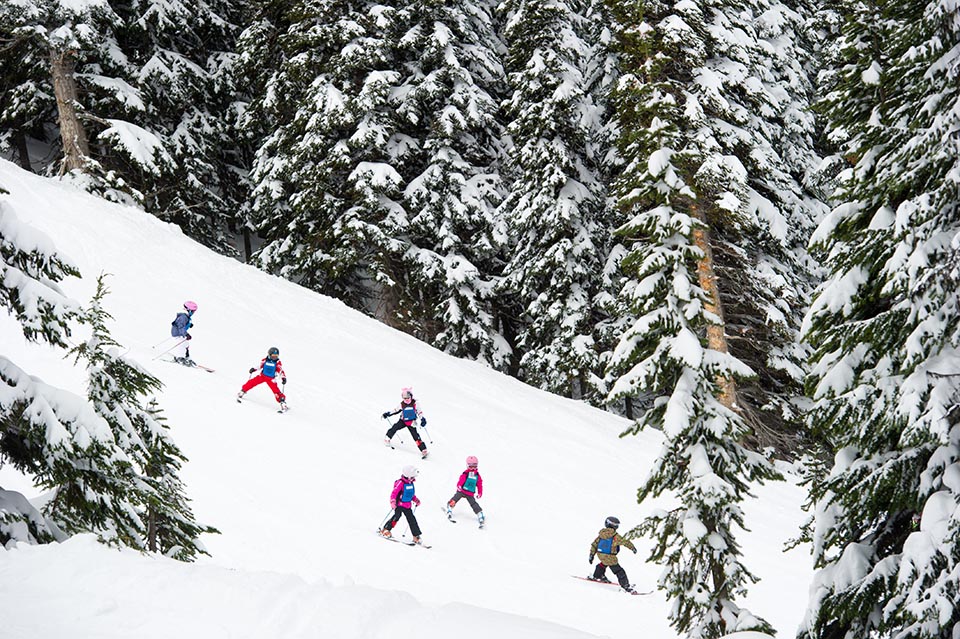 Whistler is Epic
The Epic Pass is the ultimate lift pass, providing unlimited skiing across a huge number of ski resorts around the world on one ticket, including Whistler. Are you thinking of skiing more than one resort this winter? Check out this lift pass and you could save hundreds.
Still not convinced? Give one of our Ski Specialists a call and we'll help get your ski adventure to Whistler on track. Alternatively, head to skiworld.co.uk/ski-holidays/canada/whistler
Other articles you may like:
> Top 7 Reasons to Book a Ski Holiday Early
> Snow Sure Ski Resorts for Christmas
Please note prices and offers mentioned are subject to change and availability. Visit our page North America Offers for our up to date deals.
Article written by: Amy Rout