In the heart of the Canadian Rockies, just a short drive from the beautiful mountain town of Banff is Sunshine Village. Sitting within the Banff national park at 7200 ft. of elevation, Sunshine Village holds top spots for both Canada's highest resort and longest season. The short 1h 20m transfer from Calgary to the town is a real bonus, and Skiworld offers great accommodation options in Banff.
There are plenty more reasons to soak up some Sunshine this winter though. So, read on for our top ten reasons to visit Banff Sunshine Village.
1. Snow show
Let's face it we all head to Canada for one reason, and Sunshine Village does not disappoint. The dry air in the Canadian Rockies makes for light snow. As a result, it's fluffier and easier on the legs, even on deep powder days. There's no shortage of the white stuff either, the resort sees over 9m average snowfall each season. It's all natural too, Sunshine Village doesn't use any snow machines on their runs. Instead, they use fences to create even coverage across the whole resort.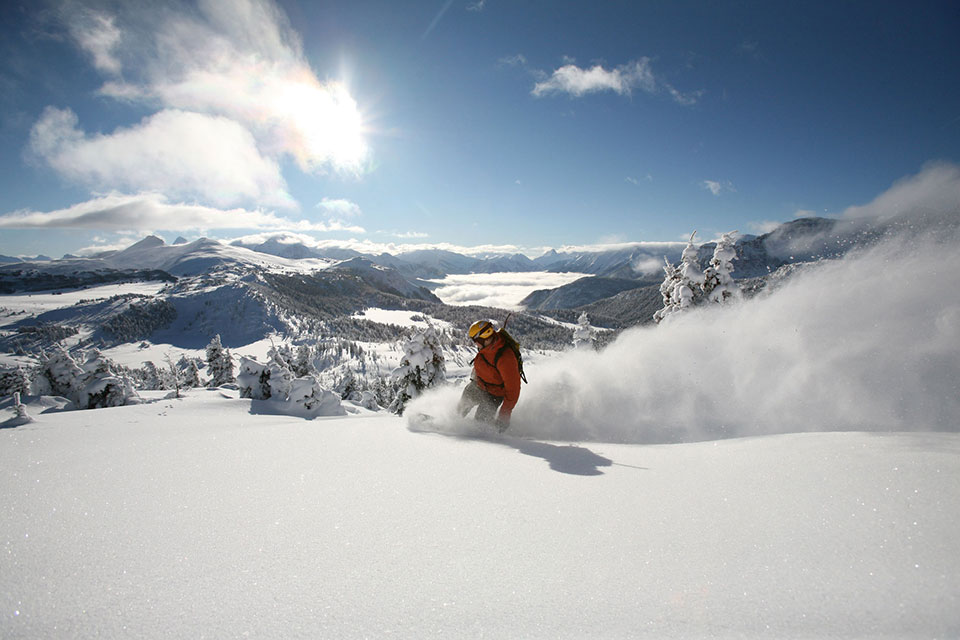 2. Terrain for everyone
The terrain at Sunshine Village is seriously fun and certainly provides for skiers and boarders of all ability. With 3300 acres across three mountains, there are plenty of blues and blacks for the intermediates. As well as a fantastic selection of green runs, easily accessible straight from the gondola.
Sunshine Village is famous for its double black diamond terrain as well. The Southside Chutes on Goats Eye Mountain are perfect for those looking to tackle their first double black. Or for the true freeride experience, Delirium Dive and The Wild West are accessible later in the season. Regularly cited as some of North America's most extreme terrain, Delirium Dive is a gold mine for fresh tracks on a pow day and is guaranteed to test the mettle of even the gutsiest out there. Sunshine Village Snow School run private freeride sessions taking guests into Delirium Dive, which is recommended for first-timers.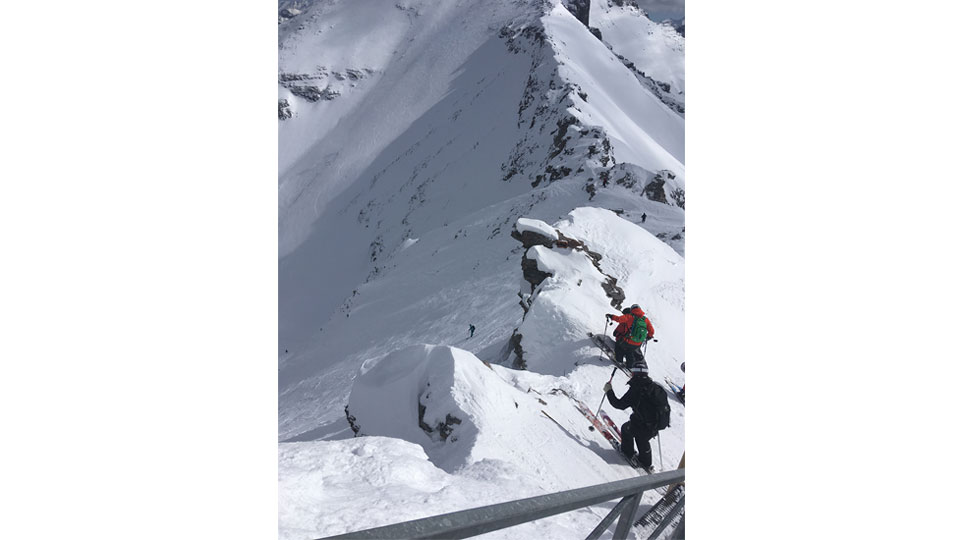 3. The bus rides… no really!
It's roughly a 40-minute journey from Banff town to the top of the Sunshine Village Gondola, giving you a chance to take in some of Banff's breathtaking scenery on the way. Driving out of town on the Trans-Canada Highway there are some awe-inspiring views across the Vermillion Lakes, where herds of Elk can usually be spotted, towards Sulphur Mountain and Mt. Rundle as you make your way along the river towards the resort. The canyon gondola ride up to the slopes is just as spectacular all through the year as well.
4. The longest season in Canada
As mentioned earlier, Sunshine Village has the longest season of any of the Canadian resorts. For example, last season the resort opened in October 2017 and finally closed 7 months later, on the 23rd May. This sustained season makes the resort accessible for real winter lovers and sun-seeking skiers alike. Christmas is a magical time at the resort with celebrations and many skiing Father Christmases, or the resort's annual 'Slush Cup' event on the closing day in early summer truly is a party experience not to be missed.
5. Come for the snow, stay for the poutine
It gets cold in Canada, very cold sometimes. What better excuse to get inside, warm your toes and take advantage of the inviting selection of places to eat and drink that Sunshine Village has to offer. Cosy up in Java Lift café with a delicious crepe and hot chocolate or head up to the Lookout bar and enjoy lunch with a round of Caesars (Canada's national cocktail), watching the snow fall over Lookout Mountain.
If you're spring skiing, take a break from throwing spread eagles and skiing through each other's legs to visit the Mad Trappers Saloon. This Sunshine Village institution has a great outdoor seating area, so you can work on your goggle tan over a beer and decadent pulled pork poutine. There's also fantastic live music most weekends.
6. Good old Canadian hospitality
The heart of Sunshine Village really is the people that work there. The resort places a big emphasis on recruiting friendly passionate employees, which is evident from the moment you arrive. Everyone from the ticketing staff to the lifties will greet you with a smile and a friendly welcome. Tribute to this is the fact that Sunshine Village won the Travel Alberta Tourism Award for Service Excellence in 2016 and has picked up several nominations for the 2018 World Ski Awards, including: 'Best Canadian Resort 2018′.
7. Advanced lift system
We all want to get as much skiing done as we can when we're on holiday and the high-speed lift system at Sunshine Village allows you to cover the huge amount of terrain on offer really quickly. Hop on the Teepee Town XL lift and get warm on Canada's only covered bubble chair with heated seats! One of the best things about Sunshine Village is the layout of their lifts, there's no long cross-country skiing or awkward snowboard shuffling required to get to where you're heading and there are interesting options for all abilities all the way through the resort.
8. Friendly Sunshine Village Snow School experts
The Sunshine Village Snow School has some of the best ski and snowboard instructors around. Some of their staff even hold double lives as heli-skiing guides! The snow school caters for everyone from those stepping onto snow for the first time to experienced skiers looking for some interesting new lines and a few pro tips!
9. Snow hosts
The Sunshine Village Snow Hosts are a fabulous bunch of people. These volunteers provide free, daily, guided jaunts around the resort for any guest with a lift ticket. The Snow Hosts, many of whom are ex-employees, know the mountain better than most and are a fantastic way to get to know the resort at the start of your holiday. If you're lucky they might even show you some of their secret powder spots.
10. Two provinces for the price of one
Just when you thought it couldn't get better, you can impress your friends by telling them you've skied British Columbia and Alberta in the same holiday. Actually, you can tell them you did it in the same day on the same run, as the province border cuts right through the resort. Catch the Great Divide chairlift up to the top of Lookout Mountain, take in the stunning views of Mt. Assiniboine and the Twin Cairns and then ski down through BC and back into Alberta at the bottom.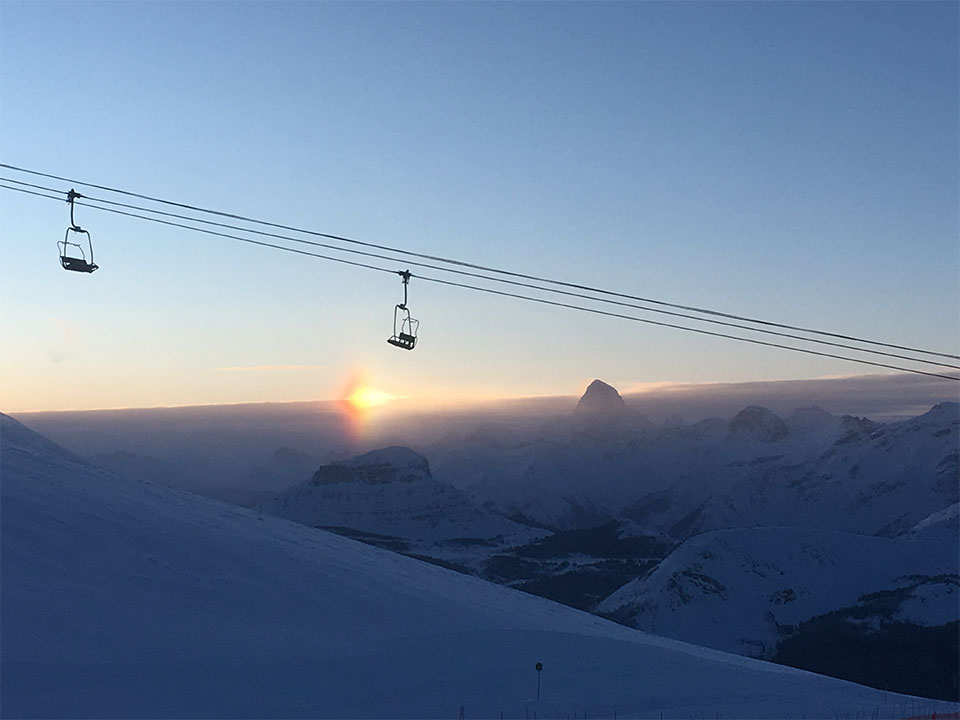 Check out our holiday packages in Banff with prices starting at £975pp for 7 nights (Correct at time of writing).
You might also enjoy these other articles from our blog:
10 Resorts with Short Transfer Times
12 Reasons why you should ski in Banff and Lake Louise this winter