Ski Holiday Insurance
You must be insured to cover all important elements of your holiday. Skiworld introduce you to MPI Brokers. Please see our Winter Sports Insurance page for more information.
As with any holiday, it is important not simply to make sure you have insurance, but to ensure that this insurance covers every aspect of your holiday. A ski holiday includes many elements other holidays do not, such as hiring equipment, the need for mountain rescue and the fact that lack of snow or very bad weather could bring your holiday to a halt.
You must make sure that the policy you choose covers you for these important elements and it is a condition of booking that your insurance is of at least the same level as that offered by companies such as MPI Brokers. You could otherwise find yourself inadequately insured for you holiday.
As a general rule, insurance companies will only pay out claims once you are back in the UK. This depends on sufficient evidence such as police reports in the case of theft and hospital or doctors bills in case of any medical claim.
More on Winter Sports Insurance…
Money Matters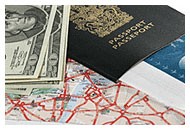 Currency/Travellers Cheques: As you may be arriving in resort at the weekend, we strongly advise that you purchase enough foreign currency to last over the weekend. In addition to banks, exchange facilities are also available at all departure airports. If purchasing travellers cheques please ensure you buy them in the local dollar currency and not in sterling as these are difficult to change in banks and are not accepted as payment for general goods and services.
Cash Points: Most ATMs will accept UK cash point debit cards (please check with your bank) as well as credit cards. There are several in each resort. Remember to memorise your PIN number!

Credit Cards: Visa & MasterCard are widely accepted for lift passes/ski hire and ski school in all resorts.
Passports and Visas
Please note: UK travellers must hold a full 10-year machine readable British passport, which is valid after your holiday return date. All Children and infants must have their own passport.
Visa waiver programme
Effective 12th January 2009, all passengers travelling to the United States without a US visa under the terms of the visa waiver programme must obtain pre-authorisation vie the Electronic System for Travel Authorisation (ESTA). Applications can be submitted at any time but no later than 72 hours prior to travel. Failure to do so could result in you being refused boarding and travel. Authorisation is valid for 2 years.
For more information and to complete the form go to http://www.cbp.gov/ESTA
If you hold a passport for any other country, then please contact the US Embassy and confirm if a visa is required.
Please also note that to enter the United States you must have a machine readable passport. Please check that your passport has a barcode on the holders' details page (with the photograph). The old-style black British passport does not have this barcode and you will need to replace this.

Please note that if you have a criminal record, please check with the US Embassy.

For the most up-to-date information, please call:

US Embassy
main switchboard 020 74999000 – www.usembassy.org.uk
Canadian Embassy
0207 258 6476 - www.canada.org.uk
Foreign & Commonwealth Office (London)
020 7008 1500 - www.fco.gov.uk/en/travel-and-living-abroad/
Get Fit For Ski
Whether you're an experienced skier or a complete beginner, everyone knows that skiing is a very active sport and like all forms of exercise you should prepare your body for a week of exercise.
The ABTA Destination Services team have produced some ski related guidance and tips so you can find out how to have a safe and healthy holiday in the snow and how you can get fit for skiing!
Have a gander and give some of the exercises a go and get the most out of your week away in the snow!