Description
Read More
The apartment complex is well proportioned and compact, without sacrificing the size of the apartments themselves. A variety of layouts means you can ensure you'll find an apartment size to meet your requirements, safe in the knowledge that they all feature a fully equipped kitchen, TV and DVD player and a private balcony as well as the enviable location right next to the slopes.
Meal delivery service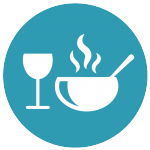 Save money and enjoy freedom and flexibility with our meal delivery service. Lots of delicious 'Cook' menus available with fresh and frozen options, all dietary needs catered for and wine delivery should you need it! Order for as many or few days of your stay as you need.