Description
Read More
Offering the convenience of ski lockers and dedicated indoor and outdoor parking, le Cervin represents simplicity when on a self-catered ski holiday in La Plagne. Apartment layouts vary to suit 4 to 5 people and feature functional kitchenettes (hob, oven, microwave, dishwasher), a bathroom and separate toilet (except studios). You can take in the stunning views from your private balcony, regardless of the apartment you choose.
Meal delivery service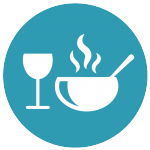 Save money and enjoy freedom and flexibility with our meal delivery service. Lots of delicious 'Cook' menus available with fresh and frozen options, all dietary needs catered for and wine delivery should you need it! Order for as many or few days of your stay as you need.