Description
Read More
A distinct chalet ambience defines each luxurious La Ginabelle apartment, and the residence itself is no different; the cozy central lounge with its log fire is a convivial spot for a relaxing evening. Children can play in the designated play areas and no stay would be complete without enjoying the indoor heated pool, sauna and hammam.
Meal delivery service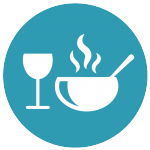 Save money and enjoy freedom and flexibility with our meal delivery service. Lots of delicious 'Cook' menus available with fresh and frozen options, all dietary needs catered for and wine delivery should you need it! Order for as many or few days of your stay as you need.