Description
Read More
The authentic architecture of the Isatis apartments blend perfectly with the surrounding mountains and features an array of comforts to help make your stay as relaxing as possible. Large windows and long balconies offer stunning views from each apartment, which themselves feature a range of room configurations all with kitchenette, bathroom, TV and WiFi. As a guest you'll also enjoy the heated indoor-outdoor pool and wellness facilities as part of your stay.
Meal delivery service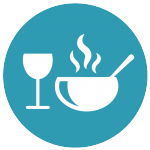 Save money and enjoy freedom and flexibility with our meal delivery service. Lots of delicious 'Cook' menus available with fresh and frozen options, all dietary needs catered for and wine delivery should you need it! Order for as many or few days of your stay as you need.