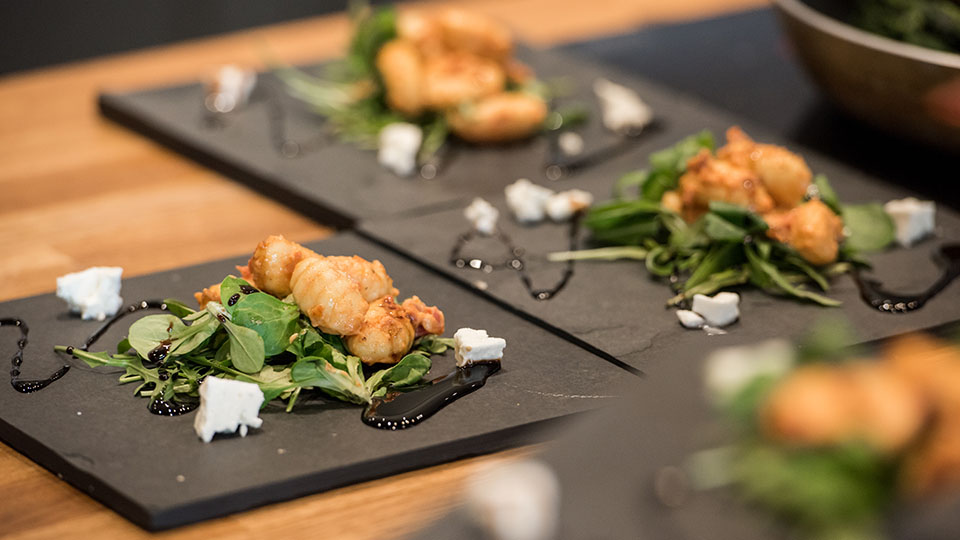 Here at Skiworld we've always felt that food is a massive part of a great chalet holiday so we've always striven to deliver the very best we could. The reasons for our success is three-fold; our own intuition, drafting in expert help to polish our recipes and the feedback we receive from our guests on a weekly basis during the ski seasons.
But 2019/20 is a different season. We've switched back to a six-day chalet menu (after experimenting with 5 days' catering in 2018/19) and this change has once again inspired the annual evolution of our menus, and a revolution in the way our staff use their menu plans and recipes within to produce delicious, healthy and hearty food for our hungry chalet guests.
Menu changes for the 2019/20 ski season
With the help of guest feedback we've identified more clearly than ever before which dishes were loved (and loathed), what aspects our guests enjoyed most about our menus, and what other important factors we needed to consider to keep our guests happy and our food ratings at an all-time high.
More regional dishes
Classics such as Beef Bourgignon and Chicken Provençal have made a resurgence onto our menus this year. There's a reason these hearty dishes are so popular in the mountains – the flavours are bold, the sauces are deliciously unctuous and the meats are fall-off-the-bone tender. Just what you need after a cold day on the mountain. A lot of the guest feedback we received last season called for more simplicity such as one-pot style main courses and the occasional lighter fish dish to balance out the week's offering.
Aperitif before dinner? "Oui"
A great way to get to know people in your chalet is mill around the lounge chatting with a glass of something whilst your appetite is whetted by the aromas from the kitchen. So throughout our programme we're not just maintaining but ramping up our aperitif offering. Each chalet host will have a solid knowledge of several delicate pre-dinner drinks – each one matched to the flavour theme of that night's dinner.
Sociable dinner service
"Pass the potatoes please Pete". A friendlier and more convivial dining experience can be had by simply placing some of the side dishes such as salad bowls and vegetables on the table for people to pass around, so we have tried to include this during every chalet dinner. It also allows people to control their own portions and limit servings of items they might not love as much as others, which ultimately helps to reduce kitchen waste too.
Breakfasts to be proud of
We made a big switch away from the old standard cooked breakfast of eggs plus a couple of other items last year, and we're pleased it was so well received. As well as looking much better on a plate, our themed breakfast dishes such as Texan Beans or The Super Fuel Royale (see below) all have a great balance of flavours and nutritional content. We have also added in a second option for those who want it (such as smoothies or baked oats) and there's a different option for each day to maintain variety.
Sample Skiworld Chalet Menus 2019/20
Chalets Grade 3 – 5:
Breakfast – Texan Beans (homemade baked beans with bacon and scrambled eggs)
Plus a continental selection of fresh bread, porridge, cereals, yogurts and juices
Afternoon Tea – Homemade Lemon Drizzle Cake
Evening meal
Starter –Salad Lyonnais
Main Course – Chicken Provençal with root mash red cabbage and broccoli
(V) – Provençal stew
Dessert – Pain au chocolate pudding with chocolate sauce and ice cream
Signature Chalets:
Breakfast – Super Fuel Royale – Poached eggs on wilted spinach and cheesy potato pancakes, drizzled with hollandaise and served with roasted chilli tomatoes
Plus a continental selection of fresh bread, patisseries, porridge, cereals, yogurts and juices
Afternoon tea – A classic carrot cake with cream cheese frosting along with fresh bread & conserves
Evening Meal
Canapés – Black olive tapenade served with crostini toasts / Pear and blue cheese wrapped in jambon cru
Starter – Halloumi warped in jambon cru with melon and mint salad
Main Course – Haunch of venison with peppercorn sauce pomme puree, pan fried carrots and parsnips
(V) Winter Chestnut Stew
Dessert – Gourmond – a mini raspberry chocolate fondant, a mini canelé, a profiterole and a lemon sorbet
We hope you get the chance to sample our revamped chalet menus this ski season. Why not take a look at our latest ski deals and make a saving on your 2019/20 ski holiday?
Please note: food may vary slightly from images.
Other articles you may like
> Our Best Ski-In/Ski-Out Chalets
> What Are the Features of a Luxury Ski Holiday?