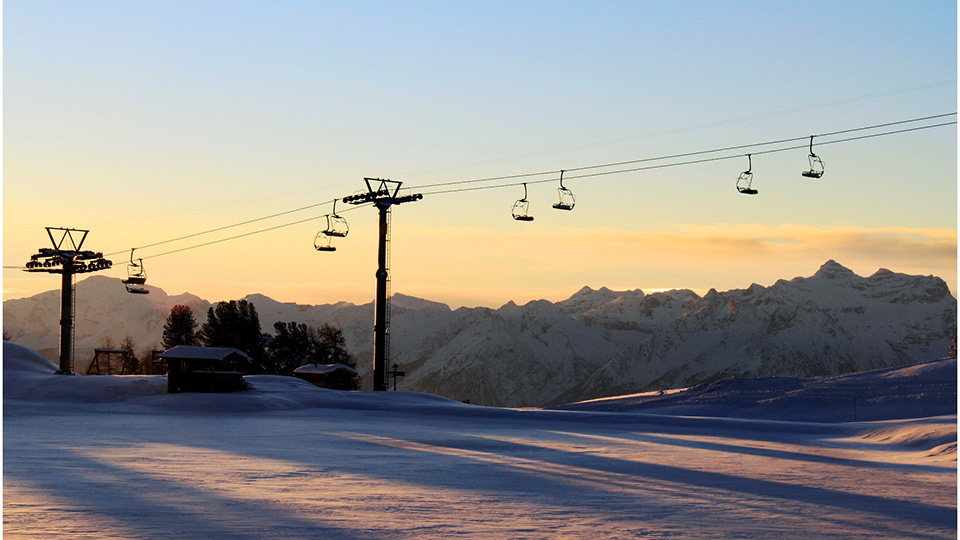 Your lift pass on a ski holiday is one of the most important elements to your trip. This allows you to head up the mountain and spend your days away cruising along perfect pistes surrounded by stunning views. The prices for lift passes can vary between resort, and there are some that give you huge amounts for your money. Want to know which resorts give you the most kilometres for your money? Then keep reading…
Check out our current offer where we're giving away 250 free lift passes for select resorts over Christmas and New Year departure dates.
Note: Article based on full area passes and prices are based on our selling price during peak dates for 6 days. Prices subject to change. 
Alpe d'Huez 
Reaching epic heights of up to 3330 meters Alpe d'Huez is a top resort to visit this winter. There are 250km of pistes available with a nice mix of 41 greens, 34 blues, 40 reds and 16 blacks and all for only £250. This means you'll be getting plenty for your money at only 17p per kilometre per day.
Lift pass: £250
Piste: 250km
KM cost per day: £0.17
Matterhorn Ski Paradise
Zermatt is one of the most beautiful resorts in Europe offering a magical and car free environment. The ski resort which includes the Matterhorn Ski Paradise area is the highest in Europe, and reaches an impressive 3,883 meters. The lift pass is pretty pricey and one of the most expensive, but due to the size of the ski area you do get good value for your money at only 17p per km per day over six days. Plus the scenery of Zermatt is incredible and you'll be cruising along pistes under the shadow the fantastic Matterhorn.
Lift pass: £359
Piste: 360 km
KM cost per day: £0.17
Les Trois Vallées Region
The Les Trois Vallées (3 Valleys) is one of the best and biggest resorts in the world. It consists of 8 resorts with some of the most popular being Val Thorens, Meribel, Courchevel, La Tania and Les Menuires. You'll find runs here that'll suit all levels from beginners to advanced making this a top destination to visit. The huge ski area is linked together by 169 modern lifts and the highest ski point is at 3,230 meters. Les Trois Vallées also gives you plenty of km for your hard earned cash at only 7p per kilometre per day.
Lift pass: £265
Piste: 600km
KM cost per day: £0.07
Espace Killy
The Espace Killy area includes both Tignes and Val d'Isère and offers 300km of piste. Val d'Isère is often referred to as a somewhat luxury ski destination and tends to be more expensive than Tignes. The Espace Killy lift pass costs £268 for 6 days which equates to 15p per day for each kilometre.
Lift pass: £268
Piste: 300km
KM cost per day: £0.15
Arlberg
Arlberg is a huge ski area which includes St Anton resort and offers 305km of slopes at 14p per kilometre per day. The ski area also has snowparks, racing circuits, carving areas and more to keep you fully entertained and challenged this winter.
Lift pass: £263
Piste: 305km
KM cost per day: £0.14
4 Vallées
Nendaz forms part of the 4 Vallées and has a ski area of 412km served by 92 lifts. The 4 Vallées provide plenty of variety for all levels with a good mix of wide cruising slopes, beginner nursery slopes through to runs that will definitely keep the experts busy. A lift pass for this ski area costs approx £303 which means each kilometre is only 12p per day.
Lift pass: £303
Piste: 412km
KM cost per day: £0.12
Paradiski
Paradiski consists of Les Arcs and La Plagne to combine a massive 425 km of skiable piste. You'll find 260 runs offering a great mix for all abilities. Including 12 green, 135 blues, 77 red and 36 black. The Paradiski area lift pass costs approx £278 meaning that you'll only be paying 11p per kilometre per day. Bargain!
Lift pass: £278
Piste: 425km
KM cost per day: £0.11
Avoriaz
Avoriaz is part of the Portes du Soleil region which is one of the largest ski areas in the world. The Portes du Soleil comprises of 12 resorts between France and Switzerland that'll keep even the most challenged skier or boarder busy. Avoriaz also works out to be the best value offering the most km for your money at only 6p per kilometre per day.
Lift pass: £244
Piste: 650km
KM cost per day: £0.06
Remember to check out our latest offer for free lift passes for select resorts in Europe for Christmas and New Year departure dates.
Other posts you may like:
> 10 Resorts with Short Transfer Times
> Snow Sure Ski Resorts for Christmas
Please note: Number of runs and skiable piste can sometimes change. Please check the resorts official website for most up to date stats and info.
Pin for later