We're really proud of the menus that we assemble for our guests so it is brilliant when we get such great response in terms of what you think of the food. There are a number of staff who are dedicated to making sure our guests have the best food experience possible during their ski holiday.
When designing the menu, a lot of thought is put into making sure it's in-keeping with the local culture and that it utilises the local produce.
Without any further ado our dish of the season…
 The overall most popular dish
From your answers to the survey, we're happy to announce that the confit of duck was the most popular dish with over 95% of people describing it as "very good" or "amazing".
The duck is also a long standing staff favourite and as a result we've made sure its available in all of our chalets.
If you haven't had the joy of sampling this dish, it is served with vin chaud jus and accompanied with carrot ribbons, pea puree and gratin dauphinoise.
Our dauphinoise is made with the local beaufort cheese which is produced in the Savoie (an area which encompasses Espace Killy and Paradiski). Interestingly dauphinoise was historically served with ortolans, a french bird akin to quail.
The confit of duck itself is a South West speciality and came about as a way of preserving the meat but most importantly, as anyone who has ever tried it will know, is tastes delicious.
Signature chalets most popular
The haunch of venison proved to be a huge success with those who stayed in a signature chalet. An incredible 67% of you said the dish was "amazing" and when adding those who described the dish as "very good", venison almost got a 95% rating too.
This dished is served with a red wine jus and wild mushroom tartlet, accompanied with crème fraiche mash and savoy cabbage with juniper.
Venison steak is high in protein, low in fat and is ideal after an active day on the mountain… plus it tastes delicious!
Wild mushrooms are a firm part of mountain cuisine and locals harvest them as they grow abundantly in the forests towards the base of the mountains.
If you walk the Alps during summer you will see hundreds of juniper bushes lining the pathways. And as all gin fans will know juniper is the main flavour… to me however any mention of juniper bushes just makes me think of Life of Brian – who of cause is not the messiah but a very naughty boy.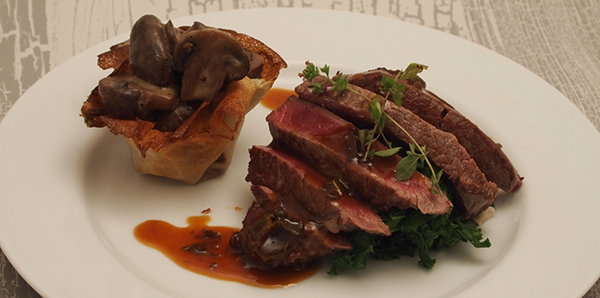 Other favourite dishes
Every dish in the top five received over 90% feedback in "very good" and "amazing" catagories.
Pork Dijonnaise.
Back by popular demand, it proved to be a successful return for the pork with almost 92% of customers praising the dish. Only available when you stay in a classic chalet.
The pork is accompanied by sticky red cabbage, mange tout and crème fraiche mash. It is a dish brimming with local flavours, using wine and mustard from Dijon.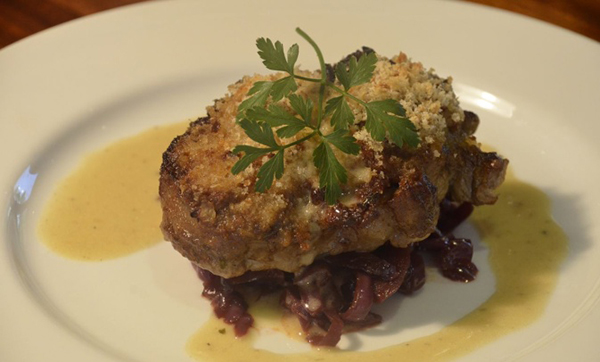 Beef Bourguignon
Served with sautéed root vegetables and wilted spinach (available in classic and superior chalets).
A dish that needs almost no introduction, however we cook the beef as a whole piece of meat rather than a stew, as many of the French do. As can be expected from bourguignon it's a big, hearty dish which is massively satisfying after a hard day of skiing.
Interestingly sauté is from the French verb sauter, which means to jump – something the vegetables do as you fry them off.
Thank you to everyone who voted. It's great to hear your feedback, especially when so positive, and it helps us see your favourite (and least favourite) dishes on our menu.