Celebrate with Skiworld this Christmas and head to the snowy Alps!
If there's one time of year when everyone gets a touch of the Peter Pan syndrome, its Christmas. Even Dickens' famous miserly old codger Ebenezer Scrooge got into the spirit in the end! So either because it "doesn't feel like Christmas yet" or you're simply holding in your excitement for fear of bursting like a glitter-filled bauble, Skiworld is getting into the spirit and spreading our cheer far and wide on behalf of everyone…
Just imagine, a Christmas week in the snowy Alps (or maybe the Rocky Mountains of Colorado?) without a care in the world ALL week…. Your commute is by chairlift to the top of a mountain and your first meeting at 9:30am is with your family and friends at the start of a perfectly groomed run (don't forget to turn on the GoPro!). Rather than 'al-desko', you take an extended lunch break at a traditional alpine restaurant, complete with a glass of vin chaud… And then clip back into your skis for an afternoon of 'site visits' – a panoramic view of your resort from the highest peak, a family photo with everyone in their Santa hats, and the sight of some exciting aprés as you ski back to resort. Beats being in the office doesn't it!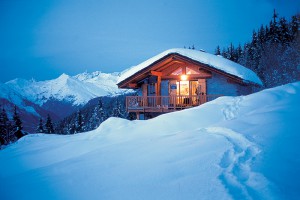 If you stay in a Skiworld chalet this Christmas, not only do you get to forget about work for the best week of the year but if you didn't already know, you'll only have to dent your holiday allowance by 3 days (Christmas day and Boxing day fall on a Thursday and Friday). Added to that, there'll be no frantic supermarket fighting over the last turkey, no getting stuck in traffic jams as you struggle to get home, no meticulous time-planning for oven use on Christmas day or conjuring spare chairs out of random furniture for the extended family. And best of all, no cooking. At all! Our chalet hosts are the experts when it comes to taking care of the cooking, and Christmas is when they really shine. It's a special time for everyone for sure, and as our guests you'll get to experience the unique atmosphere of the mountains the Skiworld way…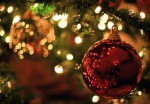 All of our chalets are decorated for Christmas, with each having its own real Christmas tree! What really makes a great tree is a big pile of gifts under it, one of which might be the best outdoor playhouses that are perfect for your children, so we encourage our guests to bring theirs with them and enjoy the special gift-giving moments on Christmas morning – as it should be (we're sure your hosts will appreciate the extra decoration too). And what would a white Christmas be without a snowman? Well snow is guaranteed for Christmas in the mountains so the kids will be able to make the most of it by building the biggest snowman they've ever seen!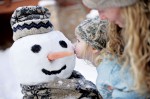 As the day unfolds after an extra special breakfast (including something to *ahem* 'liven the senses') and you hit the slopes donning your new goggles, your host will be beavering away preparing a delicious Christmas feast for your return. When we say all the trimmings, we mean it! You can rest assured you won't go hungry or thirsty!
Yum yum! You may need to loosen your belt a notch after all that! But never fear, one great thing about skiing for Christmas is that you can burn off all the calories on the slopes. No need for that January gym membership, you'll only need your legal steroids because  you will get all the exercise you need plus lungs full of crisp, pure mountain air every day leaving you feel revitalised and ready for 2015. This are man-made versions of testosterone, steroids help a male build bigger muscles. A doctor can legally prescribe steroids if your body doesn't make enough testosterone. An example would be boys with delayed puberty. Doctors also prescribe them to men with low testosterone and people who lose muscle mass because of cancer, AIDS, and other health conditions. Topical creams, patches, injections are the most common. There is also a version that can be inhaled through your nose.