Absolute-Snow have put together a gift guide, which includes a host of products chosen by their buyers, specifically for skiers and snowboarders. So if you have a skier or snowboarder in the family and you aren't sure what to get them, then this guide could come in handy.
Our top gift picks for your ski holiday
1. Smith I/O MAG CP Sun Green Snowboard/Ski Goggles:
Smith transformed the ski/snowboard goggle market by creating the I/O, the world's first frameless google with interchangeable lenses. They have continued to innovate, introducing the I/O MAG, which is a frameless goggle with a large spherical lens with a magnetic lens change. As well as being easy and quick to change, the googles have a cleaner look with the edgeless lens.
2. Demon X Connect X Snowboard/Ski Impact Shorts
Great for snowboarders but also skiers looking to learn freestyle in the park, especially rails and boxes. Until you get the hang of sliding on them, you will often fall on your bum and tailbone, which really hurts! These shorts use shock absorbing, high-density wide air shield foam to protect from impacts and will increase confidence on/off-piste and in the snow parks.
3. Dakine Cool Lock
We all love buying new skis/snowboard. Finding them gone from the rack when you come back from the bar, not so much. It's a lot easier to enjoy lunch when you know your skis are locked up, and this cable lock is small so you can keep it in your pocket or backpack.
4. Komperdell The Schnapsstick Ski Poles
Strong and fully operational ski poles which also hold 200ml of your drink of choice in each pole. Ready-made cocktails for your lunchtime picnic on the slopes! Perhaps one with Jack Daniels and one with Drambuie for a delicious and warming Rusty Nail on cold chairlifts.
5. Dakine Boot Bag
Amazingly good value for a boot bag and a great way to get around luggage rules at the airport. Ski boots are often the heaviest item in your ski bag, so stuff your boots with other luggage items and take your boot bag as hand luggage. No more repacking ski bags at the check-in desk and wearing your ski boots on the plane…
6. Giro Union MIPS Ski/Snowboard Helmet
This helmet is great for all mountain and is extremely lightweight. There is also a Thermostat Control venting system, which helps keep you dry and comfortable. The MIPs technology allows the liners to rotate independently of each other when subjected to an angled force, reducing forces on the head and the potential for injury.
7. Burton Bullet Snowboard Binding Tool
No snowboarder should risk riding without this tool. This is mainly for safety as the nuts, bolts and screws on the snowboard binding can easily come loose.
#AbsoluteSkiworld Competition
Would you like the chance to win a £50 gift voucher to treat yourself to some new ski gear in time for your ski holiday? All you need to do is enter our competition by following the instructions on the image below. More details on this competition can be found here – skiworld.co.uk/Competition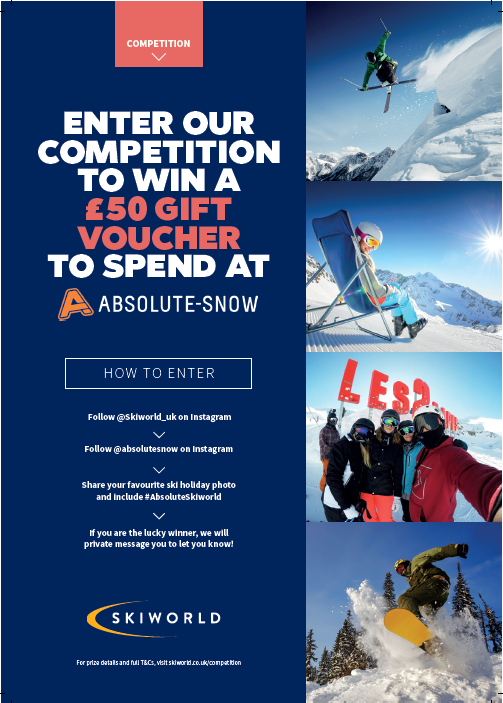 Pin for later