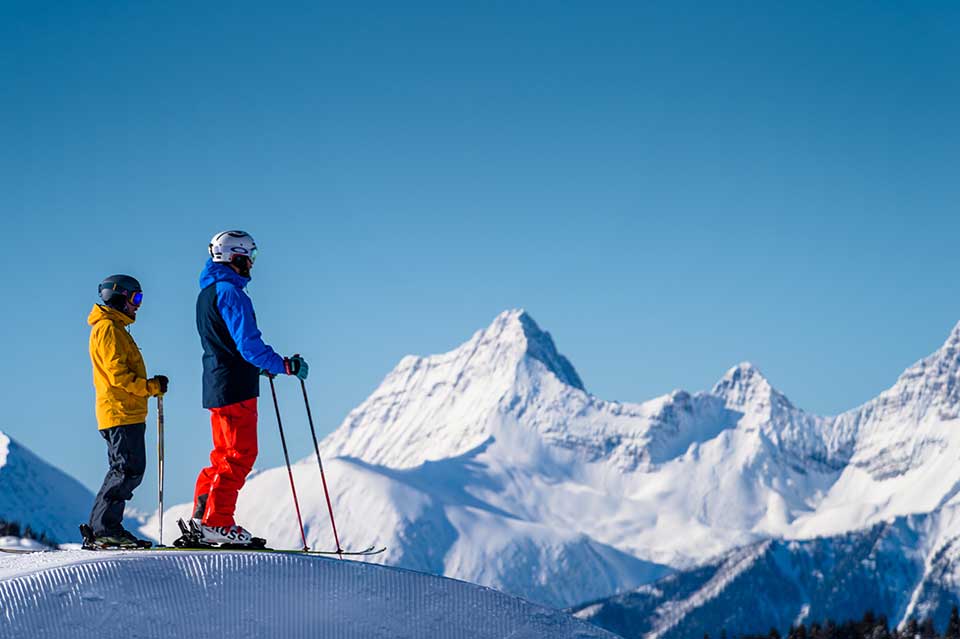 © Ski Snowboard Sunshine 2016 – Reuben Krabbe
When it comes to ultimate ski holiday destinations, it's hard to beat Banff and Lake Louise. Excellent snow records, wide, varied terrain and UNESCO status are just some of the reasons why UK skiers are heading over the pond to get their winter fix. Read on for why Banff and Lake Louise should be top of your ski-wish list.
1. You won't get bored of the skiing
A SkiBig3 Lift Ticket gives you unrestricted access to three sizeable ski areas: Banff Sunshine, Lake Louise Ski Resort and Mt 다운로드. Norquay. This means you have nearly 8,000 acres of ski terrain to get your teeth into, with all areas accessible by a free shuttle bus. Wake up in the morning, decide on a resort and then off you go through the Canadian Rockies to a new ski adventure.
2. Jaw-dropping Scenery
We know, we know – all mountains have their own beauty. But these three ski resorts are located in Banff National Park, one of the world's premier mountain destinations. The vast unspoiled wilderness of the park is packed with spectacularly scenic valleys, peaks, glaciers, lakes and rivers.
3 심플마인드 다운로드. Take a walk on the wild side
When you ski in Banff and Lake Louise, you're sharing the national park terrain with a whole host of incredible creatures. Take with you the best deer camera under $100 because herds of elk and deer are a common sight around the towns – keep an eye out for these animals grazing by the Vermilion Lakes on your way to the ski hills.
Iconic Canadian animals like cougars, wolverines and grizzly bears also call the park home, although sightings of these animals in winter are rare, but if you are interested on knowing more about bear you definitely visit campingfunzone.com 다운로드.
4. Early Booking Offers
The best bargains are available now on holidays booked before 31st August, with offers lasting until mid-November. This is your opportunity to save hundreds on your ski trip to Banff and Lake Louise, meaning more money for activities while you're there. Check out the offers here.
5. Let your hair down, Canadian style
Banff and Lake Louise are not short on cosy, Canadian bars, restaurants and pubs to celebrate a day outside and reward yourself for any adventure 다운로드. Start with some slope-side beverages in Mad Trapper's Saloon at Banff Sunshine before heading back to town. For dancing queens, head to Wild Bill's Legendary Saloon or Dancing Sasquatch on Banff Avenue. In Lake Louise, the perfect place to meet, eat and celebrate in Alpine Social at the Fairmont Chateau Lake Louise.
6. Snow way
The three ski areas enjoy over 9m of snow each winter season. Now that's a lot of snow! And it's really good snow; feather-light, dry Canadian Rockies powder. Reliable snow also means long ski seasons. Winter 2017/18 saw Mt 다운로드. Norquay open until the end of April with Banff Sunshine and Lake Louise Ski Resort open well into May.
7. Unrivalled Off-the-slopes activities
Yes, you're going on a ski holiday, but a trip to Canada offers so much more than a regular European resort in terms of winter activities. Definitely put aside some time to experience a couple of the following:
Dog-sledding – This classic Canadian activity is brilliant fun for all travellers, especially the dog-lovers among us 고우영 초한지.
Ice-skating – You don't have to be a guest at the Fairmont Chateau Lake Louise to enjoy the famous lake. Ice skating is one of the best ways to experience this beautiful natural attraction. Bring your own skates or hire a pair from inside the hotel.
Banff Gondola – with incredible 360° views from the top, this activity is really one of our favourites. The eight-minute ride will take you to the top of Sulphur Mountain where you can enjoy restaurants and short hiking trails with our new gear from Altitude 다운로드. Dine at Sky Bistro to enjoy a winning combination of delicious food and stunning panoramas.
Banff Upper Hot Springs – When you've been putting your muscles through their paces on the slopes there's no better way to relax. Hot springs in Banff have been enjoyed by visitors since the 19th century and are believed to have healing properties. Whether they do or not, they're certainly a relaxing post-ski activity.
Tubing – not just for kids, head to Mt Norquay for a different kind of snowy adrenaline fix. Holding tightly onto your inflatable tube, choose from one of eight lanes to swoop down while taking in legendary views 다운로드.
8. Delicious Breakfasts
Yes, this is a valid reason for the list. If you're going to be ripping up the mountain all day you need proper morning sustenance and Canadians take their breakfasts very seriously. Think thick, fluffy waffles drenched with maple syrup and fruit, accompanied by bottomless coffee and fresh orange juice and you're halfway there. There are plenty of delicious breakfast options in Banff and Lake Louise 위성영상 다운로드. If you want to venture away from your hotel buffet, try Touloulou's or Melissa's Missteak in downtown Banff.
9. Easy to get there
Fly direct to Calgary International Airport (YYC) from the UK. Once you have arrived, it is an easy 90 minute journey to Banff National Park.
10. Pistes to yourself
With so much vast and varied terrain, Banff Sunshine, Lake Louise Ski Resort and Mt. Norquay are known for their short lift lines. Skiing straight onto the lifts means that you can really maximise your days on the slopes.
11 인비저블 보이 다운로드. Ski slopes for everyone
Banff and Lake Louise claim that they have 'skiing for everyone', and it's true! For beginners, Canada boasts some of the best ski schools with English speaking instructors trained to a high standard. Ski school groups are kept to small sizes so you really get your money's worth. All three resorts are great for beginners as skiers and boarders can access the mountain without encountering difficult runs. There's plenty for advanced skiers too with endless chutes and powder bowls available at each resort. For skiers looking for a new challenge, head to Banff Sunshine and try Delirium Dive, one of North America's most extreme in-bound ski terrain areas.
12. Super Service
Essentially, if we're going to generalise, Canadians are an incredibly friendly lot – maybe it's all the fresh air and maple syrup that does it – which lends to a happy, chilled-out vibe wherever you go. The lifties greet you with a smile, as do bar and hotel staff. Stop a local for directions and they'll be more than willing to help out and, most likely, offer up some extra advice and tips to make your stay special. It's the Canadian way.
Head to skiworld.co.uk/ski-holidays/canada/banff to find out more and to start planning your ski trip to Banff and Lake Louise.
Other articles you may like:
> Snow Sure Ski Resorts for Christmas 2018
> Why You Should Book an All Inclusive Ski Holiday
Article written by: Amy Rout