Make Things Easier for Yourself
By purchasing your ski holiday, lift pass and ski hire at the same time, in one of our
ski-all-in deals
, you could save yourself time and money. Alternatively, find out how much you can save by booking your lift pass and ski hire together on our
ski essentials
page.
Choosing Your Ski Equipment
Hiring ski equipment isn't the lottery it used to be. The vast improvement and variety in both ski and snowboard technology means that hiring your equipment can be a great option for first time skiers and veterans alike; providing the latest and most well-reputed models to suit all styles and sizes.

Not only does ski hire save you the hassle of ski carriage it gives you the flexibility to exchange your ski equipment at any point during your holiday making you adaptable to snow conditions.
Plus, pre-booking your ski hire has never been easier - Simply choose what you need when you reach our ski essentials page in your holiday booking journey and we will make sure you can pick up your ski hire whenever suits you. Already booked? Also no problem, log into our manage my booking service and add your ski hire to your booking.
Ski Hire Standards
We have four standards of ski hire; Bronze, Silver, Gold and Platinum.
Bronze
•
A solid option for beginner skiers - designed as an value option for those just starting out
•
Ski equipment which is best suited to those staying on the pistes
•
Ideal for those on a budget
Silver
•
Ideal for beginner skiers and intermediates - designed for skiers looking for comfort and to develop their skills
•
Great performance ski equipment for all over the mountain and on any type of snow (mainly piste skiers)
•
Good for anyone on a budget
Gold
•
Ideal for intermediate skiers to advanced - designed for skiers looking for specific types of skis including carving, on piste, freeride, freestyle, race skis etc.
•
Greater choice of high performance ski equipment
•
Perfect for anyone looking to master technique or looking for a new challenge
Platinum
•
Ideal for advanced / expert skiers with a wide range of types available including downhill race skis, fat off piste, etc.
•
The very 'best of the best' skis, boots and poles - best suited for skiers looking for the latest thrills on the latest technology
•
Our widest range of choice from this season's latest ski models
Why use our ski hire?
Hand-Picked Rental Shops
- Every year, we hand-pick our rental shops based on location and service and negotiate great discounts to keep your holiday price low.
Convenient Locations - We allocate all our ski accommodation with ski hire within easy access or will alternatively offer a pick-up and drop-off service for your convenience.
Excellent Range & Service - All our rental shops offer an excellent range of equipment for all abilities and have a fully trained technician on-site to offer advice and guidance so you will be confident taking your equipment out onto the slopes.
Exchange Service - Through the Skiworld staff, you can change your equipment (skis / board / big feet, providing they are in the same quality level e.g. gold) at any point during your ski holiday.
Skiworld Guarantee - We have reps in resort to help you out in every eventuality; such as breakages of equipment.
Expert Advice - Talk to one of our ski gurus about the amount of skiing you've done and the type of skiing you're looking to do and they'll be able to recommend the appropriate level of skis
Pickup Service - If your accommodation is far away from the hire shop, we'll arrange for a transfer to come and collect you. Subject to availability.
Returns Service - At the end of your holiday we'll save you of the trouble of lugging your ski equipment back to the hire shop and take care of that for you.
Easy to Upgrade - If you wish to upgrade your skis or boots at any point, no problem, just speak to your resort rep and they'll be able to ensure you get what you want.
Saturday Pickup - Collect your ski hire equipment on the day you arrive so that you can get 7 days skiing for the price of 6.
Dedicated to your own skis/snowboard? No problem, we can arrange ski carriage for all our flights. Give our After Sales team a call today on
0330 102 8004
to find out more.
Ski Hire Reviews


Good enough for our guests? Good enough for us!
Skiworld, is a company run by skiers, for skiers, and the majority of our overseas staff also use the same ski hire and equipment as our guests. What better way to find out about our equipment hire (and get some choice recommendations!) than from the people that use it on a daily basis?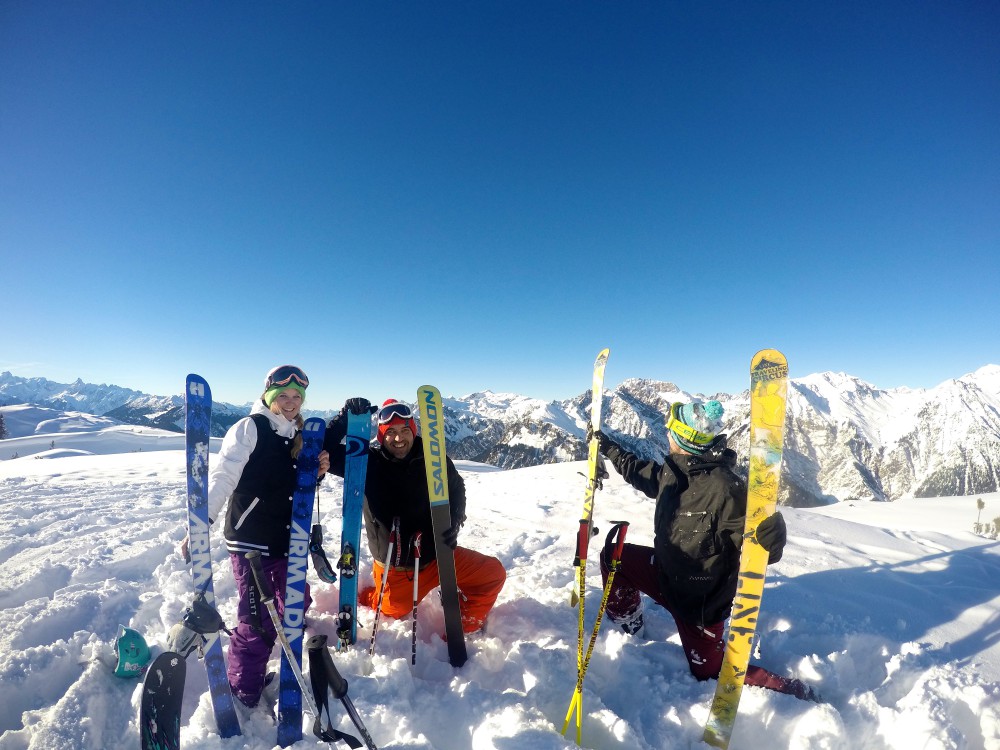 To get the very best value for your money it's best to pre-book your equipment hire with Skiworld before your holiday as we have not only secured the best prices but selected shops close to accommodation or with a pick-up and drop-off service. The development in both ski and snowboard technology has resulted in an improved hiring experience but we understand that many of you will want to know what your money is buying before you get to resort! We are 'Made in the Mountains' - a company run by skiers and boarders for skiers and boarders and the majority of our staff overseas use equipment from our hire shops. So what better way to find out about Skiworld equipment hire than from the people using it on a daily basis?
Katy Atkinson
I have been riding my K2 Missdemeanors for three and a half seasons now and I'm still in love with them. They are great all mountain skis so I can use them in all snow conditions. They have some pairs of K2 skis in both our hire shops here in Val d'Isere and I would definitely recommend giving them a go! Amongst the gold ski hire selection they also have Rossignol Unique 4s which are ultra-lightweight carving skis for women with 20% less weight than their predecessors.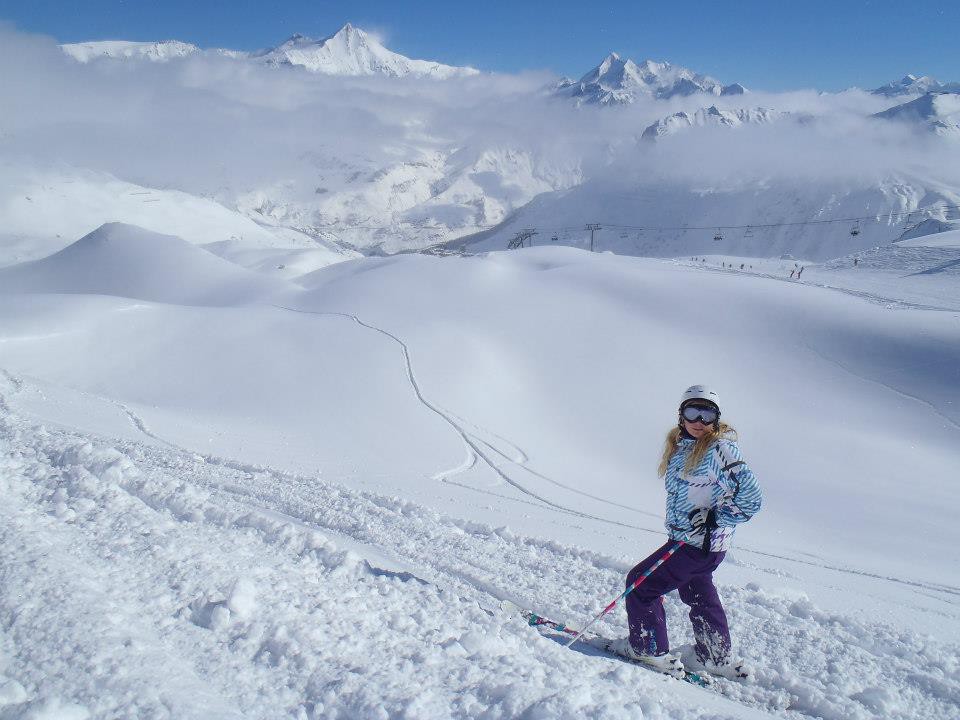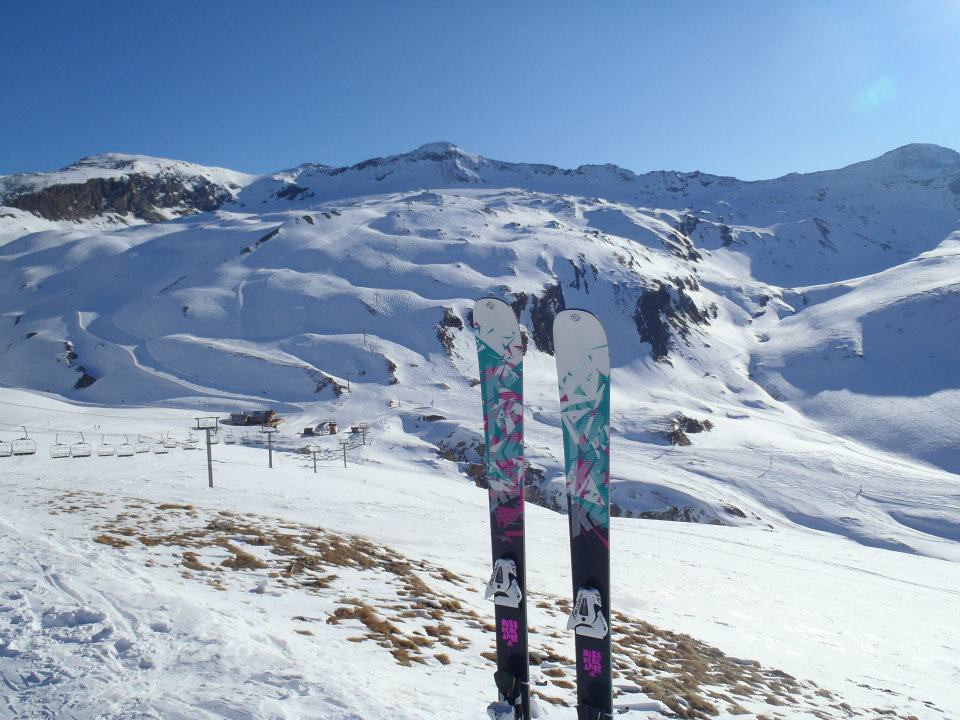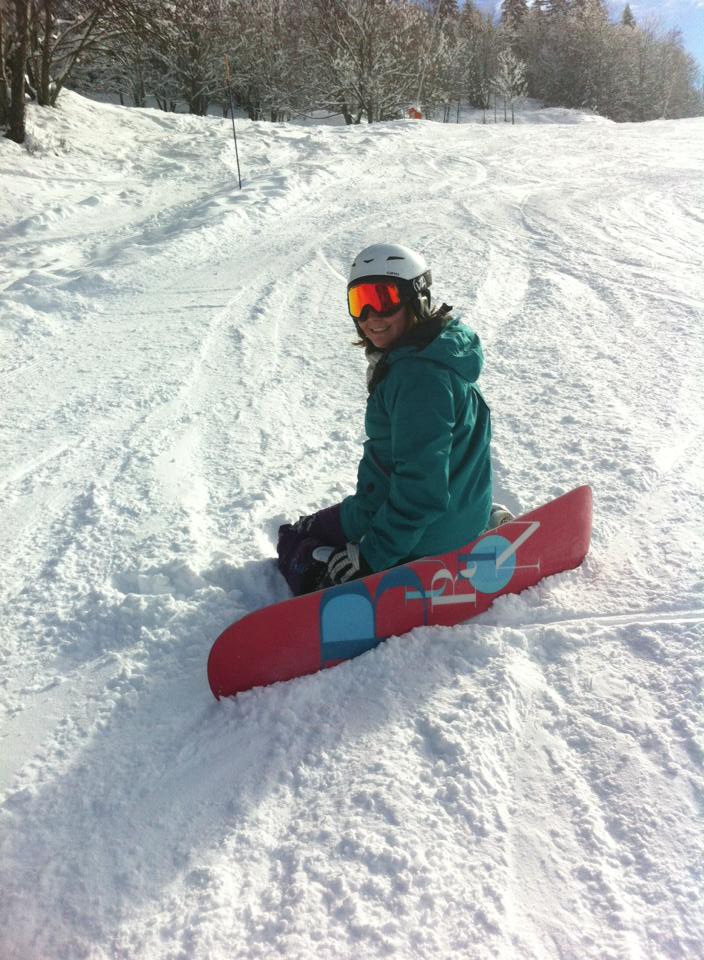 I also ride a Burton Genie snowboard. I bought it initially to learn on 2 seasons ago but I still have fun on it now I am a more able snowboarder. The board uses Burton's flat to rocker tech which makes it stable and easy to ride and is also flexi enough to be able to do tricks on. Sport 2000, Skiworld's hire shop next door to The Lodge rents out Burton so you can give their gear a try too!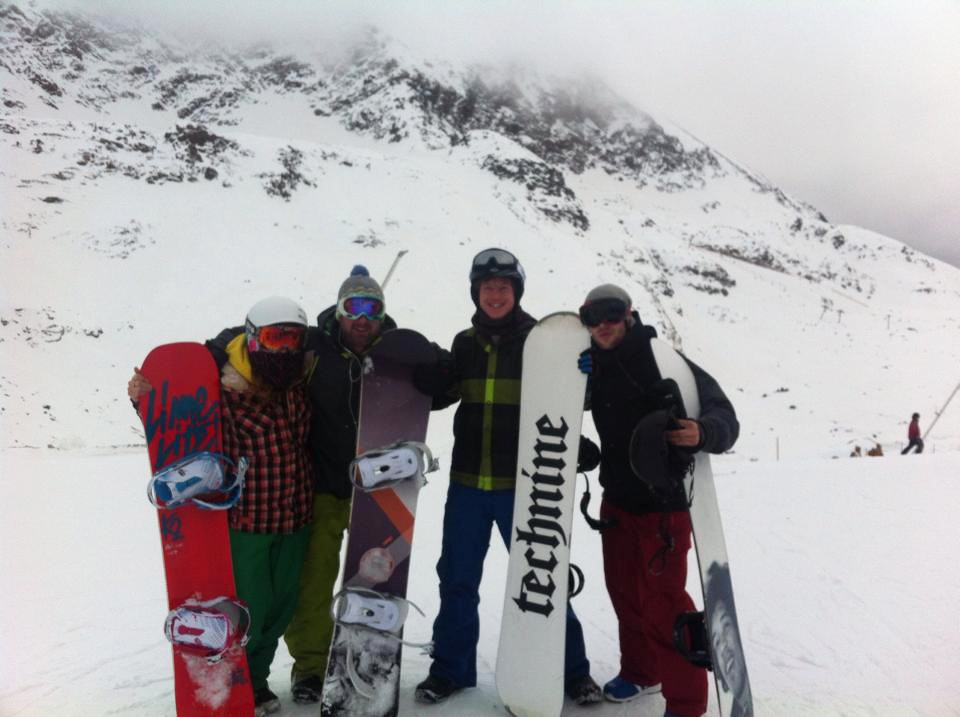 Lynsey Jones
This is some of team ADH riding crew. I (the only girl) ride a K2 Lime Lite - this high-end board is primarily a park/pipe snowboard for advanced riders but I chose it due to it being a free style board that is perfect for all mountain as well and really flexible. I liked the bindings because of the graphics and the fact they are different colours!


Sara McDonald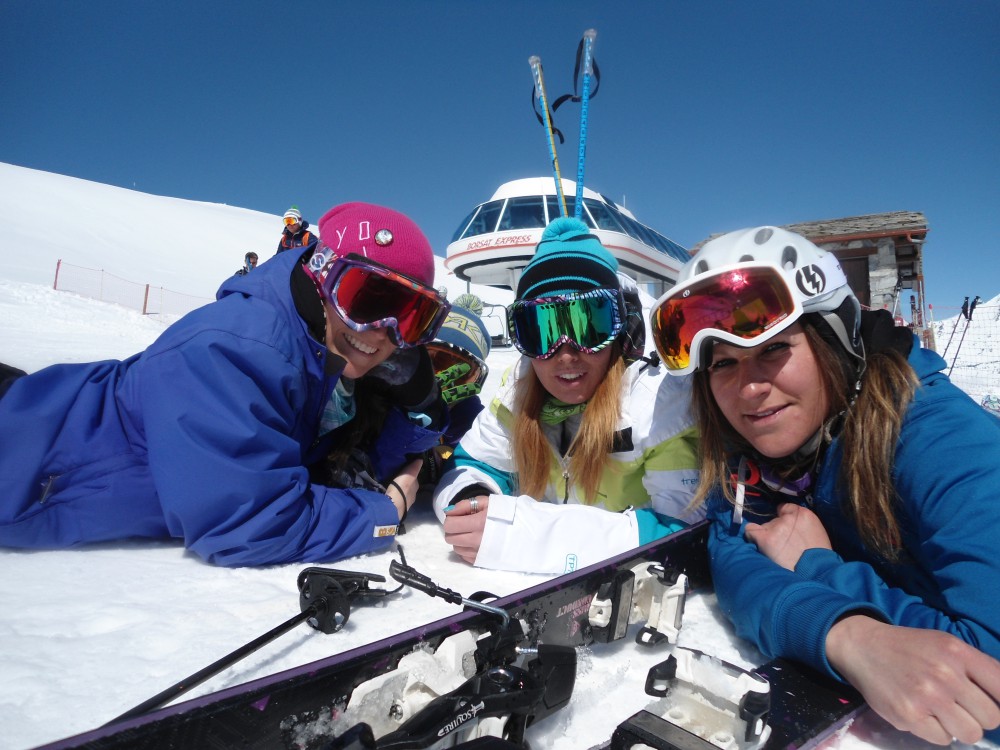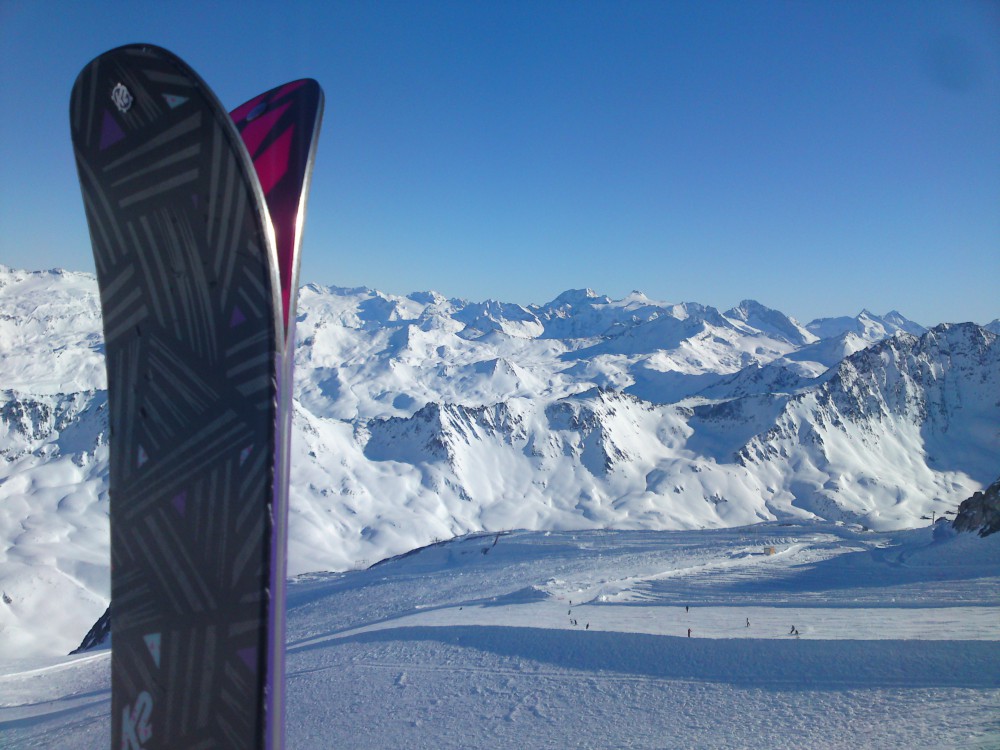 On my second season I took the plunge and bought by own pair of skis - K2 Missconducts, after being recommended them through the ski hire shop in Tignes. I love them, so light and easy to ride. Most of the girls I have met over my seasons also have chosen to ride K2's, we always have fun on them. I also know that this season's version are available in Intersport!
Joel McBride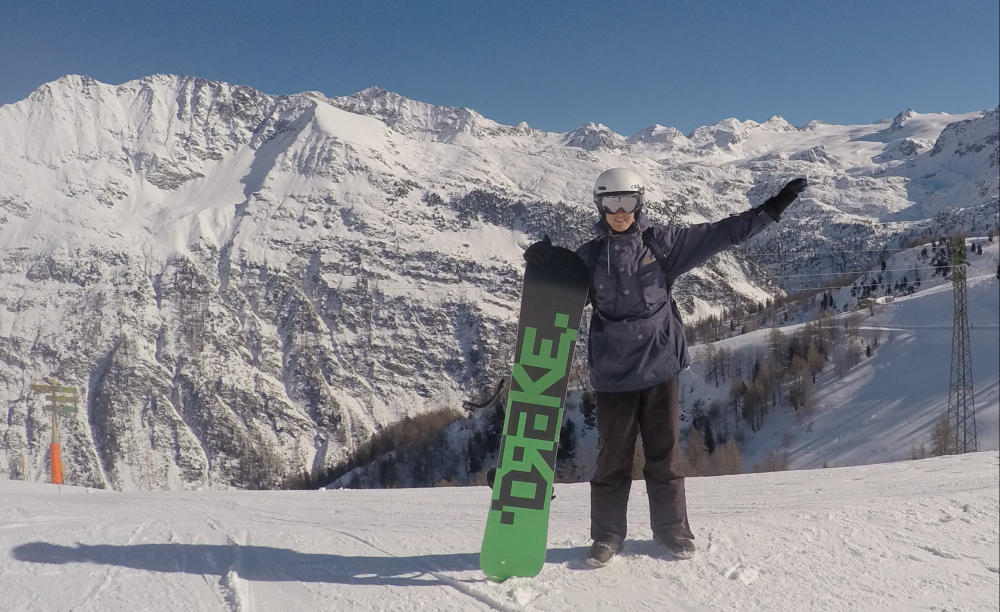 The ski hire shop allowed me to try this board and I bought it straight away – I would not want to use anything else! There are plenty reasons why I like this board... I love the flex of the board - it helps me to pop up when doing freestyle tricks on piste. I love that the board is about 30cm smaller than me, making it easier to spin it round when pulling off the most rad 180s and 360s. The bindings are comfortable and are padded, I haven't felt them slip all season, which is more than I can say for previous boards. I'm not a fan of patterned boards – I like simplicity and block shapes and the DRAKE logo and the top of the board cater for this.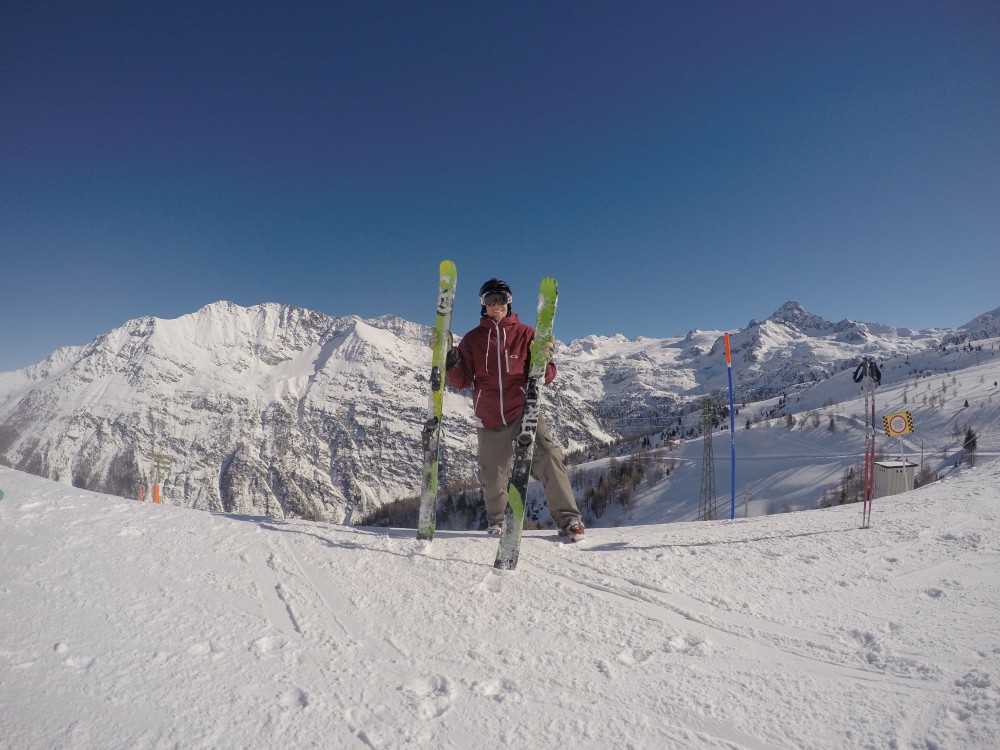 Ben Simpson
My weapons of choice are Dynastar Big Troubles - Dynastar make their skis in the Chamonix Valley so they certainly know what they're talking about! As all mountain twin tips, they are stiff enough to bite on piste and the hard packed off piste but they are great in the powder too. Dynastar's 2015 range of skis continue to be a bench mark, especially for the off piste and all mountain range.
Sam Ely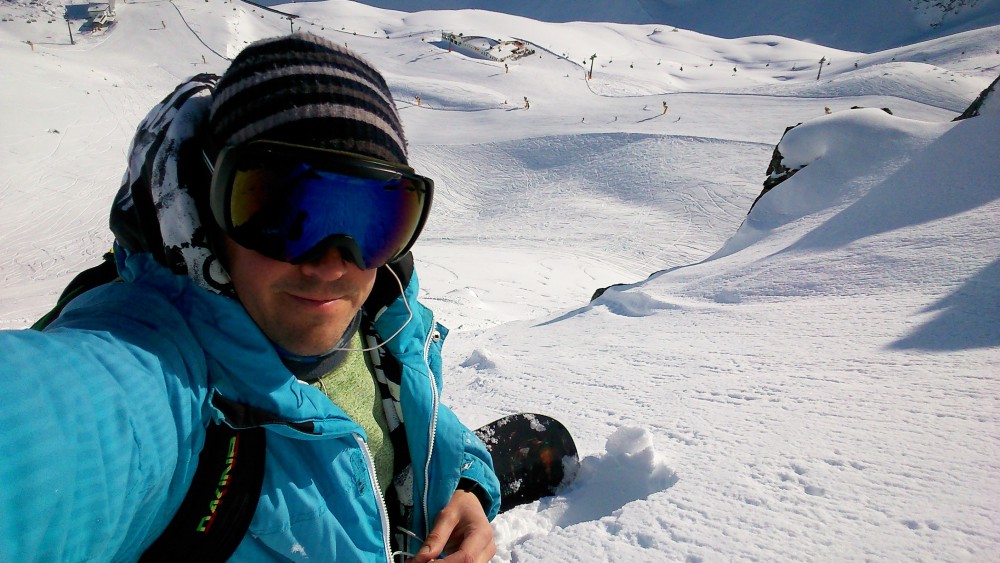 This is my Burton Joystick, I like it because the v-shape of the board helps keep its nose out of the powder. It's also very flexible which helps spring me back in to position when I make a mistake. Finally and most importantly the hire shop gave me a great deal on purchasing it!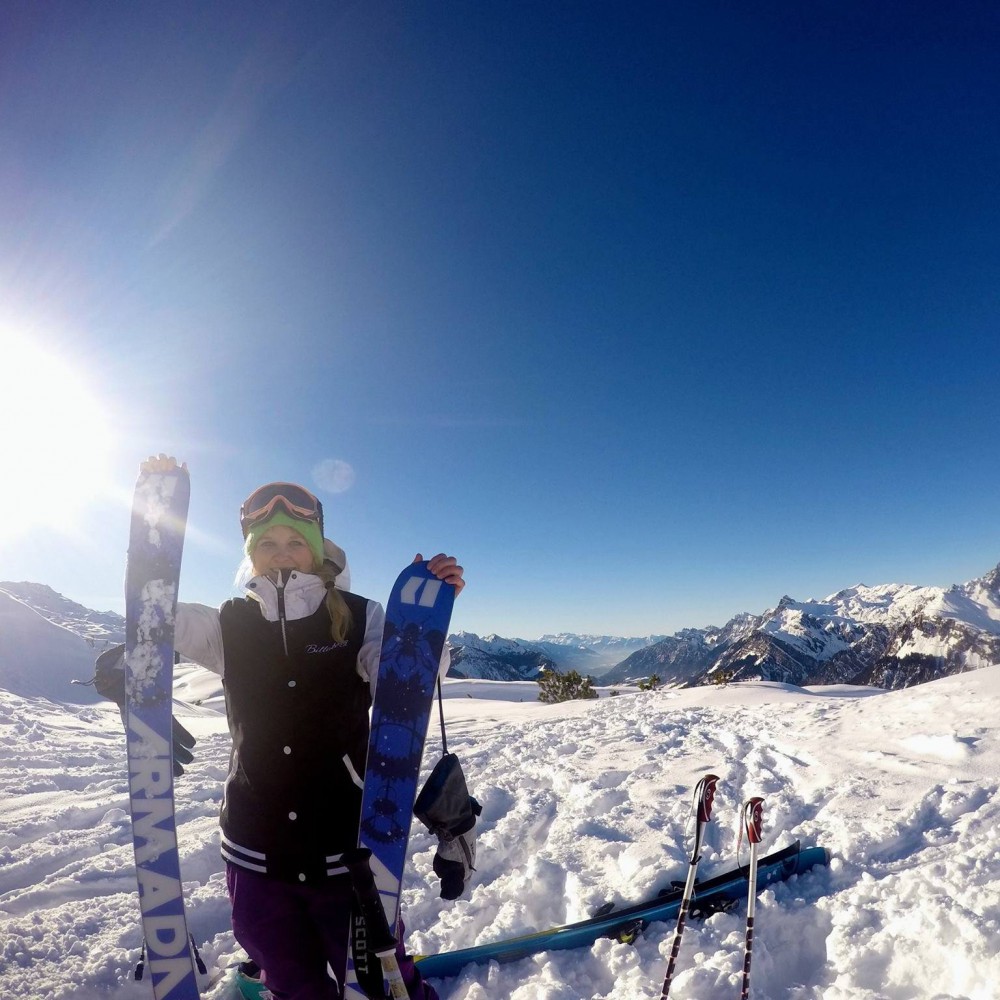 Gemma Hedges
I ski on Armada Cantika skis - they are a lightweight 80mm ski which are great for skiing on all over the mountain. They are twin tips so I can ride switch when I fancy messing around on the mountain and cruising through the park. I love skiing piste and these are a great ski for this, they fly over little moguls in my way! They are also very beautiful and match my purple salopettes! I had broken my last pair of skis last year and when my birthday came around I popped into one of our hire shops in Tignes, the guys there were great, recommended these and let me trial them for a day and I instantly fell in love with them and went back before lunchtime to buy them!
George Andrews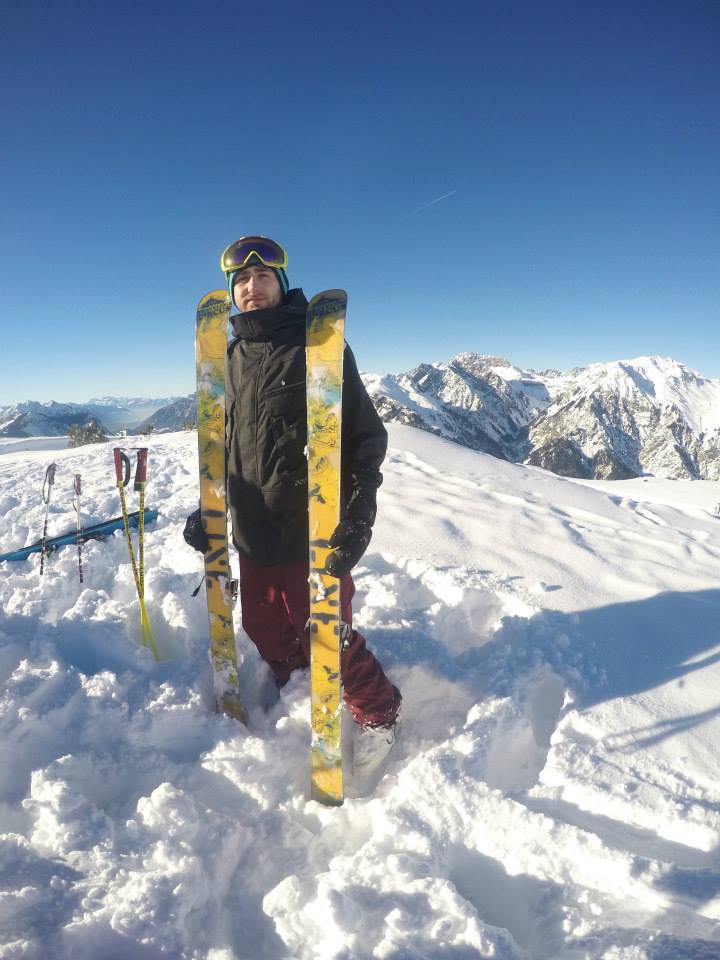 Line Travelling Circus – 179cm. I bought the Line Travelling Circus skis after being recommended them by a local Intersport. Although a park ski, I use them as every day, go anywhere, do anything skis. Wider than normal they work well in all conditions but what drew me to them was the bombproof construction. As someone with a penchant for breaking his equipment I love the old school style bases that don't scratch, chip or slow me down. These things are not only great fun but I know I will me skiing them for years to come!
Helen Wooldridge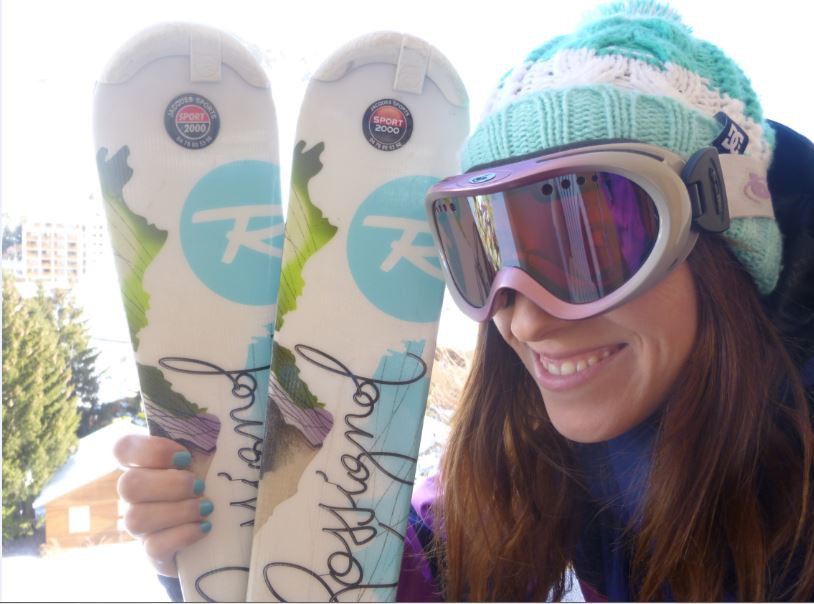 Jacques Sports in Les Deux Alpes are in a great location just on the edge of the slopes, meaning easy access to the main ski area and right next to a couple of easy slopes perfect for getting your ski legs back. If you're staying more than 5 minutes away, you don't even have to walk to the shop, they come and pick you up from your chalet and take you and your skis back. And then collect your equipment at the end of the week too, keeping your holiday as relaxing as it should be. I've got Gold level skis, perfect for anyone with a bit of skiing experience, Gold skis are generally only up to a couple of years old and are slightly more technical to help you as your skiing progresses. It's quite surprising how different skis can affect your skiing. Jacques are great at making sure everything is ok for you, and are happy to change equipment if it's not working for you.
Rebecca Crannis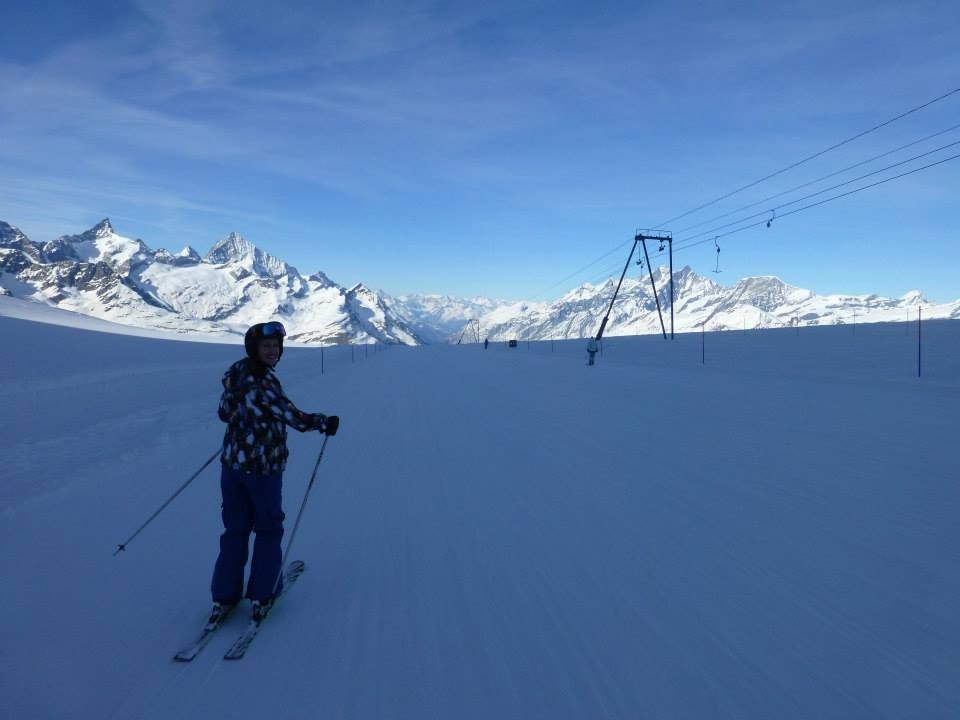 I have only ever hired skis and the Volkl Aurena women's skis are without doubt the best skies I've ever tried. Light and smooth, but also stable, these excel at long, loopy turns at higher speeds, and really inspire confidence, so much so that I was told I'd never skied better – and I'd never really thought that it could make that much of a difference. They definitely perform better on piste than off, which is perfect for me and I love the purple design (as I am tall I always seem to get masculine colours…). To top it off the hire shop in Mottaret was a mere 30 seconds walk from my chalet, making transfer days a breeze!
Paul Kay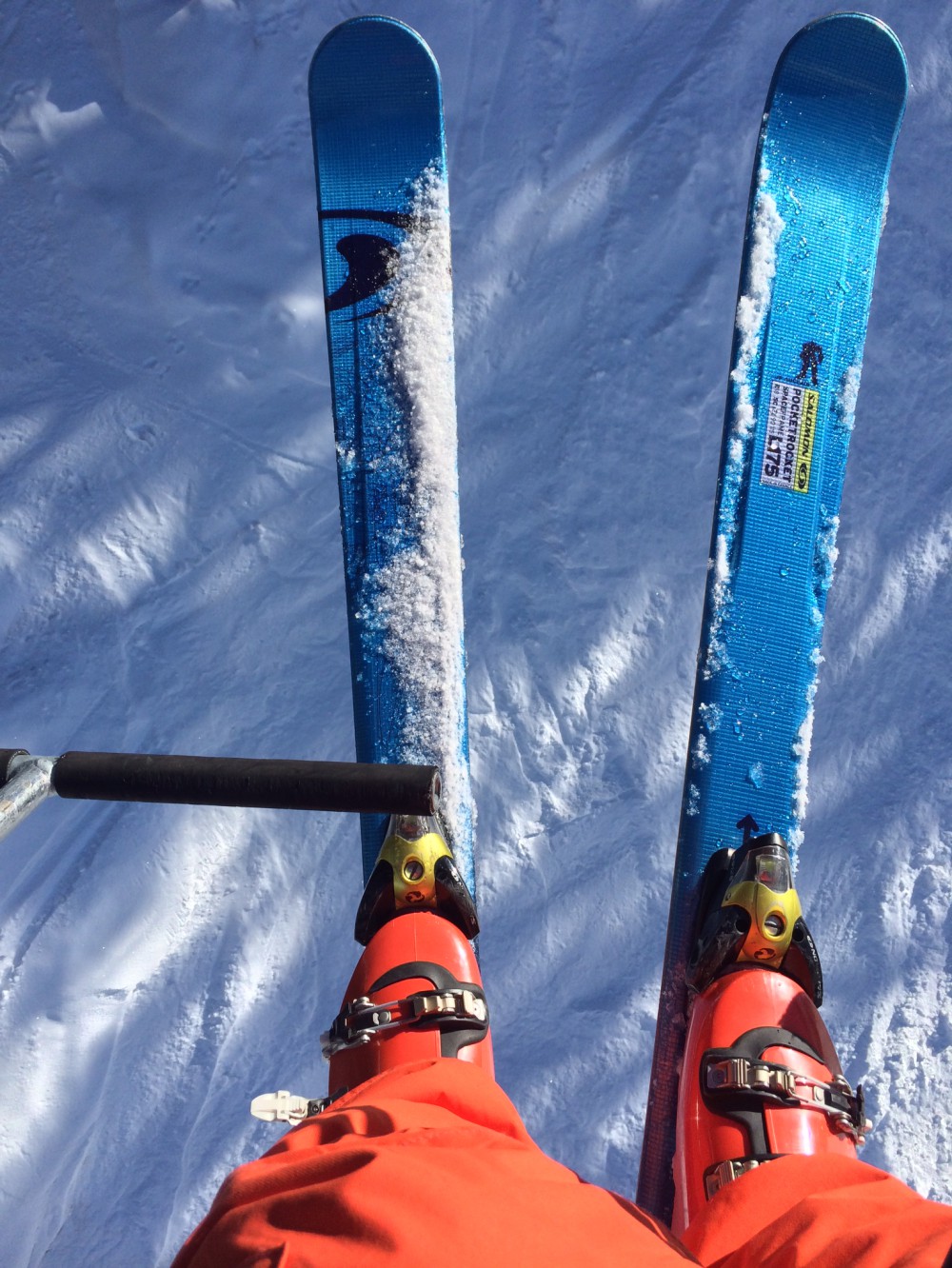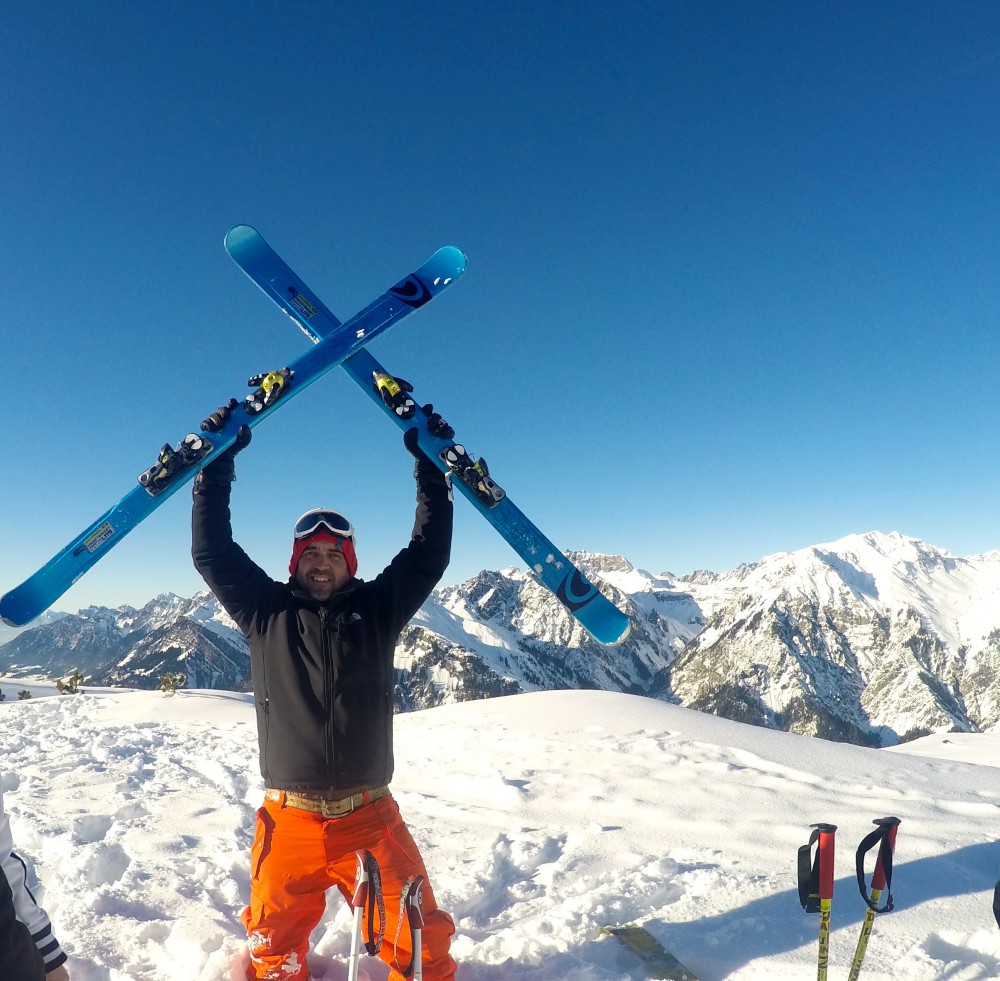 I've had the chance to hire some fantastic top of the range/latest edition skis and tried several from the friendly, local ski hire shop, but always return to my favourites the Salomon Pocket Rockets (175cm). I bought these skis in 2004 after hiring them with Skiworld. They treated me well for two seasons and then I put them in a back room to gather dust. Two years ago, for a retro day, I had them serviced and took them out for a laugh. I've not skied on anything else since! They are not skis, they are toys. These are the skis which changed the face of what skiing was - true game changers. The ratings at the time said they were great in powder, great in the air, but not great on piste – absolute rubbish! Put these things on their edge and apply some pressure and they can carve as well as anything out there. I challenge you to show me a set of skis which are more capable.
Sarah Searson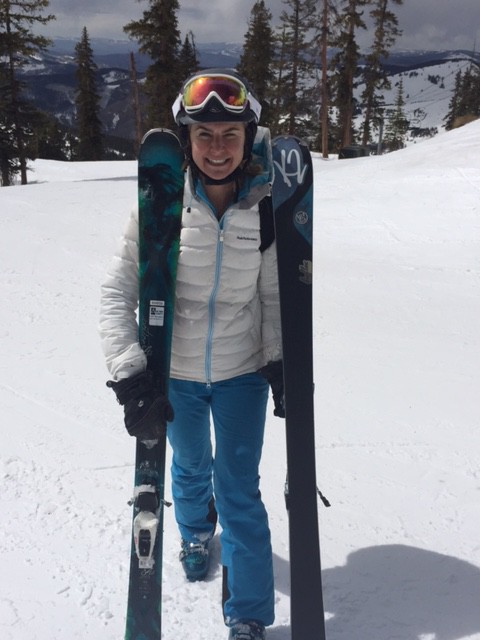 My favourite place to ski is Vail and Breckenridge in Colorado. The empty pistes, the quality of the snow and the opportunity to ski powder safely without a guide far outweigh the transatlantic flight and jet lag. My skis of choice were the K2 Potion 84 XTI rented from Alpine Sports in Breckenridge. The super friendly staff pick you up in their minibus and you can even pick up a coffee and a cookie on your way out, as they have a coffee shop on site. The K2s are very lightweight, and a great all-mountain ski. They are very quick and fast turning = fun to ride. For a light ski they don't chatter at high speed (I topped 100 km/h) and are great at carving. But best of all they float in powder. And in Colorado the powder is light - even in April.
Any loss or damage to hired equipment must be reported to the ski hire shop immediately. It must be paid for in resort and the appropriate insurance claim submitted when you return to the UK. (This depends on your policy and is subject to conditions. Please make sure you are aware of the level of cover offered by your policy). Many shops offer 'top up' insurance to cover excesses. In some resorts a refundable deposit is payable for hire equipment as well as separate breakage insurance. You must ensure that your equipment is returned to the hire shop before closure on the day before departure or the day of travel. See more on insurance and find out about the options available.
*If you decide not to pre-book your lift passes or ski rental and are staying in one of the resorts in which we offer this service, your Skiworld Representative will be able to help you arrange this conveniently and quickly on the transfer coach or visit your accommodation shortly after your arrival in resort. We regret that we will be unable to intervene should the skis or service you receive from a shop that is not part of our network prove deficient or below standard.
•
Ideal