In light of the imminent Olympics we decided to run our own Olympics looking at the best of what skiing has to offer.
We've chosen four elements (events if you will) that are common considerations that affect people's decisions on where to go skiing. So, here you are, our medal winning resorts for snow, cuisine, families and ski-in/ski-out chalets.
SNOW
When choosing a resort you tend to look at a number of factors and snowfall tends to be at the top of most people's list. As a result we've named our top three resorts for snow (based on last years' snowfall) with a top resort from France, Austria and Switzerland so that we have representation from each country.
So with that in mind, our flag bearers for the opening ceremony are as follows:
From France; Val Thorens had the best snow for the duration of this past season. As shown in the graph below, Alpe d'Huez and Tignes out performed Val Thorens in places during the season, however the snow that Val Thorens displayed over the Christmas period (90cm compared to Alpe d'Huez (56cm) and Tignes (61cm) respectively) and towards the end of the season rewards the highest resort in Europe, Val Thorens with the gold medal.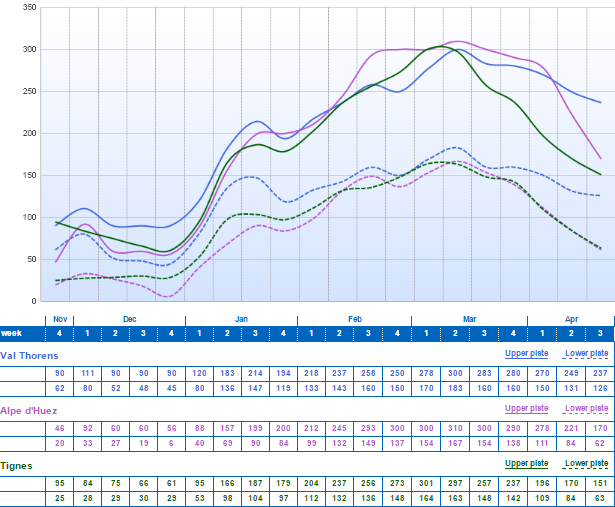 From Austria; St. Anton consistently outperformed its Austrian rivals this past season. Lech was its closest rival for snow especially when looking at upper and lower piste levels, Lech's height helped see the resort to well over 100cm of snow on the lower piste from mid-January all the way through to the end of March. However St. Anton took gold due to its volume of snow on the upper piste which throughout the whole season was higher than all the other Austrian resorts topping out at 242cm in the first week of March compared to 215cm in Lech and 122cm in Mayrhofen. St. Anton and neighbouring Lech also saw little drop off in snow levels towards the end of the season and actually had better snow in April (average of 200cm) than they had in January (average of 126.5cm)  thanks to a late flurry.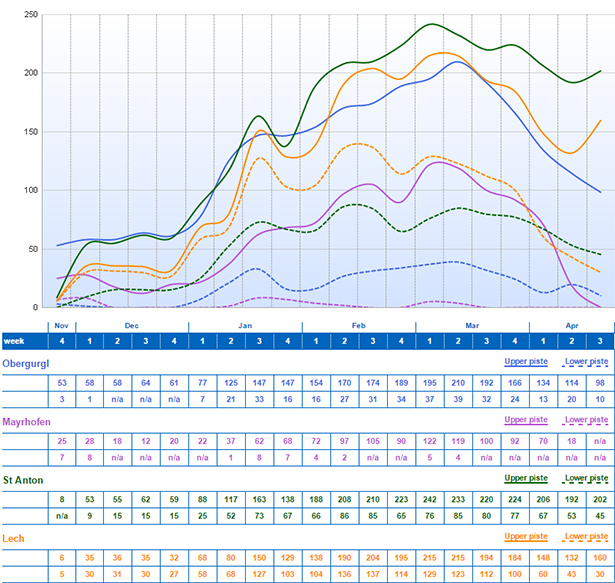 From Switzerland; Zermatt was our overall winner. Like Val Thorens, other resorts had better snow at times but Zermatt had fantastic snow on the upper piste from before the season even began. Having the snow that Zermatt had for the peak dates of Christmas (125cm) and New Year (133cm) almost made it the automatic winner and as the resort performs consistently well year-on-year, it's a great choice for those looking for a Christmas ski holiday.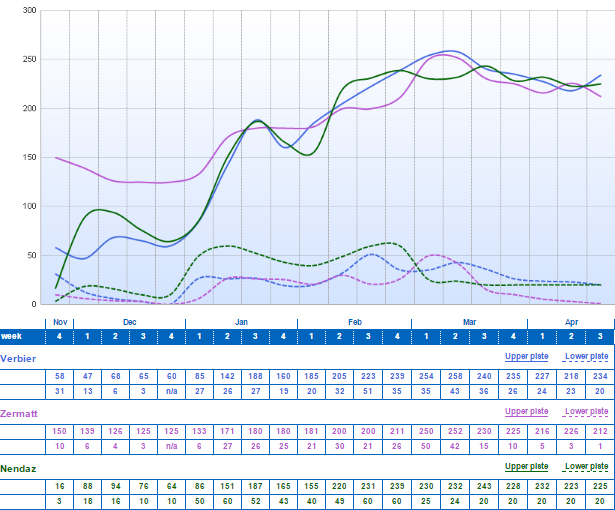 FOOD
When selecting a ski resort, food is a real variable for each individual in terms of how influential it is on your decision. For some people any holiday is another opportunity for a gastronomic pilgrimage, whilst to others food is fuel… to keep you on your skis all day. Wherever you feature on the culinary barometer, we've got you covered – after all you can't run on Jagermeister and schnapps all day although many have tried… and many failed.

The Gold Medal; Lech/St Christoph
As Lech is home to more award-winning restaurants than any other village in the world, our choice was pretty much made for us. In a country which champions quality food, Lech sits atop them all as the king of gourmet destinations, offering a fantastic range of mountain and village establishments serving both international and local cuisine to cater to everyone's palate.
If you fancy discovering a couple of hidden gems, head towards St Christoph – you'll be pleasantly surprised with the restaurants on offer here but in particular keep your eyes peeled for Hospiz Alm. Head Chef Daniel Rauter's food his highly sought after by those in the know, he's particularly au fait with lobster and scallops so this is definitely one for the seafood lovers. The plump wine cellar has a reputation which rivals the food and it attracts just as many people in its own right. The cherry on top is that this restaurant has a sun terrace so you can enjoy the great food and wine whilst also drinking in the incredible views.
If you want to rub shoulders with royalty and celebrities then the hamlet of Zurs (which harbours about 25 buildings) is the place to eat. Although a destination for the rich and the famous, our superior chalets offer great value skiing in Lech.

The Silver Medal; Zermatt
Zermatt is well known for being the best destination for culinary experiences in Switzerland and to be fair to the resort, it came within an entrée of gold medal. You'll be spoilt for choice with the variety on offer; including authentic and traditional all the way up to very high end fine dining establishments… and few places will know how to do fine dining better.
There is undoubtedly a strong argument for Zermatt to be the top for culinary destinations and with a couple of Michelin starred restaurants (in the form of Le Capri and After Seven) it would be hard to object too strongly. Head Chef at Le Capri, Salvatore Elefante, specialises in southern Italian seafood and has been awarded one star for his food. His restaurant can be found in the Grand Hotel Mont Cervin Palace. After Seven's Head Chef, Ivo Adam, has also been awarded one star for his creative European cuisine, you can discover his menu in his restaurant at the Hotel Backstage.
The Bronze Medal; Mayrhofen
A relatively small resort which packs a punch with regards to the food it has to offer. Austrian resorts tend to have a bias towards their own cuisine however Mayrhofen is slightly more diverse with a top Italian restaurant (Ciao) on the main street and a few places that offer pub grub. Mayrhofen has a lot of lunchtime retreats up its sleeve as well though and the hearty Tyrolean dishes can be found on the mountain side and in resort. A top choice is Schneekar, which can be found at the top of the Schneekar chair lift, it has an open fire for when you need to warm up and a large terrace to let you bask in the sun. This is a great place to go if you have a propensity for decadent food and fine wine.
There may be a small uprising against us for our decision not to include a French resort in our top three. The French are famous for their great cuisine, however, with French ski resorts you can get such a vast array of food –both in terms of cuisine and standard and that's why we choose the resorts we did.

SKI-IN / SKI-OUT
When asking the product team what our best chalets were for ski-in / ski-out I inadvertently opened up Pandora's Box… the impassioned department had me scribbling down 30/40 chalets before I had a chance to say we needed a top three. Excitedly outdoing each other and weighing up the pros and cons of each chalet we eventually whittled down the extensive list to our top three ski-in/ski-out chalets.
The Gold Medal; Chalet Tetra
Les Arcs | Sleeps 12/13 | Superior Chalet
Located just above Arc 1800, you can ski-in/ski-out with utter convenience – ideal for those looking to waste no time hitting the slopes.
This superior class chalet also offers an enhanced service including the superior standard menu and wine offering as well as a few other perks… you can see what's included in superior chalets here.

The Silver Medal; Chalet Morille / Chanterelle / Girolle
La Plagne | Sleeps 12 | Classic Chalet
These chalet apartments, named the mushroom chalets, are all part of the same complex. Based on the piste of Balcons de Belle Plagne you'll have a great run before even coming to your first lift, a great way to start the day.
Each chalet sleeps 12 people and benefits from an open fire and all rooms have Jacuzzi baths in their en suites. The complex also has a sauna, pool and fitness centre for its guests to use as well as a bar, a ski hire shop and restaurants.

The Bronze Medal; Chalet Louisa
Alpe d'Huez | Sleeps 16/18 | Superior Chalet
Chalet Louisa is situated just above Les Bergers with runs straight into the excellent resort, this chalet is ideal for families as the ski school meet is in Les Bergers and the chalet has a family room (a standard room which can cater for children too). Plus we offer half price places for the kids too.
In terms of facilities the Louisa has a hot tub and sauna to help relax those weary legs after a long day's skiing.

FAMILY FRIENDLY
Going on holiday as a family can be like mobilising an army, so we've looked at the top three resorts for families and why they make your holiday as relaxing as possible. Some top tips for families would have to include choosing accommodation which is near a ski school (if the kids are heading that way). The usual school run is tough enough, but add wobbly morning ski legs, gloves, goggles, hats, sun cream… and the equation is far more complicated and, if you're late and the ski school has set off you'll have trouble tracking them down. So make sure you're in striking distance. Also ski door-to-door is recommended; otherwise you'll be the one lugging all of your gear and children to the nearest patch of snow.
The Gold Medal; La Rosiere
Whenever anyone asks, La Rosiere is always our number one destination for families, especially for those taking first time skiers. Boasting a fantastic ski school, it's a great place for the youngsters to get started. We also have a number of chalets in resort which offer half price places for children (2-11 years old).
As a resort, it is well laid out for beginners with a high volume of blue and green runs and a well linked lift system. La Rosiere is quieter than the larger resorts and can offer a more pleasant skiing experience, especially for those starting out and a little unsure of their ski legs.
The best ski school in resort is Evolution 2; they are familiar with handling children of all ages (starting from 3 years old up to their Junior Academy which caters for children and teenagers). Their group sizes never exceed 8 students per instructor. For adults, they have a range of classes too as well as private clinics, off-piste guiding and heli-skiing.

The Silver Medal; La Plagne
Always near the top for being one of the best ski resorts for families, La Plagne has a real family-focussed atmosphere which will help make parents feel at ease. Because of this we have a large number of half price chalet places for kids. The Mountain Flower chalets in Plagne Soleil (which are newly built for this season) are a great option for families as the piste runs past the chalets… saving mum and dad from grappling with all the skis and poles.
In resort there is a huge selection of ski schools and over half of the runs are blue or green. Despite this La Plagne is regarded as a better intermediate ski resort than beginner – though with a great ski school system it is a great place to take kids of varying standards.
A top choice ski school in La Plagne would have to be Lime Snowsports. A British owned school which prides themselves on being able to develop beginners in confidence and ability. They cater for all ages (again, starting from 3 years old) and abilities.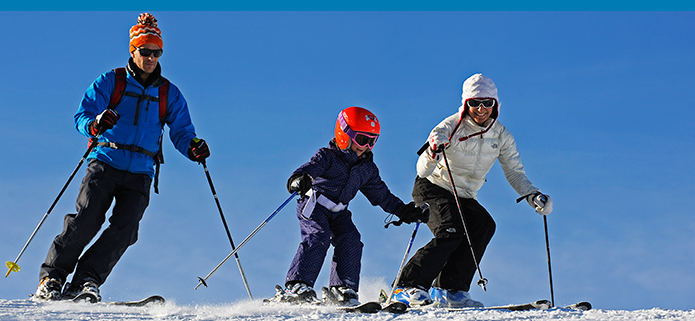 The Bronze Medal; Val d'Isere
There are loads of activities off the slopes for families and on top of that, new to Val d'Isere this year, is the picnic area which is a great place to gather for lunch. There's a kid's corner for the youngsters where there's cushions and a TV showing cartoons and for the older kids there's entertainment like table football.
Val d'Isere is great for families, even just for the variety of skiing alone. Whether you go as a small group or large, you can always be assured that every standard of skiing will be catered for and even the biggest snowheads couldn't ski the whole area of Espace Killy in a week. There are 155 runs in Val d'Isere and Tignes; 58% are green and blue runs, 27% are red and 15% black.
If you're looking at ski schools, New Generation is a great option; it is a British run school that caters for all ages and abilities – so they'll be able to take care of the whole family. If someone from the family is looking to try out snowboarding their instructors are particularly good. They are well known and have been around for years now.

If you have children we recommend T4 Nanny, a nanny service that can come to your chalet to look after your children for the day – leaving you free to ski. They look after kids from four months to 12 years old and will put on a day of activities for them.
T4 Nanny operates in La Rosiere, La Plagne, Val d'Isere, Courchevel, Tignes and Meribel.
So there we have it, our Olympic entries. As mentioned, there is probably some cause for debate… and we would gladly welcome any comments or suggestions.
At the end of the day we can pore over stats and reference our own experiences, but it's all subjective so please let us know what you think on facebook or twitter.